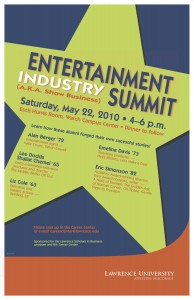 This Saturday the Lawrence Scholars in Business program will have its final event of the year: the Entertainment Summit. This event should be of interest not only to economics and other majors who are interested in the business of show-biz, but also to Conservatory and Arts students interested in getting into the entertainment world.
Five Lawrentians who know that world very well will be here to tell us about it: Alan Berger, Emeline Davis, Lee Shallat Chemel, Liz Cole, and Campbell Scott. Take a moment to click on those links, and marvel at the star-power arriving to campus on Saturday. Campbell Scott will be showing his new mockumentary, Company Retreat, at 7:15 pm on Friday, May 21st, in the Warch Cinema.
Please sign up in the Career Center, or by email at careercenter@lawrence.edu.