As an addition to the burgeoning I&E program, the inaugural Schumptoberfest™ is coming to Björklunden over reading period weekend, October 22-24.  If interested, you need to sign up with Professor Gerard.
What is Schumptoberfest ?  In short, it is a celebration of the ideas of economist Joseph Schumpeter, the subject of our first I&E Reading Group earlier this year.  Through reading and discussion, we will develop a better understanding of innovation and entrepreneurship generally, and particularly the importance of economic organization fomenting or retarding entrepreneurial activities.  Of course, we also hope to develop a rapport among the students and faculty interested in these topics.
To encourage and reward participation, we are offering a two-credit independent study.  The expectations for the IS are as follows:
Complete the required readings.
Travel to Björklunden over reading period (Friday evening until Sunday afternoon) and participate in our workshop.
Produce a short response paper (3-5 pages) to material and ideas discussed over the weekend.*
The target audience for Schumptoberfest is students who have a firm grasp of micro theory and have an interest in the scholarship on innovation and entrepreneurship. The course should be an exceptionally good fit for students who have taken or are planning to take Industrial Organization and The Economics of the Firm.
Those interested need to sign up with Professor Gerard as soon as possible.  Those interested in receiving the two independent study credits need to sign up with him by Friday, September 24.  We expect 10-15 students and 3-5 faculty members to participate.
*Professor Gerard will provide the readings and reading guides over the course of the next few weeks.  We will set the parameters of the writing assignment during the retreat.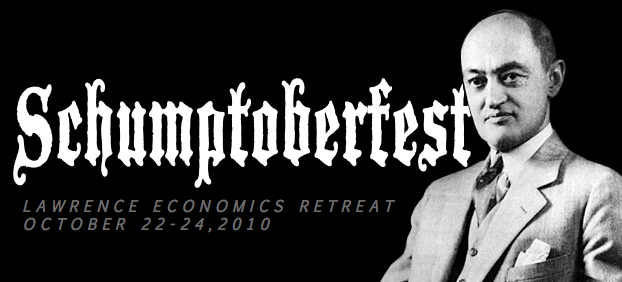 Schumptoberfest design by K. Richter