Republicans and Democrats are strongly divided over what should happen to the ACA. Most Republicans have identified the repeal of the Act as a high priority. Most Democrats seek to reform the Act by addressing gaps and errors in the legislation. Such a characterization of these battle lines is much too simplistic. In some cases, the proponents share the same goals but offer different strategies and policies to achieve them; in others, the proponents disagree about both goals and policies. This blog posting seeks to illuminate a few of these distinctions; more complete discussion can be found here.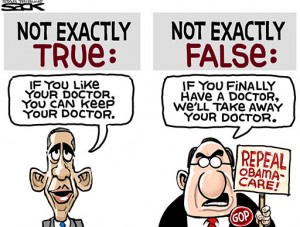 Goal #1 – Ensure access to health insurance for all Americans
Comment: Largely a shared goal
Republicans: Available tax credit to be used voluntarily with few restrictions.
Democrats: Expand participation in the ACA and provide more incentives to induce those not insured to become so.
Goal #2 – Reduce incentives to purchase expensive health insurance plans
Comment: Shared goal
Democrats: 40% excise tax on premiums above a prescribed level
Republicans: Premium above a prescribed level are subject to the income tax on an individual basis.
Goal #3 – Regulation of health insurance markets
Comment: Not a shared goal
Republicans: Deregulate to a large degree with few restrictions on insurers to induce more competition and range of health plan options.
Democrats: Strong pre-existing conditions clause prohibitions and state-based purchase and regulation.
Goal #4 – Choice of health plan
Comment: Largely a shared goal
Democrats: Encourage competition through the market place exchanges with provisions to counteract adverse selection; that is, risk corridors, re-insurance pools, and risk-adjustment used to assist private insurers who attract relatively high cost enrollees.
Republicans: Allow consumers to purchase in-state or out-of-state health plans they see as best meeting their preferences.
Goal #5 – Provide Medicaid for Low Income Residents
Comment: Largely a shared goal
Republicans: Federal block grants to the states with states having a great deal of flexibility in determining composition of plans as well as eligibility.
Democrats: Federal government largely determines both eligibility and a large portion of the benefits covered.
Since the ACA law covers well over 900 pages, many provisions are not addressed here. This posting seeks to illuminate where Democrats and Republicans might find common ground and where they are unlikely to do so. Furthermore, given the instability in the exchanges in many states, reform of the 3 Rs – reinsurance, risk corridors, and risk adjustment – will be a priority if the exchanges are to be stabilized and survive.