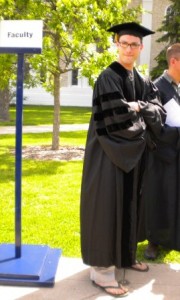 Assistant Professor of Mathematics and charter member of the I&E Reading Group, Scott Corry, won the Young Teacher Award for — you guessed it — his teaching excellence.  Provost Burrows awarded Corry with the honor at the 2011 Lawrence University commencement ceremonies this past Sunday.
Professor Corry exhibits the characteristics of a prototypical liberal arts teacher-scholar. In addition to being a gifted mathematician, he is a man of varied intellectual pursuits — a champion of the Freshman Studies program, an avid community reader, and probably a lot of other things he doesn't tell me about.
For us down on Briggs 2nd, he has established himself as a pillar of our  I&E Reading Group, having plowed through the likes of Schumpeter, Kirzner, and now Drucker. We look forward to reading and discussion with him for years to come.
So a warm congratulations from your friends in the economics department!