Before graduating from high school, Sara Wallsworth twice traveled to Stuttgart, Germany to visit relatives serving there in the U.S. Air Force.
But for the Lawrence University senior from Waukesha, it was the things she didn't experience on those visits more than what she did that actually sparked her interest in all things German.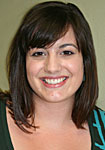 "Living on the military base, my cousins really weren't exposed to the German culture and it made me think how interesting it would be to learn the language, experience the culture and come back at some point by myself," said Wallwsorth, a German and linguistics major at Lawrence.
Beginning this fall, Wallsworth will realize that opportunity after being named a 2010 Fulbright Scholar. She was awarded a fellowship for a nine-month appointment to teach English in Germany. She is the 14th Lawrence student since 2001 named a Fulbright Scholar.
Wallsworth will spend September through June 2010 as an English language assistant in Baden-Wüttemberg, a southwest state bordering France and Switzerland at either a middle or secondary school still to be determined.
Wallsworth serves as both a writing tutor and an ELS (English as a Second Language) tutor in Lawrence's Center for Teaching and Learning. She also assists as a tutor in both her German and linguistics courses.
It was during a 16-week study abroad program in Freiburg, Germany in the fall of 2008 that convinced her to apply for the Fulbright Fellowship.
"I fell in love with Germany and wanted to figure out a way to go back," said Wallsworth of her time in Freiburg. "I thought a Fulbright appointment would be great way to bridge my life from Lawrence to the next step in my education."
While serving as an unofficial ambassador for her home country, Wallsworth is approaching her upcoming appointment as a personal growth opportunity.
"This is going to allow me to get a better grasp of the language, but I'm also looking forward to living independently in a different country and immersing myself in a different culture," said Wallsworth. "It's about living and traveling in Europe and experiencing that lifestyle. I certainly want to gain a more international perspective on the world while I'm there."
Created by Congress in 1946 to foster mutual understanding among nations through educational and cultural exchanges, the Fulbright Program is the U.S. government's premier scholarship program. Since its founding, it has supported opportunities for nearly 300,000 American students, scholars and other professionals in more than 150 countries.
Forty Fulbright alumni have earned Nobel Prizes while others have gone on to become heads of state, judges, ambassadors, CEOs, university presidents, professors and teachers.