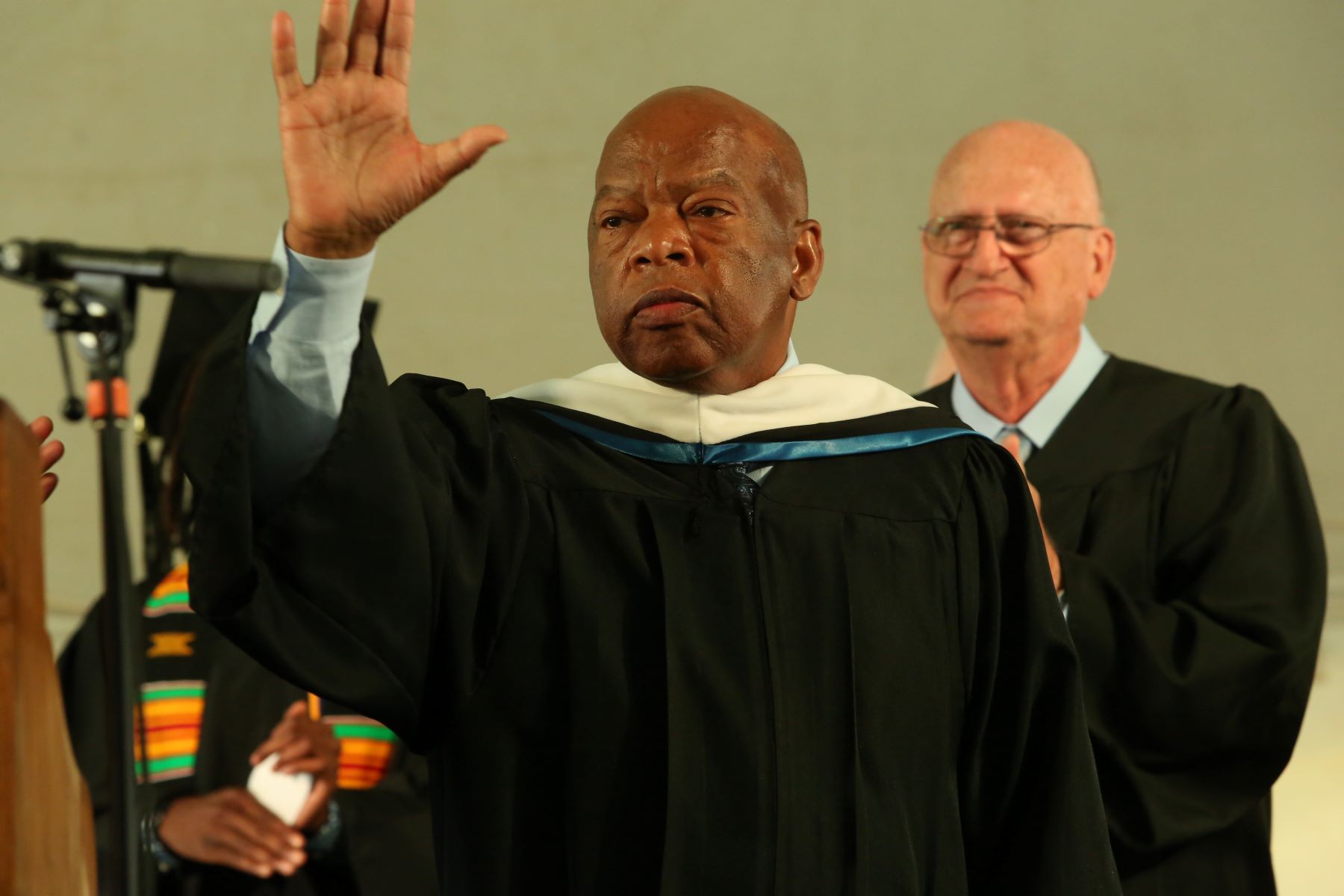 Story by Ed Berthiaume / Communications
They've come to campus as commencement and convocation guests. They've come to deliver musical performances. They've come as candidates on the campaign trail. They've come as invited speakers.
As Lawrence University celebrates the 175th anniversary of its founding in 1847, we take a moment to remember these famous visitors to campus. Our list includes one sitting United States president, three others who would go on to win the presidency, and one former president. It includes icons of the music world and writers of global fame. It includes civil rights activists who changed the world and news makers who dominated the headlines, for better or worse.
We celebrated 10 visitors in this earlier Black History Month feature.
Please note that this is not a complete list of every notable visitor to Lawrence. There have been hundreds. We had to cut it off somewhere. So, we've chosen to provide a flashback to 30 of these memorable visits, and then salute another 17 with a listing at the end. That brings it to 47 in honor of, yes, 1847.
1.
Frederick Douglass, 1866: The famed orator and abolitionist made several stops across Wisconsin in 1866, one year after the assassination of President Abraham Lincoln. News reports had him in Janesville and then Oshkosh before coming to Lawrence for a May 3 speech before the Philalethean Society in Main Hall. The Crescent reported on the speech and the Appleton Motor advertised the coming speech of Fred Douglass. The Crescent called Douglass "an eloquent speaker, easy and graceful in manner, withering in sarcasm" and said his speech, "The Assassination and its Lessons," was the "same lecture he has been giving so patriotically all over the country."
2.
William Howard Taft, 1911: This is the first and only time a sitting president has come to the Lawrence campus. Taft spoke in late October 1911, addressing about 10,000 people from the front steps of Main Hall. Taft was welcomed by a group of students and faculty inside Main Hall before emerging through the front doors to give his speech, according to coverage by The Lawrentian. "When Mr. Taft emerged from the big front door of Main Hall, he was greeted with yells by the Lawrence students and lifted hats." Taft went on to talk about conflict in Europe and America's role in the world. "We have been showered with God's best gifts and we ought to realize our responsibilities to do the best with what God has given us for the good of the whole world," The Lawrentian quoted Taft as saying.
3.
Booker T. Washington, 1914: Born into slavery, the legendary author and educator would go on to found and lead the Tuskegee Institute (now University) and become one of the most influential Black voices in the late 19th century and early 20th century. He came to Lawrence to speak one year before his death at age 59. The Lawrentian covered Washington's speech, saying he "gave a highly interesting description of his life, his struggle for education, and of the founding and successful growth of the Tuskegee schools." The student newspaper said Washington "brought his address to a close with a plea for a sympathetic understanding between the white and black inhabitants of America." The paper went on to state: "Dr. Washington was very well received, and leaves a host of friends and admirers in Lawrence and Appleton."
4.
William Butler Yeats, 1920: An icon of 20th-century literature, Yeats spoke about poetry, theater work, and his Irish roots in a visit to Memorial Chapel. The Lawrentian previewed his visit with a front-page story the day before: "In welcoming Mr. Yeats, Appleton and Lawrence College realize what a splendid opportunity is theirs," the story read. "It is not often that we have the good fortune to hear a man of such international reputation as the great Irish poet."
5.
John Philip Sousa, 1924, 1926: "The March King" made two visits to Lawrence, leading performances in Memorial Chapel. He was an American composer and conductor of the late Romantic era whose work lives on in the form of military marches—The Stars and Stripes Forever, The Washington Post March, and the Marine Corps' Semper Fidelis, among them. His performances were among the early musical draws to the Chapel, which was built and dedicated in late 1918.
6.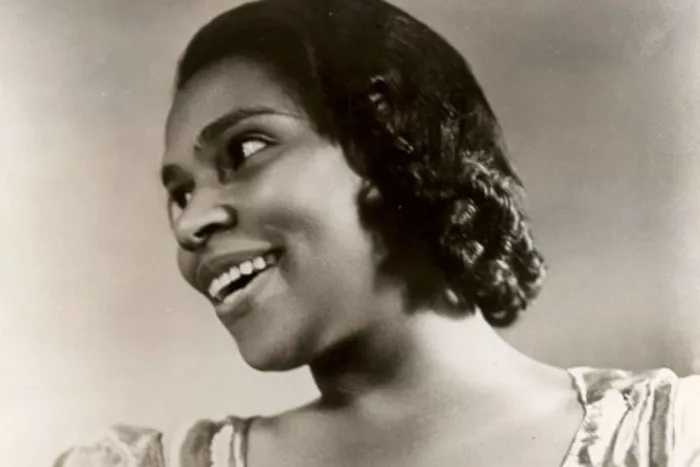 Marian Anderson, 1941: The celebrated contralto who paved the way for other Black artists delivered a brilliant concert performance at Memorial Chapel, the overflow audience calling her back for multiple encores. "No artist in recent years in Appleton has received the tribute which the audience gave Marian Anderson," The Lawrentian reported. But off campus, Anderson wasn't treated as well. Appleton was a "sundown" town at the time. News reports say Anderson was allowed to stay the night in Appleton's Conway Hotel, but she wasn't allowed to have dinner in the public dining room. In 2014, Lawrence held a concert in tribute to Anderson, recreating the repertoire from her 1941 performance.
7.
Frank Lloyd Wright, 1943: The famously blunt and outspoken architect paid a visit to Lawrence in November 1943, speaking to students about architecture and a bevy of other topics of the day. He told students to stay true to their ideals. The Lawrentian reported on his talk: "He believes that no one should ever compromise if he feels he is right. An architect, a professor, or anyone, should feel that it is not worthwhile to live if he cannot stick to his ideas absolutely."
8.
Richard M. Nixon, 1959: The then-vice president of the United States paid a visit to Lawrence in November, shortly before he launched his campaign for president. He spoke in Memorial Chapel, delivering a speech titled "America and the World Community," and answering questions from a panel of students and faculty. He also met with students informally in the Music-Drama Center. He would go on to lose the 1960 election to John F. Kennedy. But he would win the presidency in the 1968 election and be re-elected in 1972 before resigning from office in 1974 amid the Watergate scandal.
9.
Louis Armstrong, 1960: The jazz pioneer nicknamed "Satchmo" made a late-career visit to Lawrence's Memorial Chapel. His appearance pre-dated Ella Fitzgerald's concert by a year. The Lawrentian previewed Armstrong's visit, calling him "the greatest of all jazz musicians" and urged the campus community to get their $2 tickets early or risk being left out. "Because of the interest expressed by townspeople and high schools in the area, it seems that the concert will be quickly sold out," the student newspaper reported. Indeed, it was.
10.
John F. Kennedy, 1960: Kennedy made a campaign stop at Lawrence in March 1960, delivering his speech in Riverview Lounge in the old Memorial Union. He would go on to be elected the 35th president of the United States later that year. Two years later, he was shot and killed while riding in a motorcade in Dallas. In a speech during a memorial service at Lawrence following the assassination, Lawrence President Curtis Tarr spoke to Kennedy's gifts: "Mr. Kennedy gave new meaning to the presidency. … He was not defined by narrow causes. Beyond nationalism he saw the hope of peace, cooperation and community. Above the petty cares of the privileged he caught the spirit of brotherhood."
11.
Ella Fitzgerald, 1961: The "First Lady of Song" was a full-on jazz superstar when she performed in concert at Memorial Chapel in early May. Her visit to Lawrence was a cross-country stopover between a two-and-a-half-week stand at New York's Basin Street East and a three-week engagement at the Crescendo in Los Angeles. "Ella rocked Lawrence College's staid, old Memorial Chapel with a battery of upbeat material Tuesday night," The Post-Crescent reported. "And she appeared to enjoy every minute of it. She carried the torch, too, as only she can do. A house just short of capacity couldn't have loved the first lady of song more."
12.
John Lewis, 1964, 2005, 2015: In June 2015, Rep. John Lewis returned to Lawrence to deliver the Commencement address in the 50th anniversary year of the passage of the Voting Rights Act. It marked the civil rights icon's third visit to Lawrence. He first came to campus in 1964 as head field secretary of the Student Nonviolent Coordinating Committee. He would return to deliver a convocation address in Memorial Chapel in 2005. In his Commencement address, Lewis pledged unity no matter your race, religion, or sexual identity. "We are one people, we are one family, we are one house," he said. "We are brothers and sisters."
13.
Abbie Hoffman, 1970: Hoffman was one of the counterculture's most visible figures in the late '60s and early '70s. With other radicals of the time, he formed the Youth International Party (Yippies), protesting capitalism and the Vietnam War. He was a leader of the "Conspiracy Seven," charged with inciting riots at the 1968 Democratic convention in Chicago. The trial was ongoing when he visited Lawrence to speak at Memorial Chapel as part of a two-day symposium that a student organizer described as insight into youth culture and urban studies.
14.
Maya Angelou, 1976 and 1997: The poet, memoirist, and civil rights activist has been among the most influential voices in America over the past 50 years. She was awarded an honorary degree by Lawrence in 1976, seven years after I Know Why the Caged Bird Sings drew international acclaim and launched a phenomenal literary career. She would return to campus more than two decades later to deliver a 1997 convocation address in 1997. Her 1993 book of essays, Wouldn't Take Nothing for My Journey Now, was a mainstay on the New York Times best-seller list shortly before her visit. She was greeted by an overflow crowd in Memorial Chapel.
15.
Paul Harvey, 1978: The famed radio broadcaster was an American icon, with his "The Rest of the Story" news and commentary reaching millions of listeners a week between 1951 and 2008. He spoke on campus and joined students for a Q&A session. The conversation steered mostly away from politics, according to The Lawrentian. Harvey instead talked about his role observing and commenting on life. "I consider myself a professional parade watcher who can't wait to get up every morning and watch the parade," he said.
16.
Yo-Yo Ma, 1986: One of the most accomplished cellists of all time paid a visit to Memorial Chapel in 1986. The one-time child prodigy was 31 when he performed at Lawrence as part of the 1985-86 Performing Arts Series. He was fresh off winning a 1985 Grammy for Outstanding Solo Performance. That would be the first of 18 Grammys he would win in a career that has also seen him awarded the National Medal of Arts and a Presidential Medal of Freedom.
17.
Dianne Reeves, 1987: The jazz vocalist extraordinaire led a star-studded lineup into the 1987 Jazz Weekend Celebration. She was joined by icons Dizzy Gillespie and Clark Terry. Reeves was early in her career at that point, but she wouldn't be overshadowed. She had released her first album in 1981 and had just signed with Blue Note Records in 1987. She was an ascending star, and the audience at Memorial Chapel got an up-close view.
18.
George H.W. Bush, 1988: The vice president was a Republican candidate for president when he made a campaign stop at Memorial Chapel in March 1988. The Post-Crescent reported that the student-dominated audience gave Bush a mixed review, with cheers and boos interspersed with chants of "Just say no to Bush." Bush, who would go on to win the election, pledged in his Chapel speech to make excellence in education a top priority. "I want to be the education president," he said. "I want a mandate from the people to improve our schools."
19.
Wynton Marsalis, 1988: The legendary trumpeter was 27 when he came to Lawrence to perform at Jazz Celebration Weekend. The concert sold out so fast that Lawrence officials arranged for a second concert. He met with students while on campus, challenging them to be culturally aware as they pursue music and other studies. "If you don't research the world of possibilities, you always will accept less," he told the students, according to The Post-Crescent. "It's not a matter of right or wrong; it's a question of possibilities." His brother, Branford Marsalis, performed at Lawrence in 2007.
20.
Joshua Bell, 1990 and 1998: The violin virtuoso came to Lawrence to perform early in what would become a highly decorated career. He's been among the most honored musicians of his time, taking home Grammy, Mercury, Gramophone, Echo Klassik awards and the Avery Fisher Prize. And he took a liking to Appleton. Bell had first come to Appleton in 1983, then as a teenager, to play with the Fox Valley Symphony Orchestra. He'd return seven years later to perform in Lawrence's Memorial Chapel as part of its Performing Arts Series. He was back in the Chapel in 1998, and has since come back to Appleton twice for symphony performances at the Fox Cities Performing Arts Center (2003 and 2017).
21.
Marilyn Horne, 1994: The American mezzo-soprano sits among the greatest voices of opera. She has received the National Medal of Arts, the Kennedy Center Honors, and four Grammy Awards. She came top Lawrence for a performance at Memorial Chapel as part of the 1993-94 Performing Arts Series.
22.
John Updike, 1993: The late novelist, essayist, critic, and poet was among the most prolific writers of the 21st century. Among his best-known works were The Witches of Eastwick and a series of novels focused on Harry "Rabbit" Angstrom. He won a Pulitzer Prize for Rabbit at Rest in 1991, two years before his visit to Lawrence, where he delivered a convocation address. He had a strong connection to Lawrence; his son, Michael, previously attended. Lawrence Today magazine reported that Updike shared his writing experiences with his Lawrence audience, took part in a Q&A session with students and faculty, and sat in on a fiction writing class. He lamented the decline in time spent reading: "I think the number of people who are willing to devote the eight or so hours it takes to read a book, seeking out pleasures that only a book can give, are fewer and fewer at the moment."
23.
Henry Louis Gates Jr., 1997: The creator of PBS's Finding Your Roots with Henry Louis Gates Jr. came to Lawrence to deliver a convocation address during the 150th anniversary celebration in 1997. He would go on to serve a stint on Lawrence's Board of Trustees from 1998 to 2003. Gates, who teaches at Harvard University, is an Emmy Award-winning filmmaker, journalist, author, and cultural critic.
24.
Joyce Carol Oates, 1999: The famed novelist spoke at an Honors Convocation and received an honorary degree. She has been one of the most accomplished novelists over the past six decades. When she came to Lawrence in 1999, it wasn't long after We Are the Mulvaneys, one of her most-recognized books, had spent considerable time on the New York Times best-seller list and had received the added plug from Oprah's book club. She is one a litany of notable authors who have delivered Convocation addresses at Lawrence through the years.
25.
Jane Goodall, 2001: On Oct. 26, the famed wildlife researcher spoke in Memorial Chapel, part of the Jane Goodall Institute lecture tour. The visit was coordinated through the nearby Mosquito Hill Nature Center, where she also made a stop. Among her other work, Goodall founded the Jane Goodall Institute for Wildlife Research, Education, and Conservation in 1977, providing field research on wild chimpanzees and working to improve the environment for all animals.
26.
Lech Walesa, 2001: The former president of Poland and winner of the Nobel Peace Prize came to Lawrence to deliver a convocation address. He also received an honorary degree. Walesa, who had galvanized the Solidarity movement and became Poland's first democratically elected president, spoke at Lawrence six weeks after 9/11. He called the attack the start of "the third world war," one that will be fought via "intellect and technological thinking against crudeness and naked violence."
27.
Arianna Huffington, 2004: The nationally syndicated columnist and best-selling author who would go on to co-found the Huffington Post (HuffPost) spoke at a Lawrence convocation in advance of the 2004 presidential election. She was considered one of the nation's most influential political commentators, and her work with the Huffington Post, founded in 2005, would be a game-changer in many ways as the Internet reshaped how news was reported and consumed.
28.
Salmon Rushdie, 2006: The celebrated British author spoke at a Lawrence Convocation 18 years after he generated a firestorm of controversy among Islamic fundamentalists with the release of his 1988 book, The Satanic Verses. In his Convocation address, he spoke on freedom of expression, religion, and their relationship to modern society. The Lawrentian described him as "unaffected and unassuming" and said his presentation was both down to earth and funnier than expected as he talked about how art will save the world by breaking down barriers and leading us to new frontiers.
29.
Michelle Obama, 2012: The first lady spoke Sept. 28 at Alexander Gymnasium, a campaign stop on behalf of her husband, President Barack Obama, who would be re-elected five weeks later. She is the only sitting first lady to visit Lawrence. She spoke in Appleton about Obama's fight for health care reform, despite potential political consequences. "He cared that it was the right thing to do," WHBY Radio quoted her as saying. "And, thankfully, because he fought for health reform, today our parents and grandparents on Medicare are paying hundreds less for their prescription drugs. Our young people can stay on their parents' insurance until they're 26 years old."
30.
Bill Clinton, 2016: The country's 42nd president came calling April 1 on behalf of his wife, Hillary Clinton, then a candidate for president. He became the first former president to visit Lawrence. As noted above, William Howard Taft was the only sitting president to ever visit Lawrence (1911). Three future presidents paid visits: Richard Nixon (1959); John F. Kennedy (1960) and George H.W. Bush (1988). Clinton told the gathering that his wife had the ideas and experience to be president, according to coverage in The Post-Crescent. "Experience is a dry, old term that old people like and young people don't," he joked.
And a sampling of 17 others who have spoken or performed at Lawrence: Vladamir Horowitz, 1930; Langston Hughes, 1945; Upton Sinclair, 1963; Pete Seeger, 1964; Muddy Waters, 1968, Julian Bond, 1969; Frank Zappa, 1969; Dick Gregory, 1973; George Will, 1984; Tom Wolfe, 1985; Ralph Nader, 1986; Dizzy Gillespie, 1987; Gwendolyn Brooks, 1994; Diana Krall, 1997; Ben Stein, 2007; Branford Marsalis, 2007; Audra McDonald, 2013.
Ed Berthiaume is director of public information at Lawrence University. Email: ed.c.berthiaume@lawrence.edu