A unique, immersive musical experience by the eclectic Deep Listening Band — known for its performances in resonant spaces including caves and large, underground cisterns — opens a new Lawrence University series dedicated to the depth and variety of new music being created by the world's leading ensembles as well as Lawrence's own faculty and students.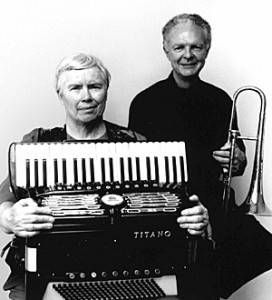 Deep Listening Band co-founders Pauline Oliveros and trombonist/didjeriduist Stuart Dempster, along with Lawrence conservatory of music faculty members, will create an ocean of sound Saturday, Oct. 29 at 8 p.m. by electronically creating 20 seconds or more of reverberation in the Lawrence Memorial Chapel. The opening concert in Lawrence's New Music Series is free and open to the public.
"Lawrence has always been incredibly supportive of new music," said Brian Pertl, dean of the Lawrence conservatory of music. "Every year dozens of events focus on the music of living composers. We felt it was high time to shine a spotlight on these exhilarating performances by creating a series that highlights the music of 'now.' I see it as a wonderful addition to our popular Artist Series, Jazz Series and World Music Series."
Oliveros, an accordionist and one of the 20th century's most important composers, has been a pioneer in the development of electronic art music and the concept of "deep listening," which she describes as "a practice intended for experiencing heightened and expanded awareness of the sound/silence continuum."
Dempster, who conducted a visiting artist residency last October at Lawrence, has been a member of Deep Listening Band since its inception in 1988. Known as a "sound gatherer" for the wide assortment of instruments he plays, Dempster is among the country's leading figures in the development of trombone technique and performance.
The three-member Deep Listening Band recently lost its long-time keyboardist David Gamper, who died unexpectedly last month at his home in Vermont. He had played with the band since 1990.
"I am thrilled to have a group of such musical significance visit our campus," said Pertl. "Pauline Oliveros and Stuart Dempster are integral to the history of 20th-century music in America. They also are two of the most open, accessible and generous virtuosi that you will ever have the pleasure to hear or meet. This is a rare opportunity to hear and experience music-making at its highest level."
Performing with Oliveros and Dempster in concert will be Pertl, didjeridu, Matt Turner, cellist and dancer Rebecca Salzer from the conservatory of music, guest dancer Jeff Wallace, Lawrence's student improvisation group IGLU and the Didjeridu Collective.
The Deep Listening Band's performance will be one of three concerts featured in the inaugural season of the New Music Series.
The second performance in the series — "Simultaneous Worlds" on Friday, Jan. 20, 2012 – will feature flutist Erin Lesser and pianist Michael Mizrahi of the Lawrence conservatory of music, along with percussionist Greg Beyer, a 1995 Lawrence graduate, music professor at Northern Illinois University and founding member of the flute/percussion duo DUE EAST. Highlighting the concert will be a performance of "Littoral," a multi-media work by composer John Supko that features 5.1 surround-sound audio, original video artwork by Kristine Marx and poetry by Cees Nooteboom.
The series concludes Saturday, April 21 with a performance by the University of Iowa Center for New Music, featuring late 20th- and 21st-century works. Under the direction of faculty composer David Gompper, the 26-member all-student ensemble energetically champions new music. Now in its 46th year, the ensemble provides programming to diverse audiences reflective of the range of current compositional styles as well as what is considered classic repertoire from the 20th century.
Founded in 1847, Lawrence University uniquely integrates a college of liberal arts and sciences with a world-class conservatory of music, both devoted exclusively to undergraduate education. Ranked among America's best colleges, it was selected for inclusion in the book "Colleges That Change Lives: 40 Schools That Will Change the Way You Think About College." Individualized learning, the development of multiple interests and community engagement are central to the Lawrence experience. Lawrence draws its 1,445 students from 44 states and 35 countries.