The correct spelling of "fasciation" earned Lawrence University its second straight title in the Fox Valley Literacy Council's annual Spelling Bee Thursday evening (10/20) at the Holiday Inn.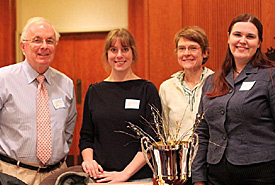 Spurred on by a vocal group of supporters, "Team Lawrence" — Provost David Burrows, Professor of Geology Marcia Bjornerud, Director of Corporate, Foundation and Sponsored Research Support Jenna Stone '00 and student Elise Mozena '12 — outlasted eight other area teams to win the Spelling Bee champion's crown for the second year in a row.
Congratulations on a job well done.