Tony Capparelli's plans for graduate school suddenly have been put on hold.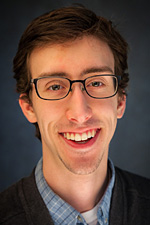 The Lawrence University senior piano performance major from River Falls will have to wait at least until the fall of 2015 before pursuing his doctorate thanks to the Rhode Island-based Thomas J. Watson Foundation.
Capparelli has been named one of 43 national recipients of a $28,000 Watson Fellowship for a wanderjahr of independent travel and exploration outside the United States on a topic of his choosing.
Beginning in August, Capparelli will embark on a 12-month immersion in Celtic and Scandinavian music and folklore, spending time in Ireland, the United Kingdom, Finland, Norway and Sweden.
His proposal, "A Light in the Brugh: Finding Warmth and Magic in the Folk Music of Northern Europe," was selected from 150 finalists representing students from 40 of the nation's premier private liberal arts colleges and universities. More than 700 students applied for this year's Watson Fellowship.
Capparelli experienced an epiphany of sorts the first time he encountered a ceilidh — a Gaelic term for an informal performance of traditional music and folklore — at a mixed gathering of tourists and locals in a small, warm room on a rainy night in Cape Breton, Nova Scotia.
"Everyone was clapping, singing along, some dancing to the sound of Cape Breton fiddle tunes, pipes and the beat of a bodhran, the Celtic frame drum," recalled Capparelli. "I never felt more joyous and 'light-filled' in my life."
A Musical Explorer of the First Order
Capparelli's Watson fellowship will take him to similar close-knit communities in Ireland, the Scottish Isles, Lapland and Scandinavia where he will explore the musical traditions of the Celtic, Nordic, Sami, and Karelian cultures and learn how they create this sense of joy and magical light, bringing people together in the harsh weather and dark winters of Northern Europe.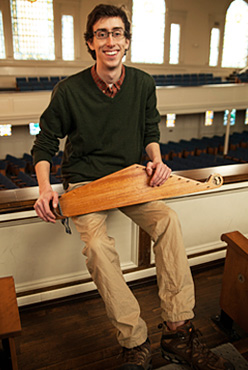 "I want to immerse myself in every aspect of Celtic and Scandinavian music making, from the teaching, the playing, and the ancestry of their songs and stories, to the crafting of native instruments," said Capparelli, who, other than a 2012 Spring Break trip to France with members of the Lawrence organ studio, has not previously traveled abroad. "In each location, I want to explore not just one, but many instruments and styles of music."
Brian Pertl, dean of the conservatory of music and Lawrence's campus liaison to the Watson Foundation, calls Capparelli "a musical explorer of the first order."
"Tony is the rare musician who is equally at home on a concert stage playing Chopin, or playing his frame drum at the weekly Irish music session down at McGuinesses in downtown Appleton," said Pertl. "The Watson Fellowship will allow him to explore his passion for Celtic music and myth for an entire year. It is safe to say it will be a life-changing experience."
Music professor Catherine Kautsky, in whose piano studio Capparelli studies, hailed Capparelli as "a delightfully imaginative, multi-talented piano student."
"His fascinating proposal to follow the trail of Celtic music should introduce him to people and places he might otherwise never encounter," said Kautsky. "What he learns will no doubt have a life-long impact on how he hears classical music as well."
As for Capparelli himself, he's looking forward to a transformative journey.
"While I currently look at this world from a distance, learning and exploring what I can on my own, to immerse myself in the places where the Celtic and Scandinavian music began will allow me to discover new magic in what has already been an important part of my life," said Capparelli. "I expect my musical ear will be opened to new sounds and colors, and my sense of the importance of this music and its magical light will blossom and grow."
Capparelli is Lawrence's 70th Watson Fellowship recipient since the program's inception in 1969. It was established by the children of Thomas J. Watson, Sr., the founder of International Business Machines Corp., and his wife, Jeannette, to honor their parents' long-standing interest in education and world affairs.
Watson Fellows are selected on the basis of the nominee's character, academic record, leadership potential, willingness to delve into another culture and the personal significance of the project proposal. Since its founding, nearly 2,600 fellowships have been awarded.
About Lawrence University
Founded in 1847, Lawrence University uniquely integrates a college of liberal arts and sciences with a nationally recognized conservatory of music, both devoted exclusively to undergraduate education. It was selected for inclusion in the Fiske Guide to Colleges 2014 and the book "Colleges That Change Lives: 40 Schools That Will Change the Way You Think About College." Individualized learning, the development of multiple interests and community engagement are central to the Lawrence experience. Lawrence draws its 1,500 students from nearly every state and more than 50 countries.