Graduates of Lawrence University are among the most "grateful" in the country for the education they received according to Forbes magazine.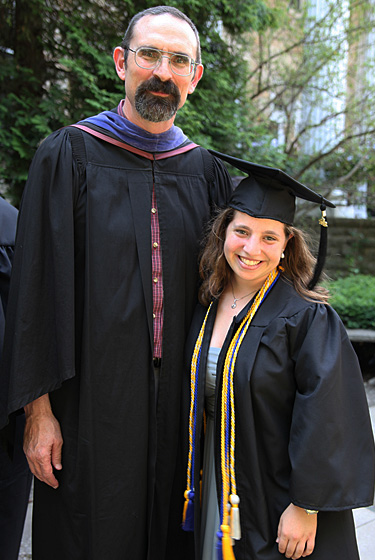 Lawrence was ranked 60th nationally among in Forbes' 2014 "Grateful Grads Index," the highest ranking of any college or university in Wisconsin.
In an attempt to measure the value of a college degree, Forbes devised a rate of return based on the amount of private gifts given to four-year, not-for-profit colleges with enrollments of at least 1,000 over the past 10 years, an institution's full-time enrollment and its alumni participation rates.
"Lawrence has long prided itself on being a 'grateful place,'" said Cal Husmann, vice president for alumni, development and communications. "As an institution, we are profoundly grateful for the support we receive, both in time and money from our alumni, the community and other friends of the college on behalf of our mission of educating students to lead productive, successful lives."
Lawrence students contribute to that communal atmosphere of gratitude by regularly demonstrating their own grateful spirit. Husmann cited a question-and-answer session following a recent performance by 40 music students in Chicago as just one example.
"Gratitude was a theme common in every response, from students talking about how Lawrence is an accepting place and a college where faculty take a personal interest in the students to a community that encourages students to engage in multiple activities," said Husmann. "After the show, I met a junior who told me with enthusiasm about the many activities and studies he was pursuing. He expressed wonder at his good fortune to have all the opportunities available at Lawrence."
In compiling its "Grateful Grads Index," Forbes examined government databases for information on private donations to post-secondary institutions during the past decade. The magazine also calculated the percentage of graduates who donate to their alma mater each year, giving up to an additional 20 percent weighting to any institution whose giving rate topped 30 percent.
From 2009 through 2013, Lawrence's alumni participation rate averaged 39.3 percent, 19th-best among the top 100 ranked schools in the Forbes index.
About Lawrence University
Founded in 1847, Lawrence University uniquely integrates a college of liberal arts and sciences with a nationally recognized conservatory of music, both devoted exclusively to undergraduate education. It was selected for inclusion in the Fiske Guide to Colleges 2014 and the book "Colleges That Change Lives: 40 Schools That Will Change the Way You Think About College." Individualized learning, the development of multiple interests and community engagement are central to the Lawrence experience. Lawrence draws its 1,500 students from nearly every state and more than 50 countries.