Professor Emeritus Kenneth Sager, the face of Lawrence University's education department for nearly four decades, died peacefully Friday, July 18 at the age of 96.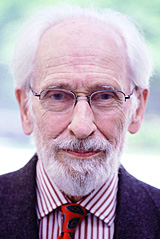 Sager graduated from Lawrence in 1939 and later returned to his alma mater, where he spent 38 years as a teacher and mentor in the college's education department.  He passed away just days before Lawrence announced a $2.5 million gift that will expand the education department to include a distinctive apprenticeship-based program of pre-K-6 teacher preparation, a development he would have heartily applauded.
A funeral service is scheduled Thursday, July 24 at 11 a.m. at St. Paul Lutheran Church, 200 Commercial St., Neenah. Visitation will be held from 9 a.m. until time of service. Interment will be at Appleton's Riverside Cemetery.
An Appleton native who spent all but a few years in his hometown, Sager was involved in education on multiple fronts nearly his entire adult life. Prior to joining the Lawrence education department in 1963, he spent 19 years in the classroom of his prep alma mater, Appleton Senior High School (now Appleton West), where he taught history, speech, psychology, philosophy and political science.
He earned a bachelor of arts degree in history in 1939 from Lawrence, where he played cello in the symphony. A member of Phi Beta Kappa, he was certified to teach English and history upon his graduation.
He earned a master's degree in American history from the University of Wisconsin, but spent two years working at Pettibone-Peabody Company, Appleton's pre-eminent dry goods store at the time, before embarking on a teaching career that spanned 59 years.
He began his teaching career in 1942 when a position opened up at Appleton High School after a teacher decided he would rather grow Christmas trees than continue working in the classroom. "He wanted to grow Christmas trees, I decided to grow people," Sager once explained of his somewhat serendipitous entry into the education field.
After "officially" retiring from Lawrence in 2001 at the age of 83, Sager continued to teach speech courses until the age of 90. When asked about his long teaching tenure, Sager remarked, "If you like cheese, eat it!"
He devoted his life to improving education and his efforts extended beyond the classroom. He served 39 years on the Appleton Board of Education — one of only four people in the state with that lengthy of a tenure among Wisconsin's 426 school districts at the time of his departure from the board (2003).
In addition to the Appleton Board of Education, Sager served as a trustee of the Upper Midwest Regional Education Laboratory, the Hazel Duling Scholarship Fund, was a member of the Committee for Career Education in Wisconsin Public Schools and was involved for many years with Appleton's "A Better Chance" program.
His long career of service was recognized with numerous honors, among them induction into the Appleton West Hall of Fame in 2004 and the "Most Wonderful Person Award" from the Appleton Women's Club in 1992. Upon his retirement from the board in 2003, the Appleton School Board voted to name the learning center at the Classical School "The Ken Sager Center" in recognition of his many years of dedicated service.
A music lover, Sager sang in local choirs and variously directed choirs at four area churches for more than 50 years. He collaborated with several area historians in co-authoring the book "Land of the Fox," a history of Outagamie County.
Sager is survived by two daughters, Kristene and Ann, both of Appleton, a sister-in-law Marion Leisering, Appleton, his wife's relatives Mary Kay Smith and her family and thousands of former students.
About Lawrence University
Founded in 1847, Lawrence University uniquely integrates a college of liberal arts and sciences with a nationally recognized conservatory of music, both devoted exclusively to undergraduate education. It was selected for inclusion in the Fiske Guide to Colleges 2015 and the book "Colleges That Change Lives: 40 Schools That Will Change the Way You Think About College." Individualized learning, the development of multiple interests and community engagement are central to the Lawrence experience. Lawrence draws its 1,500 students from nearly every state and more than 50 countries.