For most participants, the game of Ultimate Frisbee is a playful diversion, a social and recreational outlet. For Dani Glass, it has been a life-changing experience.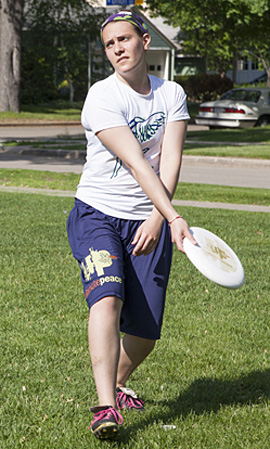 It's hardly a surprise the senior English major at Lawrence University would gravitate to the sport. It's practically a part of her DNA. Three members of her family have played the sport professionally, including her father, Bruce Glass. Her uncle and aunt, Mike and Nancy Glass, are members of the Ultimate Hall of Fame.
"I grew up throwing a Frisbee around, but I didn't start playing organized Ultimate until the summer of 2009," said Glass, a 2010 graduate of Deerfield High School in suburban Chicago.
A long-time soccer player, Glass dove headlong in the game after learning Illinois would be sending a representative team to a major youth tournament for the first time.
"My aunt said I should try out. I was like, 'OK, I can throw a disk, I can run around a field and catch,'" said Glass. "It was a coed team and there were like 20 guys at the tryout and five girls including me. I got out onto the line and one of the guys asked, 'are you a cutter or a handler?' I freaked out a little bit because I had no idea what those words meant. But I wound up on the team and we eventually went to a big, national tournament in Minnesota.
"I picked it up pretty easily, having played soccer for so many years," added Glass, the starting goalie on Lawrence's women's soccer team and a cutter on the college's Ultimate Frisbee team.
The sport took on an entirely different meaning for Glass after she discovered camp Ultimate Peace, a non-profit initiative launched by a former teammate of her uncle's. Conducted in Israel, the camp uses Ultimate Frisbee as an instrument to help teenagers in the region build relationships that hopefully will lead to a more peaceful Middle East.
In the summer of 2010, Glass traveled to Israel with her mother, three cousins, her uncle and aunt to participate in the first week-long Ultimate Peace camp near Haifa. It attracted more than 120 Arab-Israeli, Jewish-Israeli and Palestinian teenagers.
A unique aspect of Ultimate Frisbee is that it is played without official referees. Known as "the spirit of the game" — an elevated level of sportsmanship — it is instead governed by the 14 players on the field, making it an ideal vehicle for bonding disparate groups.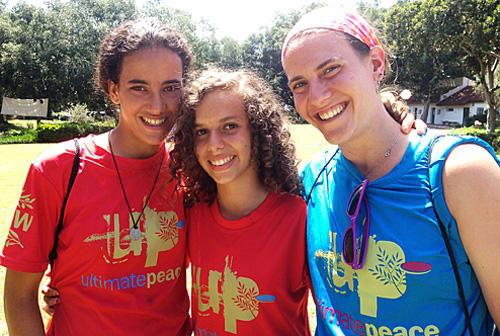 "Spirit encompasses five values: mutual respect, integrity, fun, non-violence and friendship,"  explained Glass, who runs drills and helps coach scrimmages at the camps. "Through spirit, we provide kids the opportunity to get to know each other and form friendships that have proven to be important, meaningful and lasting for them."
Operating on a "no politics" rule, the camps strive to get each group to learn more about the other's culture through conversation, but not debate public policy or geography.
"By eating together, practicing in the hot sun, hanging out at the pool, doing some non-Frisbee things, the kids really get to know each other," said Glass, who will serve next year as co-president of Lawrence's chapter of Hillel, the largest Jewish campus organization in the world. "That's an incredible thing to see. They all come from places with so much conflict and prejudice and then they get to camp, they get to know each other and a lot of that starts to melt away."
Five years in, Ultimate Peace is indeed serving as a bridge. Glass beams with stories of Jewish girls who want to visit their Arab friends' houses to experience Ramadan and Arab girls who want to see what Jewish holidays are like.
"I don't know how to describe the impact it has had on my life. It has changed my life more than I could have ever imagined. To see these kids 100 percent focused on creating a community of trust in each other is overwhelming. In the face of all this conflict, it is so refreshing to see their efforts in making a positive change."
Dani Glass '15
"We have two girls, an Arab-Israeli and Jewish-Israeli, talking about how they're going to stand up at each other's weddings," said Glass, one of about 30 American coaches who work the camps each summer. "To see that transformation happen and to be part of it is just the most gratifying thing I could ever imagine."
Reflecting on her involvement with Ultimate Peace turns Glass emotional. The term "life changing" is used repeatedly. The experience has shaped her entire philosophy of life.
"I don't know how to describe the impact it has had on my life," said Glass, who returned earlier this summer from her fifth straight trip to Ultimate Peace. "It has changed my life more than I could have ever imagined. To see these kids 100 percent focused on creating a community of trust in each other is overwhelming. In the face of all this conflict, it is so refreshing to see their efforts in making a positive change."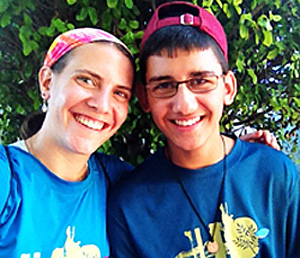 "I've spent a lot of time thinking about the question, 'what do you know for sure?'  There are not very many things I can say 'I know that 100 percent to be true,' but I do know for sure that the most important things in my life are showing simple kindness, showing gratitude and choosing to matter.
"Ultimate Peace has helped me to get there, to understand the role that those things can play in my life and can play in other peoples' lives if I enact them, if I embody them. It's given me the chance to step out of the constraints I've lived under. Every year with Ultimate Peace, I've stepped out of those constraints even more."
With her college graduation less than a year away, Glass sees Ultimate Peace playing a role in the direction her career takes.
"What I've seen in the kids who speak more than their native language is that language is a very empowering thing. I've wanted to be a high school English or literature teacher for as long as I can remember.
"But in the past couple years I've realized that what I really want to do is teach English abroad. I've looked into a few programs, including some in the Middle East. It's always been a life goal to learn conversational Hebrew. It'd be nice to pick up some Arabic, too. If I could teach there and work there, I could conduct practices and clinics and see these kids all year because just once every year isn't enough."
About Lawrence University
Founded in 1847, Lawrence University uniquely integrates a college of liberal arts and sciences with a nationally recognized conservatory of music, both devoted exclusively to undergraduate education. It was selected for inclusion in the Fiske Guide to Colleges 2015 and the book "Colleges That Change Lives: 40 Schools That Will Change the Way You Think About College." Individualized learning, the development of multiple interests and community engagement are central to the Lawrence experience. Lawrence draws its 1,500 students from nearly every state and more than 50 countries.