Professor Emeritus of Art E. Dane Purdo died Tuesday, August 19 in Neenah at the age of 88.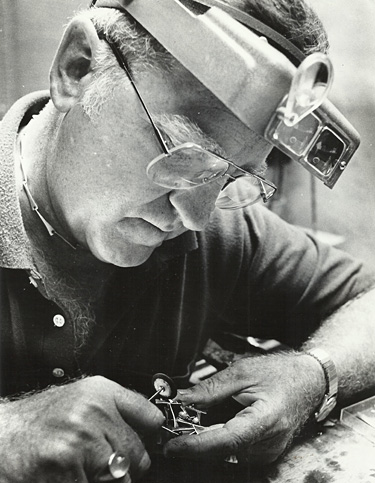 An accomplished silversmith — he designed Lawrence's Faculty Marshal Mace carried at the head of academic processions as well as the Presidential Chain of Office and usher batons —Purdo was one of 21 members of the Milwaukee-Downer faculty who came to Lawrence in 1964 as part of the consolidation with the former all-women's college. He began a 36-year teaching career in 1955 at Milwaukee-Downer as both studio artist and art historian. After the consolidation, he taught courses in metals and ceramics in Lawrence's art department until his retirement in 1991.
A multi-faceted artist/teacher given to sartorial splendor, outside the classroom and art studio he also was well known for his skills on the dance floor and the ski slopes. His interests in music and theatre were manifest in Attic Theatre productions, the St. Mary Parish resurrection choir, as a member of the One Nighters play-reading group and as a volunteer at the Fox Cities PAC.
A native of Detroit, Mich., his artistic craftsmanship was admired for its carefully controlled contours, perfect balance between convex forms and concave outlines and mirror-smooth surfaces. He had a special ability to blend textures, modern balance and novel lines. His creations ranged from stunning jewelry to ecclesiastical chalices and have been exhibited widely throughout the United States and Europe. In describing his art, he once said is motto was "Simplicity is the essence of good taste."
His work has been recognized with numerous honors and awards and much of it resides in public and private collections around the country, including the Detroit Institute of Art, Chicago Art Institute, the Bergstrom Mahler Museum, The Kimberly Clark Corporation, The Fox River Paper Company, the First Congregational Church and Memorial Presbyterian Church in Appleton.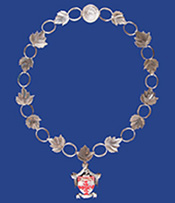 While a highly skilled craftsman, Purdo always saw his first role as teacher, remarking "in both (being a teacher and artist) you are working and creating as an individual."
Purdo earned both his bachelor's and master's degrees in art history from the University of Michigan and an M.F.A. degree in silversmithing and ceramics from Cranbrook Academy of Art in Bloomfield Hills, Mich. A year after earning his M.F.A., while teaching at Milwaukee-Downer, he was awarded a U.S. Fulbright grant, which he used to pursue his interests in silversmithing at the Royal College of Art in London, becoming the first American to register his hallmark at Goldsmith Hall.
He was preceded in death by his loving wife, Irene Purdo, in 2007. He is survived by three children, son Michael (Cindy) Purdo, Roswell, Ga., daughters Mary (James) Peksa, Wausau, and  Melanie (Sam) Bomier, Neenah, four grandchildren and a sister Gertrude McGuire.
A private family service is planned. Lawrence will celebrate Purdo's life with an on-campus memorial on a date to be determined.
In lieu of flowers, the family has asked donations in his memory be made to Lawrence University designated for the E. Dane Purdo Art Scholarship Award, 711 E. Boldt Way, Appleton, WI 54911.
About Lawrence University
Founded in 1847, Lawrence University uniquely integrates a college of liberal arts and sciences with a nationally recognized conservatory of music, both devoted exclusively to undergraduate education. It was selected for inclusion in the Fiske Guide to Colleges 2015 and the book "Colleges That Change Lives: 40 Schools That Will Change the Way You Think About College." Individualized learning, the development of multiple interests and community engagement are central to the Lawrence experience. Lawrence draws its 1,500 students from nearly every state and more than 50 countries.