Author and educator Gloria Ladson-Billings will draw parallels between the current youth activism that has emerged across the country and the efforts of Martin Luther King Jr. to confront injustice Monday, Jan. 19 at 6:30 p.m in the Lawrence Memorial Chapel as part of the 24th annual community celebration of the American civil rights leader. The event is free and open to the public. A sign language interpreter will be present and a reception follows the program.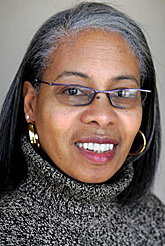 As this year's Dr. Martin Luther King Jr. Celebration keynote speaker, Ladson-Billings, the Kellner Family Chair of Urban Education at UW-Madison, presents "More than a Dreamer: Restoring the Radical Tradition of Martin Luther King Jr."
The event's program includes music by Lawrence senior Brienne Colston and the Kimberly High School Choir. Four area students will read their winning submissions from the annual Martin Luther King essay contest. The theme for this year's celebration is "Fulfilling the Dream of Opportunity."
The annual commemoration of Dr. King's life and legacy is jointly presented by Lawrence and the organization Celebrate Diversity Fox Cities (formerly known as Toward Community: Unity in Diversity), with the support of The Post-Crescent, numerous Fox Valley organizations, churches and individuals.
Ladson-Billings says society too often sanitizes and romanticizes its heroes.
"In the case of Martin Luther King Jr., we have fallen in love with the notion of him as a dreamer," she said. "But King was a man of action and recognized the need to confront injustice not merely dream about its eradication someday."
A scholar on the pedagogical practices of teachers who work successfully with African American students, Ladson-Billings also conducts research on Critical Race Theory applications to education. She is the author of the books "The Dreamkeepers: Successful Teachers of African American Children" and "Crossing Over to Canaan: The Journey of New Teachers in Diverse Classrooms."
A long-standing member of the NAACP and Alpha Kappa Alpha Sorority, Ladson-Billlings' work as an educator has been recognized with numerous awards, including election to the National Academy of Education, the American Anthropological Association's George and Louise Spindler Award for ongoing contributions in educational anthropology and an honorary degree from Sweden's Umeå University.
"Reflecting on this year's theme, fulfilling the dream of opportunity, I can't help but wonder if this dream will ever be fulfilled," said Pa Lee Moua, Lawrence's assistant dean of students for multicultural affairs. "Unfortunately even today, opportunities are not equal for everyone. Individually, and as a society, we all play a part. In the words of Dr. King, 'In the end, we will remember not the words of our enemies, but the silence of our friends.' Change will only happen if we step up, speak up and move forward together. There is no 'Us' and 'Them.' We complete our communities."
"…King was a man of action and recognized the need to confront
injustice not merely dream about its eradication someday."

— Gloria Ladson-Billings
"During these trying times, we must remember the dream of Dr. King is far from complete," said Kathy Flores, chair of the MLK Planning Committee and diversity coordinator for the city of Appleton. "We must continue to remember his legacy by not only honoring him, but continuing the work amidst the struggle for many. As we sing 'Lift Every Voice,' the Black National Anthem at this year's celebration, I hope everyone is moved by the words 'Let us march on till victory is won.'"
The celebration will recognize three community members.
• Nicholas Hoffman, chief curator at the History Museum at the Castle, will receive the annual Jane LaChapelle McCarty-MLK Community Leader Award, which honors an individual who has brought different people in the community together in the spirit of Dr. King. Hoffmann has curated exhibitions on those forgotten in history, including immigrants in "Food: Who We Are, What We Eat," minorities in "Progressive Appleton" and most recently the history of local African Americans in "Stone of Hope: Black Experiences in the Fox Cities."
Part of the "Stone of Hope" exhibition will be on display in Shattuck Hall 163 following the program.
•  Amy Xiong, English Language Learner teacher at Kaukauna High School and co-advisor of the KHS Diversity Club, will be the first recipient of the newly established Dr. Martin Luther King Jr. Educator Award, which honors individuals who educate people in the spirit of Dr. King. Xiong was chosen for her dedication in going above and beyond her assigned duties to ensure all students are given equal, and a wide range of diverse, educational opportunities.
• Rev. Roger Bertschausen, senior minister at Fox Valley Unitarian Universalist Fellowship and founder of the annual MLK Celebration, will be recognized for his 25 years of service with a special legacy award. Bertschausen is relocating to St. Louis later this year.
About Lawrence University
Founded in 1847, Lawrence University uniquely integrates a college of liberal arts and sciences with a nationally recognized conservatory of music, both devoted exclusively to undergraduate education. It was selected for inclusion in the Fiske Guide to Colleges 2015 and the book "Colleges That Change Lives: 40 Schools That Will Change the Way You Think About College." Engaged learning, the development of multiple interests and community outreach are central to the Lawrence experience. Lawrence draws its 1,500 students from nearly every state and more than 50 countries.