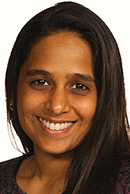 A collaborative project between Lawrence University composer Asha Srinivasan, Lawrence graduates Jesse Dochnahl (2006) and Carrie Winkler (1986) and a pair of middle school bands in two different states led to a recent world premiere performance.
The Sheboygan Falls Middle School eighth-grade band, under the direction of Winkler, featured Srinivasan's "Chroma Mosaic" in its spring band concert earlier this month.
The composition grew out of a first-year project called Mission to Commission. The brainchild of Dochnahl, who directs the eighth-grade band at CS Porter Middle School in Missoula, Mont., Mission to Commission seeks opportunities for year-long creativity, communication and collaboration for two middle school band programs.
Under Dochnahl's baton, Porter Middle School's eighth-grade band will perform "Chroma Mosaic" May 26 in its own concert.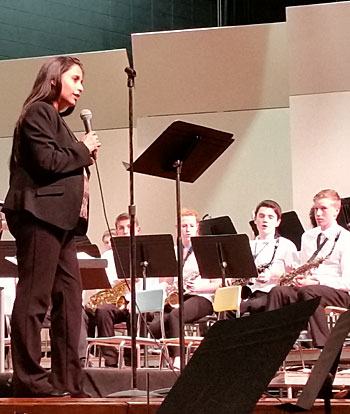 Starting in April 2014, Srinivasan began working with Dochnahl on the idea of a joint collaboration. Starting last September, through personal visits to Sheboygan Falls and Skyping with the students in Montana, Srinivasan mentored the young musicians on the art and process of music composition.
Students from both schools composed a series of individual melodies and each school ultimately chose 10, ranging in length from 10 to 20 seconds, to submit to Srinivasan, who then skillfully arranged 14 of them into a single, moving mosaic of music.
"Some of them I used in their entirety and others I just used small snippets," explained Srinivasan, who returned the finished composition in mid-March to the students to begin practicing. "I adjusted the melodies in terms of tempo, key and instrumentation to create the larger, composite piece."
The culmination of the collaboration — the premiere performance of the six-minute composition by the Sheboygan Falls eighth-grade band — left Srinivasan feeling overwhelmed.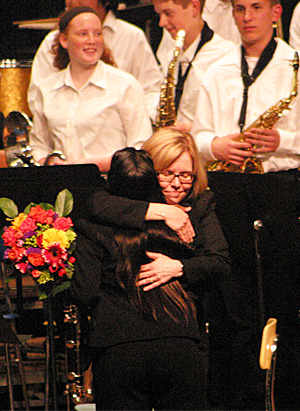 "I told the students afterward that was the best, most meaningful performance I've ever experienced. It wasn't just my music, it was our music. I hope the experience, the impression, the memory stays with them just as it is going to stay with me.
"This was really one of the neatest projects I've been involved with," added Srinivasan. "It's really hard to compose music for the middle-school band level, so this was a major learning process on my end as well."
Srinivasan, who joined the Lawrence faculty in 2008, has won two international awards for her competition "Dviraag." She was the winner of the Ruam Samai Award at the 2011 Thailand International Composition Festival and earned first-place honors in the Flute New Music Consortium's 2014 international composition competition, which attracted more than 250 entries from composers in more than 20 countries.
"Dviraag" is included on the CD "Millennial Masters Vol. 4" by Ablaze Records and also can be heard on SoundCloud.
The Mission to Commission project was supported by the Kohler Foundation and the Plum Creek Foundation.
About Lawrence University
Founded in 1847, Lawrence University uniquely integrates a college of liberal arts and sciences with a nationally recognized conservatory of music, both devoted exclusively to undergraduate education. It was selected for inclusion in the Fiske Guide to Colleges 2015 and the book "Colleges That Change Lives: 40 Schools That Will Change the Way You Think About College." Engaged learning, the development of multiple interests and community outreach are central to the Lawrence experience. Lawrence draws its 1,500 students from nearly every state and more than 50 countries.