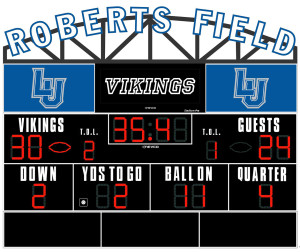 APPLETON, Wis. — The field of the renovated Banta Bowl will honor legendary Lawrence University football coach Ron Roberts, university officials announced.
Roberts Field at the Banta Bowl is the new name of the facility where Lawrence's iconic coach prowled the sidelines for 20 seasons. The naming of the field was done at the request of Tom Rogers, Lawrence class of 1965, who provided the lead gift for the stadium renovation.
"It was a fitting way to recognize what Ron Roberts had done for Lawrence. He just did an amazing job," Rogers said.
"When we were talking about the Bowl and the naming rights, it was very apparent to me that he was the person after whom we should name the field. His former players said he was an amazing coach, and he had the ability to inspire them to do some great things they didn't think they were capable of doing."
Rogers was a student at Lawrence when Roberts began his coaching career in Appleton. Rogers was a soccer player who helped establish that program at Lawrence, but he was impressed by what Roberts did for the football team.
"They had the beginnings of some very good teams, and I was very aware that Ron Roberts had a tremendous impact on the football program," Rogers said. "It was a very obvious choice."
Lawrence Director of Athletics Mike Szkodzinski said this is a fitting tribute to a Lawrence legend.
"The Roberts family has been tremendously supportive of our programs," Szkodzinski said. "Ron Roberts' legacy is something that people continue to marvel at even today. Coach Roberts demonstrated excellence in every aspect while at Lawrence and in life. The idea of naming the field after Coach Roberts is absolutely appropriate, and we appreciate the generosity of Tom Rogers."
Ron Roberts served as Lawrence's head football coach from 1965-83 and for a single season in 1992. His teams won six Midwest Conference championships and reached the semifinals of the 1981 NCAA Division III playoffs. Roberts compiled a career record of 121-54-1 and retired after the 1992 season with the 12th-best winning percentage (.690) in NCAA Division III football history.
"I wrote a thank you note to Tom Rogers," said Marlene Roberts, Ron's widow. "Tom said Ron had a positive impact on his life. His gift will have a tremendous impact on Ron's memory so he will remain a visible part of Lawrence athletics."
Ron Roberts passed away in December 2012, and Marlene said their three children, Ron Jr. '84, Carrie '86 and Elizabeth, were excited to hear the news about Roberts Field.
"I was so happy for Ron because this is something he would revel in," Marlene said with a sparkle. "He would love it."
The Banta Bowl, which celebrates its 50th anniversary this fall, is in the midst of a renovation project that will give the historic stadium a facelift. Lawrence has received $4.15 million toward the goal of $4.5 million for renovations. Lawrence's Development Office is in a final push to complete the fundraising campaign.
The stadium floor will be raised and expanded to accommodate both football and men's and women's soccer. The grass field is being replaced with FieldTurf, an artificial surface that will allow more use of the facility.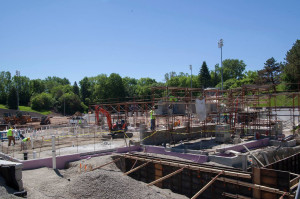 A new building is currently under construction that will house the Lawrence locker room, a visiting team room, bathrooms, concessions and ticketing. The concrete structure of the stadium will be covered and new bleachers will be installed. A new scoreboard and sound system are also set to be installed.
A memorial to Bernie Heselton, long-time coach and director of athletics, is set to be included in the renovated stadium. Heselton served as Lawrence football coach from 1938-64, won six Midwest Conference championships and compiled a record of 111-79-5.
A fundraising effort also is under way to include a memorial for Carl Berghult '64, a friend and fraternity brother of Rogers. Berghult, a native of Chicago, Ill., was a running back for the Vikings and played in the final years of Heselton's tenure. After graduating from Lawrence, Berghult was a lieutenant in the United States Naval Reserve, and he was killed in the flight deck fire aboard the USS Enterprise on Jan. 14, 1969.
The aggressive construction schedule calls for having the field completed when Lawrence opens its football season with a non-conference game against Rockford University on Sept. 5.
Ron Roberts was the first-year head coach of the Vikings when the stadium, a gift from George Banta Jr. '10 that was called the Lawrence Bowl until 1978, opened in 1965. Lawrence christened the stadium with a 26-21 victory over St. Olaf College on Oct. 2, 1965.
"I do remember the pressure was on to win that game," Marlene Roberts said. "Ron was so happy to beat St. Olaf. To open the Bowl with a win was wonderful. Ron always thought the best of his players. He thought his players could do anything. He genuinely believed that. I think that incited and inspired them."
A native of Chicago, Ill., Ron Roberts earned a bachelor's degree in history and physical education and a master's degree in educational administration from the University of Wisconsin. A Professor Emeritus of Physical Education at Lawrence, Roberts earned an advanced degree from the University of Chicago and a Ph.D. in educational administration from Brigham Young University.
A charter member of the Lawrence Intercollegiate Athletic Hall of Fame, Roberts came to Lawrence in 1963 as the offensive line coach under Heselton. Roberts, who was inducted into the Wisconsin Football Coaches Association Hall of Fame in 1996, also coached the wrestling and men's tennis teams upon his arrival in Appleton.
Roberts won his first Midwest Conference championship in 1966 as the Vikings finished 7-1. In just his third season, the 1967 squad finished 8-0 to become only the fourth unbeaten, untied team in school history and won another conference title. Roberts' teams would go on to win four more conference championships (1975, 1979, 1980, 1981).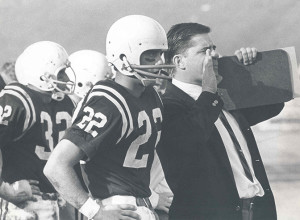 In Roberts' tenure as head coach, the Vikings posted 14 winning seasons, including an impressive 10-year stretch from 1974-83. During that time, Lawrence never lost more than two games in a season and posted a 77-15 record. Lawrence also put together a school-record 18-game winning streak during that time.
The 1981 season was perhaps the pinnacle of Roberts' coaching career. Lawrence won the Midwest Conference championship and finished with a 9-0 regular-season record (10-1 overall). Lawrence then became the first Midwest Conference team selected for the NCAA Division III playoffs.
Lawrence also became the first Midwest Conference team to host, and win, a NCAA playoff game when Lawrence defeated Minnesota-Morris in the quarterfinals. Lawrence was finally eliminated in the national semifinals but no Midwest Conference team has ever advanced farther in the Division III playoffs.
Roberts, who also was Lawrence's director of athletics, stepped away from football after the 1983 season but returned to the team to coach the 1992 season before retiring. When Roberts finished coaching football, only Cornell College's Jerry Clark had won more games in the Midwest Conference.
Roberts also served as the head coach of the wrestling, tennis and track teams during his time at Lawrence. Roberts coached the wrestling team for 19 seasons in three different stints (1963-69, 1972-74, 1985-93). He coached the men's tennis team for six seasons from 1964-69 and the team won the 1968 conference championship.
Roberts took over as director of athletics following Heselton's retirement in 1971 and oversaw the introduction of women's varsity sports at Lawrence. Women's basketball, soccer, volleyball, cross country, tennis, track and field, swimming and softball all began varsity play during Roberts' tenure as director of athletics.
About Lawrence University
Founded in 1847, Lawrence University uniquely integrates a college of liberal arts and sciences with a nationally recognized conservatory of music, both devoted exclusively to undergraduate education. It was selected for inclusion in the Fiske Guide to Colleges 2015 and the book "Colleges That Change Lives: 40 Schools That Will Change the Way You Think About College." Engaged learning, the development of multiple interests and community outreach are central to the Lawrence experience. Lawrence draws its 1,500 students from nearly every state and more than 50 countries.