If Joe Bazydlo has his way, visitors trekking through any of the U.S. National Parks one day soon will have instant access to fascinating information about the park at their fingertips.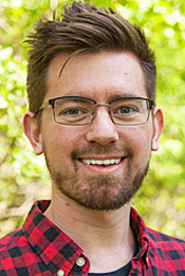 Thanks to a smartphone app he helped develop — "Trailblazer" — hikers and other trail users will be able to magically add entries to their digital field journal via GPS technology. Each GPS point, or Trailblazer Beacon, once hiked through will unlock preloaded information about the hiker's immediate environment provided by the people that know the most, the park's rangers.
"It's sort of a scavenger hunt," said Bazydlo, who has spent time as an interpretive ranger at Hawaii's Haleakala National Park.
Hikers will find themselves on a park-wide scavenger hunt to pass through all Trailblazer Beacons in the park trails and complete all entries in their field journals.
"The whole app works via GPS technology rather than using cell service, so it will work in even the most remote locations."
The app is designed to be interactive.
"People could also create their own entries. A botanist, for instance, could go to a park, find a colony of a certain plant, save the GPS point on their phone, write a description about it that could be sent to park officials who then could approve or decline the entry," Bazydlo explained. "Essentially, we want to use Trailblazer to crowd-source every park in the nation. We want to provide a platform for everyone to contribute their unique perspective on the parks."
With help from Eddie Elizondo and Alex Shabazi, Bazydlo developed "Trailblazer" in Lawrence University's "In Pursuit of Innovation" course last fall and took the idea all the way to the finals of the 2015 Tiger Launch Competition at Princeton University.
Bazydlo and Elizondo were among 20 finalists from an original pool of more than 250 teams from around the country that submitted 90-second video pitches for the first round of the competition when it began last November.
Bazydlo delivered the team's four-minute presentation in front of three venture capitalists who served as the competition's judges. The annual competition is sponsored by Princeton's Entrepreneurship Club.
Lawrence was one of the only liberal arts college invited to the finals, which included teams from Princeton, Duke, Cal Tech, Clemson and Johns Hopkins universities, among others.
"It was an unbelievable experience…it certainly proved Lawrence students can run with the best of the them."

— Joe Bazydlo
"I was a kind of shocked, but we certainly were honored to make it that far," said Bayzdlo, a junior anthropology and Chinese major from Rocky River, Ohio. "There were some student presenters who were completing their MBAs and some who were working full time on their projects."
The first- and second-place presenters as determined by the judges received funding awards of $10,000 and $5,000, respectively. Although he didn't get any financial support for Trailblazer, Bazydlo felt the opportunity was priceless.
"It was an unbelievable experience, a great learning experience," said Bazydlo, who was still tweaking the presentation on the train ride from Newark's Liberty International Airport to Princeton. "It certainly proved Lawrence students can run with the best of the them. Without a business school, we had to learn everything from the ground up to even go into the project while still being full-time students."
Adam Galambos, associate professor of economics and one of the drivers behind Lawrence's innovation and entrepreneurship program, expressed pride in the Trailblazer team's success.
"Joe and Eddie combined their expertise and worked very hard to pursue an idea they are both passionate about and we're certainly proud of their success in this year's Tiger Launch competition," said Galambos. "I hope their success inspires others to pursue their own innovative and entrepreneurial ideas, whether they are in the realm of social enterprise, commercial ventures or innovation in any field. Our I&E program is here to support those initiatives through relevant courses and events such as LaunchLU, as well as the new I&E club coming this fall."
The journey from Briggs Hall to the Princeton campus was a major triumph in itself considering the challenges the team encountered along the way, starting with the initial 90-second video pitch.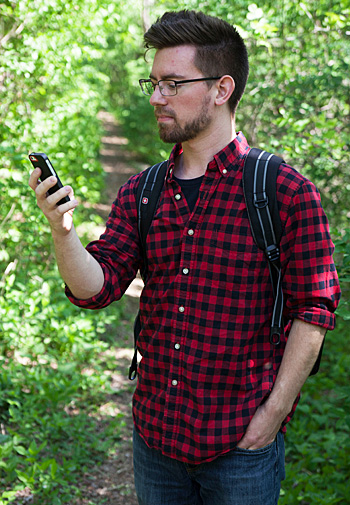 "We shot it at three in the morning the day we were leaving for the end-of-term holiday break," recalled Bazydlo. "It was not good."
So "take two" was shot in Bazydlo's living room back home in Ohio.
"I just propped up my iPad on the fireplace mantle and starting giving our pitch. It was a very awkward video, but we submitted it thinking it's all about the idea, not the quality of the video."
The team lived in limbo for nearly three months before finding out on Valentine's Day weekend they had made the second round.
"Suddenly we realized we were running with the big dogs. We had made the semifinals," said Bazydlo.
To earn a ticket to Princeton, the team had to survive a Skype interview, conducted by a business school professor from UC-Berkeley. With Elizondo in Chicago on an off-campus study program for the term, that required a three-way conversation.
"That went terrible," Bazydlo said bluntly. "It was just a slaughterhouse. He was ripping apart every aspect of our plan."
Despite their own poor self-assessment of the interview, to their complete surprise two weeks later they learned they made the top 20 and should start packing for a paid trip to Princeton.
"We were probably the most unusual team there, a combination of a computer science major and an anthropology major, neither with any business background," said Bazydlo. "We had no idea we'd make it to be among the top 20."
As for the next step for Trailblazer, Bazydlo says some additional tweaking is in the works.
"Right now we are still trying to perfect the app so that we can create a positive and impactful change in the way young people interact with our national parks. It will take a lot of outside learning, but we are so grateful to have the support of everyone at Lawrence and we are excited to see where Trailblazer will take us."
About Lawrence University
Founded in 1847, Lawrence University uniquely integrates a college of liberal arts and sciences with a nationally recognized conservatory of music, both devoted exclusively to undergraduate education. It was selected for inclusion in the Fiske Guide to Colleges 2015 and the book "Colleges That Change Lives: 40 Schools That Will Change the Way You Think About College." Engaged learning, the development of multiple interests and community outreach are central to the Lawrence experience. Lawrence draws its 1,500 students from nearly every state and more than 50 countries.