When Appleton's four-day Mile of Music kicks off "Mile 3" of its handcrafted artisan festival Thursday, Aug. 6, Lawrence University's facilities, educators and alumni musicians will be in the thick of the home-grown festival's budding success.
More than 200 artists from 21 states and Canada— bands as well as solo performers — delivering more than 800 live performances at 60 venues along College Avenue and the Fox River will turn downtown Appleton into a veritable non-stop concert Aug. 6-9.
Organizers estimate the four-day festival will draw 40,000-50,000 attendees.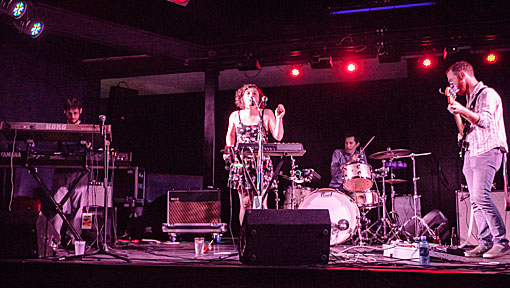 The Lawrence Memorial Chapel, the festival's largest venue, will once again play host to several of its headline acts, including a pair of folk duos on Friday evening, Aug. 7: Kacy and Clayton, second cousins from Saskatoon, Saskatchewan, and the Los Angeles-based Grammy Award-nominated The Milk Carton Kids.
Other performances will be held in Lawrence's Stansbury Theatre, Harper Hall and the Viking Room in Memorial Hall.
One of the aspects that truly sets Mile of Music apart from other festivals is its emphasis on music education, which is supported by the Community Foundation for the Fox Valley Region. Leila Ramagopal Pertl, the festival's music education curator and 1987 Lawrence graduate, hand-picked a team of Lawrentians and area music teachers to help festival goers of all ages rediscover their "inner musician" through an extensive array of hands-on, participatory events, workshops and demonstrations.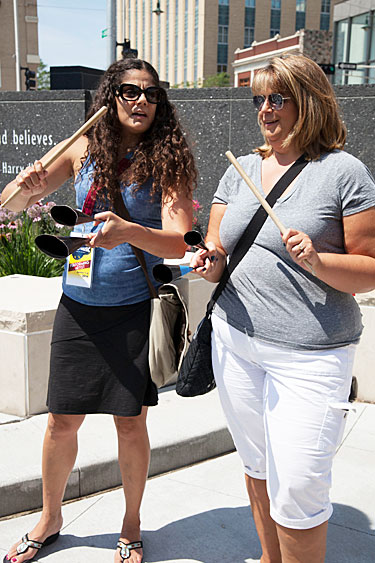 "We provide interactive, creative, music-making opportunities for festival goers to connect to that music-maker spirit common to them and the Mile of Music performing artists," said Pertl. "The music education events enhance the overall experience of the festival by considering the community as a vital part of the music-making that goes on at the Mile.  This type of engagement has a deep impact that will last far beyond the four days of the event, and gets people all the more excited to return for the next Mile."
More than 40 music education events, ranging from Samba drumming, New Orleans band jams and Balinese gamelan to song-writing workshops, Ghanaian drumming and dancing, and a workshop for aspiring backup singers, will be presented.
"Mile of Music is one of the rare national music festivals that puts music education as a core value and our music education team makes that philosophy a beautiful musical reality," said Pertl.
In addition to leading the music education activities, 16 Lawrence alumni will be among the festival's performers, including:
Nathan Litt, a 2008 Lawrence graduate, is largely responsible for making sure things run smoothly as the festival's behind-the-scenes director of operations.
"We are extremely grateful for our partnership with Lawrence. The festival would not be what it is today without the strong support, involvement and encouragement of the college," said Litt. "From the Music Education Team and the alumni performing artists, to the administration and our impressive student interns and volunteers, so many Lawrentians have been instrumental in helping ensure the success of this festival right from the start.
"The Lawrence connection has provided invaluable contributions over the course of the last two years," Litt added, "and as an alumnus, that's extremely meaningful to me."
New for this year's festival, and complementing the music will be a series of art-related activities, among them:
• A pop-up alley gallery that will turn an east end College Ave. alley into a thriving "art alley" and a venue during the festival. Designed to create an art environment that develops a vacant downtown space, welcomes diverse audiences, promotes creativity and community involvement, and supports local arts and humanities organizations, the Alley Project will feature a music stage, bar area, food truck and other vendors. The alley is located between a vacant former bank building now owned by Lawrence and the History Museum at the Castle (approximately 326 E. College Ave.)
• Art, story and song performances and presentations by local historian/author/musician Frank Anderson regarding Wisconsin's rich musical history
• A Houdini-themed exhibit by local and regional artists
• An art exhibition by Mile 3 performing artists
• A Wisconsin musical history portraits exhibit
About Lawrence University
Founded in 1847, Lawrence University uniquely integrates a college of liberal arts and sciences with a nationally recognized conservatory of music, both devoted exclusively to undergraduate education. It was selected for inclusion in the book "Colleges That Change Lives: 40 Schools That Will Change the Way You Think About College" and Fiske's Guide to Colleges 2016. Engaged learning, the development of multiple interests and community outreach are central to the Lawrence experience. Lawrence draws its 1,500 students from nearly every state and more than 50 countries.