The rededication of the Banta Bowl caps an epic weekend as Lawrence University, which also celebrates Fall Festival and hosts the Intercollegiate Athletic Hall of Fame ceremony.
School officials, led by President Mark Burstein, will conduct the rededication ceremony at 4:40 p.m. on Ron Roberts Field at the Banta Bowl.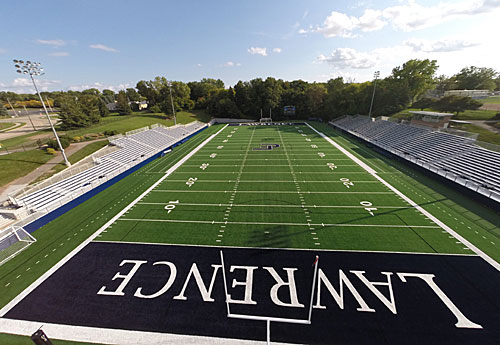 Burstein will be joined by Director of Athletics Mike Szkodzinski, All-America quarterback Chuck McKee '68, lead donors Tom Rogers '65, Steve '62 and Joan Gilboy and members of the family of legendary coach Ron Roberts.
Rogers, Steve Gilboy and Ron Roberts Jr., '84, will serve as honorary captains as the Lawrence football team takes on Carroll University at 5 p.m.
Saturday's events on Roberts Field begin at 11 a.m. when the Lawrence women's soccer team faces Grinnell College. The men's match vs. Grinnell follows at 1:30 p.m. In addition to the action on Roberts Field, the Lawrence volleyball team faces Northland College at 6 p.m. inside Alexander Gymnasium.
The rededication ceremony caps a hectic six-month renovation of the iconic stadium, which opened for play in 1965. The $4.5 million project has given the Banta Bowl a new life as it now serves as the home for men's and women's soccer in addition to football.
The stadium floor was raised four feet and expanded to accommodate both football and soccer. The natural grass surface was replaced with FieldTurf, an artificial surface that allows for more and varied use of the facility. The transformation of the field was made possible by Rogers' gift, and he renamed it Roberts Field to honor Lawrence's renowned coach.
The Gilboy Athletic Center, the new building constructed beyond the north end zone, was made possible by a gift from Steve and Joan Gilboy. The building houses the Lawrence locker room, a visiting team room, the training room, concessions, bathrooms and ticketing.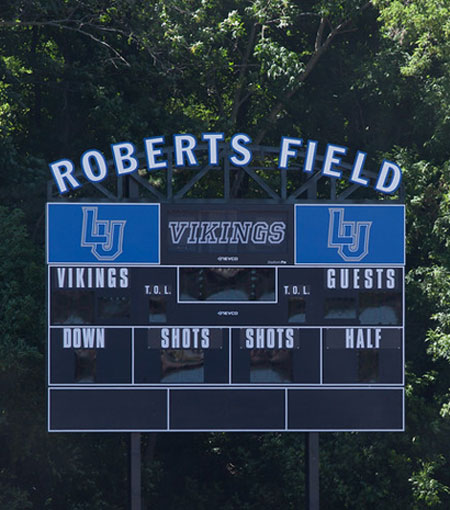 The facility also features new aluminum bleachers, an LED scoreboard adorned with "Roberts Field" and improved sound system.
A memorial to Bernie Heselton, long-time coach and director of athletics, is under the Lawrence flag.
Heselton served as Lawrence football coach from 1938-64, won six Midwest Conference championships and served as director of athletics and head golf coach.
A memorial for Carl Berghult '64, a friend and fraternity brother of Rogers, rests under the American flag.
Berghult, a native of Chicago, Ill., was a running back for the Vikings and played in the final years of Heselton's tenure. After graduating from Lawrence, Berghult was a lieutenant (j.g.) in the United States Naval Reserve. He was killed in a flight deck fire aboard the USS Enterprise on Jan. 14, 1969.
The weekend's festivities kick off with the induction ceremony for the Lawrence Hall of Fame on Friday evening at the Warch Campus Center. Five former student-athletes and one former coach are being inducted.
Long-time swimming and diving coach Kurt Kirner joins eight of his former swimmers in the Hall of Fame. Kirner coached from 1991-2007, won a pair of league titles and was honored as Midwest Conference Coach of the Year three times.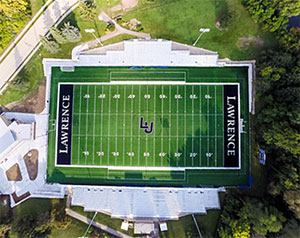 Former softball and volleyball star Shannon Arendt, who earned all-conference honors four times, is joined by four-time all-conference basketball selection Felice Porrata. Two great runners, Courtney Miller and Shelley Ebert, combined to win 13 conference track titles and led the cross country team to a pair of league championships.
The other inductee is former baseball and football star Steve Blomberg, who played five seasons in the minor leagues after leaving Lawrence.
About Lawrence University
Founded in 1847, Lawrence University uniquely integrates a college of liberal arts and sciences with a nationally recognized conservatory of music, both devoted exclusively to undergraduate education. It was selected for inclusion in the book "Colleges That Change Lives: 40 Schools That Will Change the Way You Think About College" and Fiske's Guide to Colleges 2016. Engaged learning, the development of multiple interests and community outreach are central to the Lawrence experience. Lawrence draws its 1,500 students from nearly every state and more than 50 countries.