A Foolish Consistency is the Hobgoblins of Little Minds successfully defended its crown, winning its second straight off-campus title in Lawrence University's 51st Great Midwest Trivia Contest.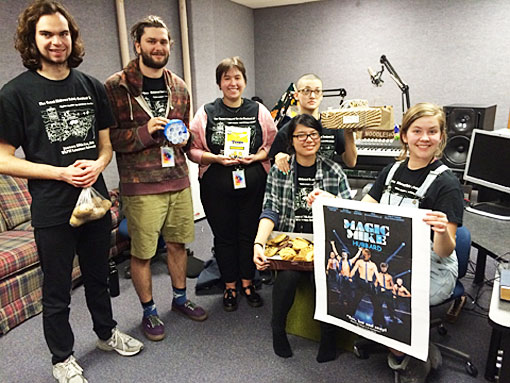 The North Carolina-based team racked up 1,220 points during the 50-hour contest that ended at midnight Sunday, Jan. 31, to edge Pugnugget and Corn Wars: The Iowans Awaken, which tied for second with 1,205 points. Holy Broman Space Team Presents 2016: A Honda Odyssey finished third with 1,110 points.
A total of 86 off-campus teams competed.
David and the Bucky's Battallion Diabolically Antagonizing Tortured Brood-Makers, Basically Building Batteries, Bungee Jumping Blindfolded, Bizarrely Bludgeoning Bells and Definitely Ascending toward Brilliance By Dastardly Battling Together ran away with the on-campus title with 1,315, winning its second straight title. Michael Hubbard was a distant second among 18 on-campus teams with 1,101 points while Nipples of Knowledge: The Matriarchy: Ormsbae Trivia Team (The Experience, TM), placed third with 1,075 points.
For their winning efforts, Hobgoblin and Bucky's were awarded first-place prizes of a box of Andrew Commons cookies and a package of Minion Peeps, respectively.
One team, the Kimberly-based Trivia Pirates…Arrgh, managed to correctly answer the contest's final, usually impossible "Super Garruda" question: In 1964, a band pretended to play Beatles songs at a battle of the bands called the Letterman Show. What is written in the top right corner of the page that features the band in a KWSS DJ's copy of the lead singer's 1965 high school yearbook? The Pirates were the only team to correctly come up with Earwigs Rule.
The contest was not without some controversy. A team that was leading the off-campus scoring, had their point total zeroed out late in the contest by the trivia masters after it was discovered an individual on the team was also playing with an on-campus team and using answered generated by Bucky's for the off-campus team.
About Lawrence University
Founded in 1847, Lawrence University uniquely integrates a college of liberal arts and sciences with a nationally recognized conservatory of music, both devoted exclusively to undergraduate education. It was selected for inclusion in the book "Colleges That Change Lives: 40 Schools That Will Change the Way You Think About College" and Fiske's Guide to Colleges 2016. Engaged learning, the development of multiple interests and community outreach are central to the Lawrence experience. Lawrence draws its 1,500 students from nearly every state and more than 50 countries.