Cornell University Professor R. Richard Geddes examines the changes lawmakers will need to anticipate to operate and maintain the nation's infrastructure in an age of increasing automobile technology in a Lawrence University economics colloquium.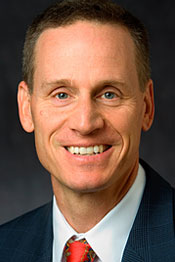 Geddes presents "The Policy Challenge of Driverless Cars" Tuesday, Feb. 23 at 4:30 p.m. in the Wriston Art Center auditorium. The talk is free and open to the public.
The anticipated increased use of driverless vehicles will generate a variety of benefits, most notably increased traffic safety due to their ability to be  programmed to stay in their lane, reducing vehicle-to-vehicle collisions and pedestrian injuries. There are also potential environmental benefits due to lower vehicle weights and improved fuel economy.  At the same time, however, the new technologies create new problems, such as determining responsibility for collisions and developing robust cyber-security measures.
Since roads are relatively long-lived and slow to change, Geddes believes policymakers must forecast how decisions made today will impact infrastructure-vehicle interaction well into the future. Because driverless cars rely on cameras, sensors and GPS to navigate the roadway, Geddes says it will be increasingly important to maintain line paint, signage, reflectors, visual markers and add such things as reflective glass beads embedded in line paint to assist driverless vehicles navigate at night.
Director of Cornell's Program in Infrastructure Policy, Geddes specializes in policies addressing the regulation and funding of large infrastructure, including transportation, energy and water systems. He has  served as an advisor to numerous Fortune 500 companies, including United Parcel Service and CSX and has provided expert testimony before House and Senate committees more than a dozen times.
About Lawrence University
Founded in 1847, Lawrence University uniquely integrates a college of liberal arts and sciences with a nationally recognized conservatory of music, both devoted exclusively to undergraduate education. It was selected for inclusion in the book "Colleges That Change Lives: 40 Schools That Will Change the Way You Think About College" and Fiske's Guide to Colleges 2016. Engaged learning, the development of multiple interests and community outreach are central to the Lawrence experience. Lawrence draws its 1,500 students from nearly every state and more than 50 countries.