As Lawrence students finish Term II exams, they'll soon scatter across the country and the globe for a well-earned spring break. As for senior Joe Connor, juniors Ilan Blanck and Matt Blair and 2015 Lawrence graduate Dan Reifsteck — collectively known as Slipstream — they are hitting the road for their band's first tour, a five-stop trip around the Midwest.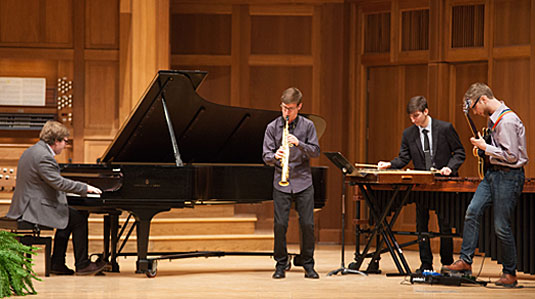 Slipstream, a quartet that operates in a space somewhere near the convergence of contemporary classical, modern jazz and modern rock, warmed up for its tour with an on-campus performance last week in the Memorial Chapel.
They'll make their first stop in Oshkosh for a Thursday, March 17 performance followed by stops in Milwaukee (3/18); Des Moines, Iowa (3/21); Lincoln, Neb. (3/23); and St. Paul, Minn. (3/25).
"It's nice to play anywhere at Lawrence and share our music with all of our friends and professors," said Reifsteck, "but it's a whole other thing to take it outside of the school and try to share it with a whole new audience that we haven't even met before."
The group, which features Blanck on electric guitar, Connor on saxophone, Blair on piano and Reifsteck on percussion, has been playing together since January 2015. Their genesis was the result of a piece they'll be playing on tour, "Hout," a 1991 piece written by Dutch composer Louis Andriessen that is arranged for tenor saxophone, electric guitar, piano and marimba.
"At some point, someone was like, 'We should play this,'" Blanck said. "It all kind of converged."
Suddenly the four friends, who had previously played together in various combinations, had a common project. Fast forward 14 months and Slipstream has just released its first EP, "Northland," with the help of collaborator Jason Koth, a sophomore at Lawrence.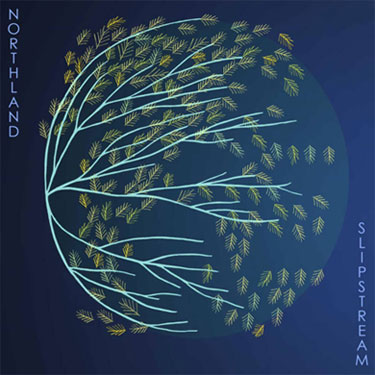 "Northland" features pieces written for the group by Lawrence alumni JP Merz (2014) "for i believed in the existence of…", Patrick Marschke (2013) "le/af" and Chris Misch-Bloxdorf (2013) "Blinded by Silver Lines," which the quarter performed at last month's Convocation.
The band honed those tracks during a two-day open rehearsal stint with Grammy Award-winning ensemble eighth blackbird last month at the Chicago Museum for Contemporary Art — a surreal experience, according to Blanck.
"They really pushed us in a lot of interesting ways, pushed us to kind of go for extremes in the music and encouraged us to push each other," said Blanck.
The title track, "Northland," takes its name from the street in Appleton. Slipstream was looking for an improvisational piece to lead into Marschke's composition; "Northland" came on the first try.
"We probably sat with the tape rolling for a minute straight," Reifsteck said. "There's just a minute of silence where none of us was able to figure out how to start. But then eventually Ilan started, then Matt started to join in, then I started to join in and then Joe joined in. Right after we finished recording that take, we all looked up and we were like, 'Ok, we don't need to improvise again. That's the take.'"
That kind of musical chemistry isn't by coincidence.
"In music school, you're playing so much music with so many different people and you usually have so little time to put things together," Blanck said. "I feel grateful that we've had time to work on similar music and really get to know it and get to know each other."
About Lawrence University
Founded in 1847, Lawrence University uniquely integrates a college of liberal arts and sciences with a nationally recognized conservatory of music, both devoted exclusively to undergraduate education. It was selected for inclusion in the book "Colleges That Change Lives: 40 Schools That Will Change the Way You Think About College" and Fiske's Guide to Colleges 2016. Engaged learning, the development of multiple interests and community outreach are central to the Lawrence experience. Lawrence draws its 1,500 students from nearly every state and more than 50 countries.