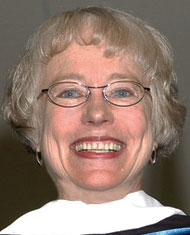 Margot Warch, who served as Lawrence University's "first lady" for 25 years as the wife of former President Rik Warch, died peacefully in her sleep Sunday, April 17 at the home of her son, David, in St. Paul, Minn. Margot, who lived in Ellison Bay, celebrated her 77th birthday on April 12.
"Margot always had Lawrence's needs at the forefront of her mind," said Lawrence President Mark Burstein. "She worked tirelessly to move the University forward through her thoughtful and persistent approach. She cared deeply about creating a campus community where everyone felt at home. I felt this directly when I arrived at Lawrence three years ago. Her passion for our northern campus, Bjorklunden, in Door County and the need to connect Lawrence to the larger Fox Cities community has created important momentum for us. We have lost a dear friend of this institution."
The Richard and Margot Warch Campus Center and the Richard and Margot Warch Fund for Scholarly Research, both of which bear her name, reflects her impact on the college. At the 2004 commencement, Margot was recognized with a surprise honorary master's degree ad eundem.
A soft-spoken woman of exceptional grace and charm, Margot had a deep love for all things Lawrence and proudly wore a necklace with an "L" as a symbol of her affection for the institution. She also had great passion for Bjorklunden. She maintained her love of life-long learning in retirement, taking at least one Bjorklunden seminar, and often more than one, every summer.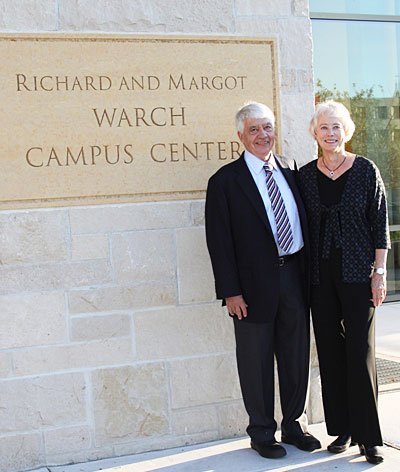 As Lawrence's "hostess," Margot supervised the remodeling and redecoration of the president's residence, where she routinely welcomed students, faculty, staff, trustees, alumni and friends of the university. She famously tested recipes for every occasion, searched for and found cookbooks in many libraries and often joked that food and drink was her principal research specialty.
A high school English teacher in New York and Connecticut before relocating to Appleton, Margot was deeply engaged with local reading and literacy programs. With a background in adult learning disabilities, she took great pride in her many years of work with Fox Valley Technical College's GOAL/Reading program, serving as the department chair for several years. She played a key role in revamping the entire reading curriculum and was a central participant in the college's student advising program. She was honored with FVTC'S Outstanding Academic Advisor Award for the 1999-2000 academic year.
She was active in the annual AAUW book sale and when her children attended Edison School, she helped to start the Right To Read program. She also was a vital force in the development of the Fox Valley Literacy Coalition and served a term as the organization's president.
In retirement, Margot coordinated a book drive with the assistance of junior Greta Fritz to commemorate Rik's dedication to Lawrence's signature program, Freshman Studies. She sought donations from alumni in an effort to collect copies of all of the books that were used in the more than 60 years of the program to establish a Freshman Studies library at Bjorklunden. Hundreds of books have been donated to date.
She also directed her passion for reading and literacy to the Sister Bay Library, where she served as a long-time volunteer and spent several years as a member of the library's board of directors.
"Personally, it was a privilege to get to know Margot, especially after she retired in Door County," said Mark Breseman, long-time director of Bjorklunden and associate vice president of alumni and constituency engagement. "One of the things that meant so much to her was continuing Rik's legacy at Bjorklunden. She certainly left her own imprint with the Freshman Studies library.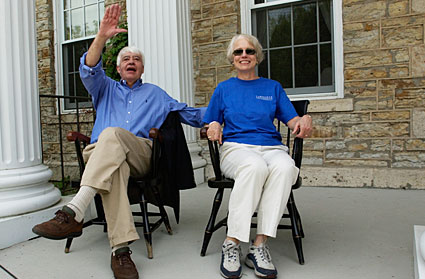 "She was such a strong, forward-thinking person," Breseman added. "She was a treasure for Lawrence, Bjorklunden and Door County and left an indelible imprint. She will be sorely missed."
Born in Chicago, Margot grew up in Rochester, N.Y., before moving to New Jersey as a teenager, where she met her future husband in 10th grade at Ridgewood High School. As seniors, Margot was female class president and Rik was male class president. They married in 1962.
Margot went on to earn a bachelor's degree in English at the University of Rochester and a master's degree in education from Southern Connecticut State College.
Margot was preceded in death by her husband, Rik, in 2013. She is survived by her two sons and their families, who live in St. Paul, Minn.: Stephen, his wife Alexandra Klass, and their daughters Helen and Zoe; and David, his wife Sarah, and their daughters Sydney and Georgie; and her daughter Karin, London, England. She is further survived by her brother Bob Moses, and sisters Lois Moses, Marilyn Moses, Marysue Moses, and their families, her brother-in-law and sister-in-law Peter and Linda Fenton as well as numerous nieces and nephews.
A celebration of Margot's life will be held Saturday, June 4 from 2-3 p.m. in Vail Hall at Bjorklunden, 7590 Boyton Lane, Baileys Harbor. A reception in the Great Room follows from 3-5 p.m.
Memorials in Margot's honor can be directed to the Warch Family Scholarship Fund in care of Lawrence University, 711 E. Boldt Way, Appleton, WI 54911.
About Lawrence University
Founded in 1847, Lawrence University uniquely integrates a college of liberal arts and sciences with a nationally recognized conservatory of music, both devoted exclusively to undergraduate education. It was selected for inclusion in the book "Colleges That Change Lives: 40 Schools That Will Change the Way You Think About College" and Fiske's Guide to Colleges 2016. Engaged learning, the development of multiple interests and community outreach are central to the Lawrence experience. Lawrence draws its 1,500 students from nearly every state and more than 50 countries.