More than 100 students representing more than 30 countries celebrate the 40th anniversary of Lawrence University's annual International Cabaret in a pair of performances showcasing their native cultures through music and dance.
Under the theme "Our Pale Blue Dot," students will highlight the world's beauty and diversity in performances Saturday, April 9 at 6:30 p.m. and Sunday, April 10 at 3 p.m. in Stansbury Theatre of the Music-Drama Center. A free reception follows Sunday's performance at 5 p.m. in the Warch Campus Center.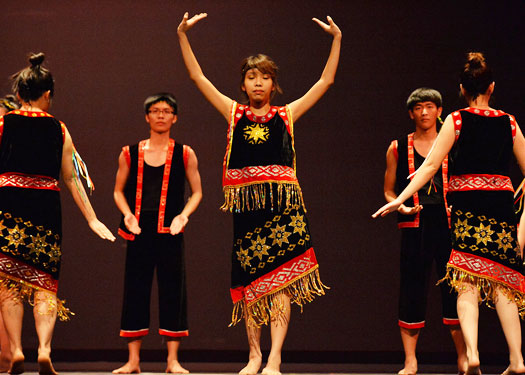 Tickets, at $10 for adults, $5 for students/children (age four and under are free), are available through the Lawrence Box Office, 920-832-6749. The box office will be open one hour prior to Sunday's performance.
Bimal Rajbhandari, a junior from Nepal and current president of Lawrence International, said this year's Pale Blue Dot theme reflects our small, but unique, place in the cosmos.
"When we look at Earth from the Voyager 1 spacecraft from billions of miles away, it looks smaller than a single pixel," said Rajbhandari, "and as far as we know, we are the only life that exists in the vast universe. Since we only have each other, we should be kind to each other and respect one another.
"Even though we are this tiny speck in the universe, there is so much beauty and diversity in our pale blue dot. We want to showcase a small part of that beauty through the cabaret," Rajbhandari added.
The talent portion of this year's cabaret includes:
• The song of herdsmen, a famous Chinese flute song that represents the great spirit of herdsmen on China's fnorth prairie.
• Three different elements of Japanese dance.
• A fusion performance that blends rhythm and dance influences from Ghana, Guinea and Nigeria along with the sorsonet, a drum rhythm originating from Guinea in West Africa.
• Raga Yaman, a partial rendition of a piece from Indian classical music performed on the bansuri, an Indian flute.
• Ukali Orali Haruma, a Nepali song sung by the hugely influential classical artist Tara Devi.
• A traditional Tatar dance, representing one of the more than 180 ethnic minorities within Russia.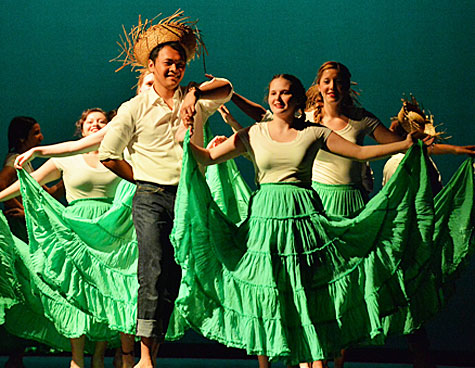 • Jordanian Dabkeh, one of seven distinct traditional dances popular in Arab countries. First performed in Palestine in 1962, it has 19 main moves.
• A lyrically abstract Indian song that incorporates elements of jazz, performed on an iktara, an ancient Indian single-stringed instrument.
• A musical recitation of two corresponding poems — Shikwa and Iqbal — by revered philosopher-poet Muhammad Iqbal, "the spiritual father of Pakistan."
• A performance of Qing Hua Ci, a unique synthesis of Eastern and Western music popularized by Jay Chou, a major Asian artist who helped create the genre Zhong Guo Feng by fusing traditional Chinese musical styles with R&B and rock influences.
• A Korean dance team highlighting the three major types of modern Kpop culture: hip-hop, girl group and funky dance.
• A Vietnamese bamboo hat dance, inspired by the Northern Vietnamese agrarian traditions, accompanied by traditional Vietnamese musical instruments.
In addition to the musical and dance performances, the cabaret again will feature its popular fashion show, highlighting native clothing from around the world.
Lawrence International is one of the largest student organizations at the college, connecting the international community with American students on campus. Nearly 200 of Lawrence's 1,500 students identify themselves with the international community, either through citizenship or personal background.
About Lawrence University
Founded in 1847, Lawrence University uniquely integrates a college of liberal arts and sciences with a nationally recognized conservatory of music, both devoted exclusively to undergraduate education. It was selected for inclusion in the book "Colleges That Change Lives: 40 Schools That Will Change the Way You Think About College" and Fiske's Guide to Colleges 2016. Engaged learning, the development of multiple interests and community outreach are central to the Lawrence experience. Lawrence draws its 1,500 students from nearly every state and more than 50 countries.