The former president of the International Rescue Committee will spend 10 days at Lawrence University beginning May 8 as the college's Visiting Scarff Professor of International Affairs for 2015-16.
George Rupp spent 11 years (2002-2013) as president of the IRC, a New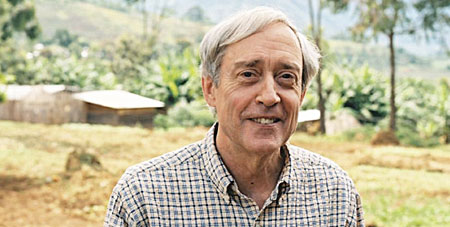 York City-based non-profit organization that responds to humanitarian crises around the world. As president, he oversaw the agency's relief and rehabilitation operations in 25 countries as well as refugee resettlement and assistance programs throughout the United States.
During his Scarff appointment, Rupp will guest lecture in several government department classes. He also will deliver a free, public address, "Passionate Conviction and Inclusive Community," Tuesday, May 10 at 8 p.m. in the Wriston Art Center auditorium.
The author of six books, Rupp's public lecture will be based in part on his most recent book, 2015's "Beyond Individualism: The Challenge of Inclusive Communities," in which he Rupp pushes modern individualism to recognize the role of communal practice in the world. He advocates for new solutions to global challenges ranging from conflicts in the developing world and income inequality to climate change and mass migration.
An ordained Presbyterian minister with bachelor's degrees from Princeton University and Yale University and a Ph.D. in religion from Harvard University, Rupp led two of the country's premier institutions. Prior to heading the IRC, he served as president of Columbia University for nine years (1993-2002) after serving as Rice University's president from 1985-1993.
Rupp, a native of New Jersey, began his academic career at the University of Redlands in California before returning to Harvard as a theology professor in the divinity school. He later spent two years in the late 1970s at UW-Green Bay as professor of humanistic studies and dean of academic affairs before returning again to Harvard as dean of the divinity school.
Since leaving the IRC, Rupp has served as senior fellow at the Carnegie Council for Ethics in International Affairs and was elected chair of the International Baccalaureate Organization in 2015.
Besides "Beyond Individualism: The Challenge of Inclusive Communities," Rupp is the author of "Christologies and Cultures: Toward a Typology of Worldviews," "Beyond Existentialism and Zen: Religion in a Pluralistic World," "'Culture Protestantism': German Liberal Theology at the Turn of the 20th Century," "Commitment and Community," and "Globalization Challenged: Conviction, Conflict, Community."
Rupp joins a long list of distinguished scholars and notable public servants who have previously held the Scarff professorship, among them William Sloane Coffin, Jr., former chaplain at Yale University, noted civil rights advocate and peace activist, Takakazu Kuriyama, former Japanese ambassador to the U.S., Russ Feingold, former U.S. Senator from Wisconsin and Alexander Wilde, senior scholar at the Woodrow Wilson International Center for Scholars and former director of the Washington Office of Latin America (WOLA).
The Scarff Memorial Visiting Professorship was established in 1989 by Edward and Nancy Scarff in memory of their son, Stephen, a member of the Lawrence class of 1975, who died in an automobile accident in 1984. It is designed to bring civic leaders and scholars to Lawrence to provide broad perspectives on the central issues of the day.
About Lawrence University
Founded in 1847, Lawrence University uniquely integrates a college of liberal arts and sciences with a nationally recognized conservatory of music, both devoted exclusively to undergraduate education. It was selected for inclusion in the book "Colleges That Change Lives: 40 Schools That Will Change the Way You Think About College" and Fiske's Guide to Colleges 2016. Engaged learning, the development of multiple interests and community outreach are central to the Lawrence experience. Lawrence draws its 1,500 students from nearly every state and more than 50 countries.