As an educator, Dr. Kimberly Barrett sees diversity as a critical piece of a liberal education.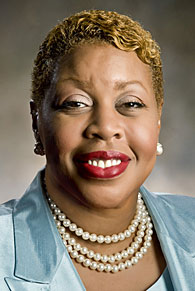 Barrett brings the perspective of 25 years of working with students, faculty and community members to promote learning, student development, social justice and diversity to Lawrence University as its newly appointed vice president for diversity and inclusion and associate dean of the faculty.
Currently the vice president for multicultural affairs and community engagement at Wright State University in Dayton, Ohio, Barrett will assume the duties of the newly created position beginning Aug. 22.
Reporting to both the president and the provost, Barrett will work collaboratively with faculty, staff, students, alumni, and external constituents to advance Lawrence's commitment to all aspects of diversity and inclusion. She will be responsible for developing, facilitating and assessing programs and campus/community-wide initiatives to cultivate a more inclusive campus culture.
Additionally, Barrett's responsibilities include enhancing the diversity of the faculty, faculty development, especially in areas of inclusive pedagogy, and affirming the educational importance of diversity in educational programs.
"Dr. Barrett is an energetic and thoughtful leader who will help Lawrence realize its mission through enhancing diversity and inclusion," said David Burrows, provost and dean of the faculty. "Her experience and dedication are extremely impressive. I look forward to working with her on faculty development, inclusive pedagogy and recruitment of new faculty members. Her appointment is an important, positive step for Lawrence."
Barrett, 52, said Lawrence's mission was among the primary reasons she was interested in the position.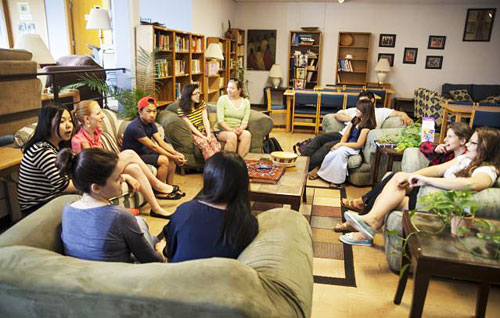 "Having attended a small, private liberal arts school myself as an undergraduate, I've always had a sense of loyalty and commitment to providing a liberal education to students," said Barrett, who earned a bachelor's degree in psychology at Pfeiffer College in North Carolina. She also holds a master's degree in clinical psychology at Murray State University and earned a doctorate in higher education administration at Southern Illinois University.
"I think that's the type of education that prepares students best for the ambiguity and opportunities that exist in the ever-changing, very diverse global society in which we live. Being able to pursue my passion that is diversity and social justice work at a school like Lawrence that is dedicated to those principles just seemed like an ideal situation."
Barrett, who has been at Wright State since 2012, says society in general and higher education specifically, is facing new challenges in dealing with civil rights and social justice.
"While cultural events and celebrations are an important way to promote diversity and inclusion, they are not sufficient to bring about the fundamental change we are trying to create. In order to achieve inclusive excellence in higher education we must change the way we do things every day."
— Kimberly Barrett
"We're in a new phase in terms of creating a society in which everyone can reach their full potential and in which there is really equity and equal opportunity for everyone," said Barrett, a native of Fort Jackson, S.C. "The challenges facing Lawrence are the same issues facing higher education in general. It is a heightened awareness of the ways in which our society has fallen short in providing equal opportunity, justice and paths to success for all. It is a challenge because it causes discontent and disruption but also it provides a unique opportunity for significant and lasting change.
'"I've been very impressed with President Burstein and his commitment to these issues in terms of policy and administration but also personally," Barrett added. "Those of us who do this work have to 'walk the talk' in our lives every day. I get the impression that he does that."
Kevin Buckhalton Jr., one of three students who served on the search committee, sees Barrett's appointment as "a huge asset" for the university.
"She has an amazing background with not only racial diversity, but a plethora of other things that affect students on a college campus," said Buckhalton, a senior from St. Louis Park, Minn. "She has experience working with counseling services and with LGBTQ students. I see her making an impact on all different constituencies in different ways. I see her bridging the gap between administration and students but also the larger community and Lawrence."
Barrett said her first task upon arriving in August will be to listen and establish policies to ensure everyone has a voice in setting university priorities.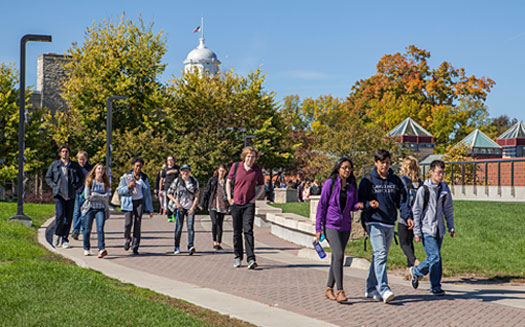 "While cultural events and celebrations are an important way to promote diversity and inclusion, they are not sufficient to bring about the fundamental change we are trying to create," said Barrett. "In order to achieve inclusive excellence in higher education we must change the way we do things every day. We must examine our policies and guidelines to ensure that they help us take an equity-minded approach to our work. This will ensure that each of us helps Lawrence become a community that provides equal opportunity so that all students, faculty and staff can reach their unique potential."
Matthew Stoneking, associate professor of physics and a member of the search committee, said Barrett's approach and breadth of experience stood out among the candidates for both parts of her job title.
"She has a wealth of experience at a number of different types of institutions of higher education in administrative leadership and student affairs roles. I'm very confident that Dr. Barrett will help sharpen our vision and goals surrounding inclusivity and will work effectively and collaboratively with Lawrence faculty, students, staff, administrators and members of the Appleton community to make positive changes."
Kathy Flores, diversity coordinator for the City of Appleton, who met Barrett during the interview process, sees her appointment benefiting the community beyond the campus borders.
""I'm excited to welcome Dr. Barrett to Appleton," said Flores. "Her wide breadth of experience is not only an asset to Lawrence University, but to the whole Appleton community. Along with her vast set of skills, she brings a valued reputation of community engagement. I treasure the partnership we have already embarked upon with Lawrence around diversity and inclusion issues and I look forward to working with this new colleague as we strive to make Appleton a more welcoming place for all students."
Lawrence's location was also a draw for Barrett, who has both professional and personal ties to Wisconsin. She spent five years (2003-08) as associate vice chancellor of student development and diversity at UW-Eau Claire. Her son, Terrance, is a UW-Parkside graduate and lives in Madison with his wife Melissa.
Prior to Wright State, Barrett was the vice president for student affairs at the University of Montevallo in Alabama from 2008-12. Previous appointments included director of multicultural affairs at the State University of New York-Potsdam, director of the women's center at Murray State in Kentucky, vice provost at Lakehead University in Ontario, Canada and associate provost/dean of students at Southeast Missouri State University.
Her husband, Terry Barrett, is an emeritus professor of psychology at Murray State University.
About Lawrence University
Founded in 1847, Lawrence University uniquely integrates a college of liberal arts and sciences with a nationally recognized conservatory of music, both devoted exclusively to undergraduate education. It was selected for inclusion in the book "Colleges That Change Lives: 40 Schools That Will Change the Way You Think About College" and Fiske's Guide to Colleges 2016. Engaged learning, the development of multiple interests and community outreach are central to the Lawrence experience. Lawrence draws its 1,500 students from nearly every state and more than 50 countries.