New York City's Jen Shyu and England-born, California-based  guitarist/composer Fred Frith headline a two-day music festival at Lawrence University devoted to all things improvisation.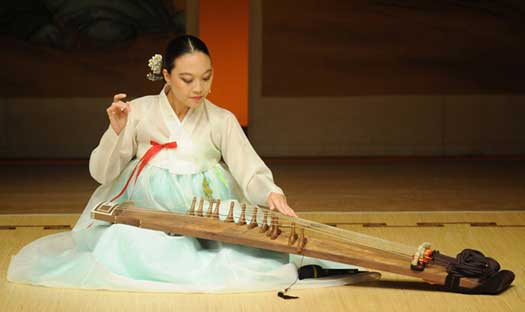 Shyu and Frith will be among five artists performing Sept. 23-24 for the first "ImprovisationaLU" in the Warch Campus Center. All festival performances are free and open to the public.
Festival organizer Sam Genualdi, a senior from Evanston, Ill., said he wanted to showcase artists "who haven't previously had a strong voice on campus."
"These are people I've been listening to for a long time," said Genauldi, who has played guitar with the Lawrence Faculty Jazz Quartet pm several occasions. "The festival is designed to provide a forum for artists who are pushing the boundaries of their musical communities. There will be something there for people who are already knowledgeable about improvised music as well as those who are simply curious about it."
Shyu, an experimental jazz vocalist, composer, dancer and multi-instrumentalist, takes the stage Friday evening for a performance of her critically acclaimed composition "Solo Rites: Seven Breaths." The personal story of loss and redemption examined through the lens of modern world hardships combines vocals and dance with a variety of instruments, including piano, the Taiwanese moon lute and gayageum (a traditional Korean zither-like instrument).
Classically trained in opera, violin and ballet, Shyu has recorded six albums, including her most recent, "Sounds and Cries of the World," which the New York Times included on its list of "Top 10 Best Albums of 2015." Music critic Ben Ratliff has called Shyu's concerts "the most arresting performances I've seen over the past five years..she seems open, instinctual, almost fearless."
Frith performs Saturday as a solo act as well as for the first time with the two-person experimental band White Out.
In a career spanning more than four decades, Frith has performed with numerous bands, including the British avant-rock group Henry Cow, Skeleton Crew and Keep the Dog. Best known for his genre-bending and innovative work with the electric guitar, Frith currently leads the Gravity Band and Cosa Brava, an experimental rock and improvisation quintet he helped found in 2008. He also leads Eye to Ear, which performs and records film and theatre music composed by Frith.
The schedule for ImprovisationaLU:
FRIDAY, SEPT. 23
• 8 p.m.-9 p.m. Matt Turner and Hal Rammel.  Turner, a 1989 graduate of Lawrence and current lecturer in the Lawrence conservatory, has established himself as one of the world's leading improvising cellists. He has performed on more than 100 recordings with artists ranging from jazz violinist Randy Sabien and goth vocalist/pianist Jo Gabriel to punk artist Kyle Fische and alt-country band Heller Mason.
Rammel is a composer and improviser who performs on musical instruments of his own creation. In the 1980s, he was an active member of Chicago's experimental and improvised music scene. In 2007 he organized the quartet The LOST DATA Project and founded the Great Lakes Improvising Orchestra in 2011 to explore large ensemble open form and structured improvisation.
• 9:15 p.m.-10:30 p.m., Jen Shyu, "Solo Rites: Seven Breaths." Shyu will conduct an audience Q & A following her performance.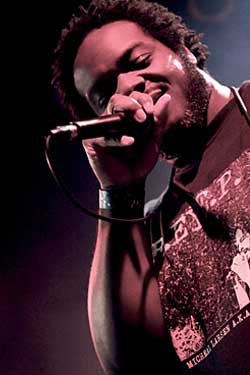 SATURDAY, SEPT. 24
•  7:15 p.m.-8:15 p.m. Carnage the Executioner (Terrell Woods). Minneapolis-based Carnage is a rapper and beatboxer known for his lyrical dexterity and uncanny ability to compose musical symphonies with his mouth through beat boxing.
•  8:30 p.m. – 9:15 p.m. Fred Frith
•  9:15 p.m.-10:15 p.m. White Out with Fred Frith. A product of the Chelsea neighborhood of New York City, White Out is the husband-wife team of percussion maverick Tom Surgal and synthesizer artiste Lin Culbertson, who also plays autoharp, flute and mystery electronics while providing vocals. Musical experimentalists to the core, White Out released its seventh album, "Accidental Sky," in 2015. With its "spiritual jams from the outer regions…spastic, feedback-laden licks and massaging and stabbing beats that resemble a voodoo ceremony," it landed on the New York Observer's 2015 list of "best experimental albums.
About Lawrence University
Founded in 1847, Lawrence University uniquely integrates a college of liberal arts and sciences with a nationally recognized conservatory of music, both devoted exclusively to undergraduate education. It was selected for inclusion in the book "Colleges That Change Lives: 40 Schools That Will Change the Way You Think About College."  Engaged learning, the development of multiple interests and community outreach are central to the Lawrence experience. Lawrence draws its 1,500 students from nearly every state and more than 50 countries.