Award-winning newspaper columnist and author Leonard Pitts believes the concept of "now" is as urgent as it has been in many years.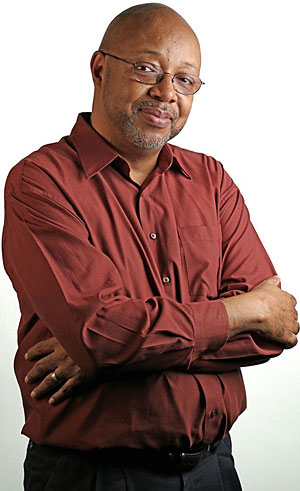 Pitts, who writes a nationally syndicated column for the Miami Herald, will deliver the keynote address Monday, Jan. 16 at the 26th annual Fox Cities Dr. Martin Luther King Jr. community celebration at 6:30 p.m. in the Lawrence Memorial Chapel.
Two community awards will be presented as part of the celebration, including an educator award that will go to Lawrence University faculty member Amy Ongiri.
The theme for this year's celebration is "Refusing to be a Bystander to Racism and Injustice." The event, which will include a sign language interpreter, is free and open to the public. A reception will immediately follow in Shattuck Hall 163.
The annual commemoration of Dr. King's life and legacy is jointly presented by Lawrence University and Celebrate Diversity Fox Cities, with the support of numerous Fox Valley organizations, churches and individuals.
Inspired by a passage in King's famous "I Have a Dream" speech, in which he warned against "the tranquilizing drug of gradualism," Pitts presents "On the Fierce Urgency of Now."
King urged people not to be patient or wait for change to happen. Pitts believes that message needs to be reinforced because too many have "forgotten the fierce urgency of now, neglected to keep the pedal to the metal where human rights are concerned," eroding much of the progress made in the post-civil rights era. In light of events of the past year, particularly the outcome of the national election, Pitts will make the case for the urgency of "now."
During his 40-year career, Pitts has been recognized numerous times for literary excellence, including a Pulitzer Prize for commentary in 2004. His popular twice-a-week column appears in dozens of newspapers around the country. The National Association of Black Journalists have honored Pitts with its annual Award of Excellence three times and named him its Journalist of the Year in 2008.
He is a seven-time recipient of the Society of Professional Journalists' Green Eyeshade Award and has been the recipient of the Atlantic City Press Club's National Headliners Award five times.
In addition to his column, Pitts has written five critically acclaimed books, including 2015's "Grant Park," a provocative look at black and white relations in contemporary America.
Pitts, who resides in Bowie, Md., earned a bachelor's degree in English from the University of Southern California at the age of 19 after starting college as a 15-year old on a special honors program.
With a celebration theme focused on refusing to be a bystander to racism and injustice, Kathy Flores, chair of the MLK Planning Committee, says Pitts is the perfect keynote speaker.
"I can't wait to hear Leonard Pitts' address because so much of his writing has examined this very topic," said Flores. "He is a shining example of someone in the media who stands up against racism and injustice in every word he writes. His passion and authenticity for justice makes him a powerful writer and speaker."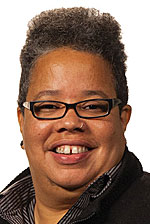 As part of the community celebration, Ongiri will receive the third MLK Educator Award and Sarah Long-Radloff will be recognized as the 23rd recipient of the Jane LaChapelle McCarty Community Leader Award.
Ongiri joined the Lawrence faculty in 2014 as the Jill Beck Director of Film Studies and associate professor of film studies. She since has established herself as a fighter for social justice and a passionate advocate for all marginalized people.
With scholarship focused on diversity and multiculturalism, Ongiri has developed classes in which students engage intensely with issues of race, class, ability, ethnicity, body size, gender, sexuality and other categories of social hierarchy while challenging students to examine their unconscious biases.
As a role model of social justice activism, Ongiri serves as a faculty mentor for several Lawrence diversity and social justice student organizations, among them Alianza and the Men of Color Alliance. Her impact on students has been described as "profound."
Her engagement extends beyond the campus, leading presentations on issues of diversity for local companies. As a strong believer that queer women of color be visible, she volunteers frequently as a DJ at local events, including the city's annual Juneteenth celebration, and coaches basketball on Saturday mornings at the YMCA.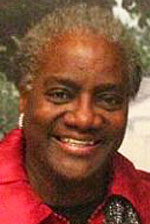 Long-Radloff, a Fox Cities resident for more than 40 years, has been engaged in community outreach since she arrived, acting on her mission of providing a majority-white community with a positive African American experience.
She is active in the Appleton Kiwanis Club, earning the organization's George F. Hixson Fellowship Award in 2016.  Serving some of the community's most vulnerable or at-risk citizens, she volunteers at Harbor House, the Emergency Shelter/Homeless Connections and at the state prison in Waupun.
During a career at Kimberly-Clark Corp., Long-Radloff was involved with several diversity initiatives and helped train upper management, both locally and nationally, in support of the company's efforts to create a more diverse work force.
The celebration also will feature student winners of the annual MLK essay contest, who will read their entries. This year's winning student essayists are:
• Caroline Basehoar, 3rd grade, St. Francis Xavier Elementary School, Appleton
• Eli Skrypczak, 4th grade, Foster Elementary School, Appleton
• Kala Lones, 9th grade, Appleton North High School
• Milly Figueroa, 11th grade, Appleton North High School
The celebration will include a spoken word performance by members of Lawrence's Slam Poetry Club and music by Anthony Gonzalez, B-Lilly, Mauranda Owens, Mike Pope and Paris Wicker.
About Lawrence University
Founded in 1847, Lawrence University uniquely integrates a college of liberal arts and sciences with a nationally recognized conservatory of music, both devoted exclusively to undergraduate education. It was selected for inclusion in the book "Colleges That Change Lives: 40 Schools That Will Change the Way You Think About College."  Engaged learning, the development of multiple interests and community outreach are central to the Lawrence experience. Lawrence draws its 1,500 students from nearly every state and more than 50 countries.