Music has always been a part of Sam Genualdi's DNA.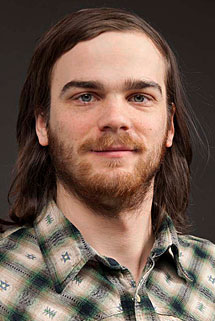 He grew up as a serial instrumentalist, working his way through a litany of recommendations from his parents — violin, piano, percussion, double bass — but it wasn't until he taught himself to play the guitar at the age of 15 that he found his sweet spot.
"When I picked up the guitar, it felt like something on my terms," said Genualdi, a senior at Lawrence University from Evanston, Ill. "I felt like I was rebelling against my parents through the electric guitar."
As his musical interests evolved, he discovered collaborating with other musicians was vital to his creative process. Later this year, Genualdi will embark on a year-long musical "binge" to feed his creative hunger that will take him around the world to engage in collaborations with musicians he's never met.
Genualdi, a student-designed contemporary improvisation major at Lawrence, has been named one of 40 national recipients of a $30,000 Watson Fellowship for a wanderjahr of independent travel and exploration. Beginning in August, Genualdi will spend 12 months visiting Scotland, Peru, Indonesia, India and Japan.
"I plan to spend my Watson year in five countries steeped in unfamiliar musical traditions," said Genualdi, Lawrence's 72nd Watson Fellow since the program's inception in 1969. "Music can be a powerful tool to bridge cultural gaps. I hope to co-create music that makes this evident. I want to engage in musical collaborations that push against the boundaries of existing genres.
"I have always thrived on collaboration," added Genualdi, who has had plenty of opportunities as a member of numerous groups and ensembles at Lawrence, including the small jazz combos, the improvisation group IGLU, Gamelan Cahaya Asri and the Sambistas Brazilian drumming group, among others. "While I've done a fair amount of solitary work as a musician, the experiences that most excite me are those that involve interacting with other people."
At each of his global destinations, Genualdi plans to meet musicians he hopes to work with by attending concerts and jam sessions. He will approach local musicians as a student to develop relationships and more effectively absorb the culture.
"Sam is infinitely curious about sonic possibilities and how improvisation and collaboration can create
musical worlds yet unimagined."
— Brian Pertl, dean of the conservatory of music
"Taking lessons will give me the opportunity to interact with these musicians on a personal level, accumulate skills and expand my musical vocabulary," said Genuldi. "I may learn a new instrument to gain perspective, but mainly I intend to communicate musically through my primary voice, the guitar."
In Scotland, Genualdi will focus on the country's rich history of stringed instruments, including guitar. In Peru, he will work with within Afro-Peruvian music traditions which combine African, European and native influences.
"Afro-Peruvian music along with the salsa and flamenco traditions prevalent in Lima involve unique forms of improvisation," said Genualdi. "My background in jazz will help me find common repertoire to play with locals because of the relatively recent surge in the fusion of jazz and local traditions."
January will find Genualdi in Bali where he looks to expand his experience with Indonesian music, which has been limited to his work with Gamelan Cahaya Asr. The following three months will take him to India, where traditions of improvisation in Hindustani music run deep. Much of his time there will focus on working with several highly regarded sitarists.
The final three months of his travels will be spent in Tokyo's vibrant musical community with its improvised and experimental music scene. Genualdi calls the enthusiasm in Japan for fringe musical projects "inspiring."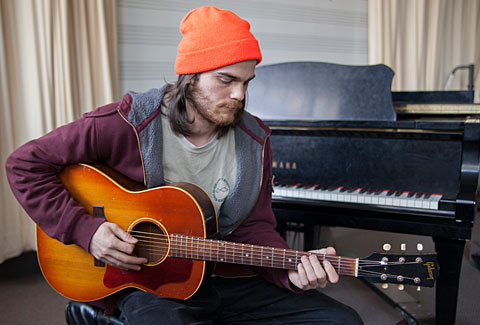 Brian Pertl, dean of the conservatory of music and Lawrence's campus liaison to the Watson Foundation, calls Genualdi "an explorer of sound."
"Sam is infinitely curious about sonic possibilities and how improvisation and collaboration can create musical worlds yet unimagined," said Pertl, himself a Watson Fellow in 1986 as a Lawrence senior. "He has been pushing the boundaries of improvisation during his time at Lawrence and now will have an opportunity to explore his passion across the globe. I can't wait to see what new musical concoctions will emerge from his grand adventure."
Genualdi says the Watson experience will deepen his relationship to music and profoundly affect every aspect of his life moving forward.
"The musical experiences I'll have in each country is sure to be different, but each will help   bring into focus a larger picture of the human experience. Music is an important part of lives across the globe and I am intensely inspired by discovering these connections."
Genualdi was selected for the Watson Fellowship from among 149 finalists nominated by 40 leading liberal arts colleges. This year's 49th class of Watson Fellows hail from 21 states and six countries and will collectively visit 67 countries.
More than 2,700 students have been awarded Watson Fellowships, providing opportunities to test their aspirations, abilities and perseverance through a personal project that is cultivated on an international scale. Watson Fellows have gone on to become international leaders in their fields including CEOs of major corporations, college presidents, MacArthur grant recipients, Pulitzer Prize winners, diplomats, artists, lawyers, doctors, faculty, journalists, and many renowned researchers and innovators.
The fellowship was established by the children of Thomas J. Watson, Sr., the founder of International Business Machines Corp., and his wife, Jeannette, to honor their parents' long-standing interest in education and world affairs.
About Lawrence University
Founded in 1847, Lawrence University uniquely integrates a college of liberal arts and sciences with a nationally recognized conservatory of music, both devoted exclusively to undergraduate education. It was selected for inclusion in the book "Colleges That Change Lives: 40 Schools That Will Change the Way You Think About College."  Engaged learning, the development of multiple interests and community outreach are central to the Lawrence experience. Lawrence draws its 1,500 students from nearly every state and more than 50 countries.