As a college administrator with nearly 20 years of experience working closely with students, Christopher D. Card is passionate about making campus communities rigorous places for learning and personal development.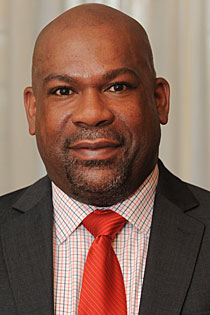 He will soon share that passion with Lawrence University students. Lawrence President Mark Burstein announced Thursday (5/4) the appointment of Card as the university's vice president for student life following a national search that generated more than 100 candidates.
Currently the dean of students at Trinity College in Hartford, Conn., Card, 46, begins his duties at Lawrence August 1. He will oversee a staff of more than 40 professionals and manage all aspects of campus life (residence life, campus activities and Greek life), career services, the diversity center, health and wellness programs, international student services, spiritual and religious life, the volunteer center and the operations of the Warch Campus Center.
Since 1998, Card has worked with students at Trinity in a series of roles of increased responsibility. After joining the Trinity administration as assistant dean of students, he was promoted to associate dean in 2001. He spent part of the 2014-15 academic year as interim dean of students before being named dean in April of 2015.
In announcing the appointment, Burstein said Card emerged from "a wonderful set of finalists who exhibited real and very different strengths."
"Throughout the interview process, Chris' passion for creating a vibrant student-centered community in a liberal arts college setting, his focus on nurturing relationships and his deep commitment to learning were apparent," said Burstein. "I'm confident we selected the right candidate for Lawrence at this time. His passion for joining us and deep understanding of who we are only confirm our decision."
At Trinity, where he leads a team of three deans, Card said he was particularly proud of his efforts to direct the academic and personal goals of students, especially those who feel "they dwell on the periphery of the dominant campus culture."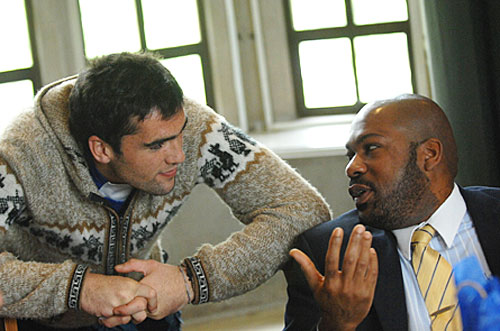 "From my introduction to student affairs as an undergraduate resident assistant to my current position, I've sought to ensure that our college communities evolve as welcoming and inclusive spaces for all students to thrive," said Card.
"I've been focused on trying to develop a campus community where students have a sense of belonging, where they feel comfortable being themselves in the conversation," he added. "I do believe for us to cultivate and grow good scholars, there has to be a sense of personal investment in the community which I live. I've been careful to meet students where they are, figure out how they describe and pen their own trajectory."
Card said he was drawn to Lawrence as a "progressive, forward-thinking community."
"As I looked at the challenges Lawrence has ahead of it, what they are trying to do and my skill sets currently, I thought it would be a great environment to connect with," said Card.
"The people whom I had conversations and met with were great. I'm excited to work with students who are highly engaged with the community. It was a good fit, and a place I believe I can help making some positive changes and develop an even stronger community here."
Kim Dickson, associate professor of biology and a member of the university's 13-member search that included four faculty and five students, said she was struck by Card's approachability, warmth, and thoughtful responses to the committee's questions.
"It was immediately apparent that Chris is a tremendous student advocate and a strong presence on his current campus," said Dickson. "As our conversations evolved, it also became clear that Chris is a respected team leader whose work is guided by his commitment to education, respectful discourse and creativity. I think he is a great fit for Lawrence."
At Trinity, Card has worked closely with the college's chaplaincy, assisting on issues related to students' spiritual life and serving as a staff advisor to the Interfaith organization. He has spent the past six years as chair of both Trinity's emergency management team and the behavioral intervention (threat assessment) team.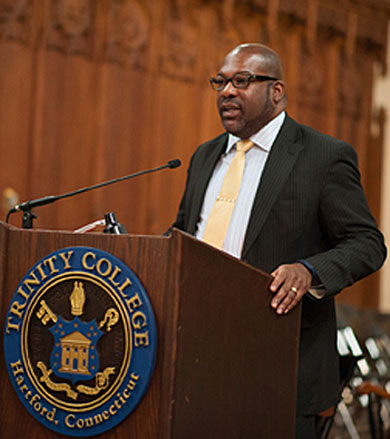 He has been recognized with numerous honors at Trinity, including the David Winer Award for his "commitment to improving the quality of life for students in an especially meaningful way."
Tamanna Akram, a junior from Dhaka, Bangladesh, president of Lawrence International and a member of the search committee, described meeting Card as "a great experience."
"Chris spoke about his background as an international student in college which really resonated with me," said Akram. "He also spoke a lot about building relationships and sustaining them, which I think is very important. When we talked about some problems we face at Lawrence in the area of diversity, he gave us some great examples and ways he would tackle them, which was really impressive. We're all really excited to have him join us on campus."
While his on-campus interview was his first exposure to Wisconsin, Card said he's looking forward to the opportunities the change of scenery may present.
"As a Caribbean man, I'm not going to tell you that I enjoy snow, and the various things I've read about Appleton, the winters can be long and harsh," said Card "But I love the Midwestern values and am curious to see how it plays out on a daily basis.
"I'm eager to see, in addition to Lawrence, what I can bring to the community of Appleton," Card added. "As an international man of color, I would be interested in whatever engagement I can find in the city. I'm excited to be a part of the Lawrence community, but I am equally excited to see how I can put myself into this fabric of life, that's Appleton, too."
Card grew up in St. Andrew, Jamaica. He was his country's representative at Lester B. Pearson United World College in British Columbia, Canada, earning an international baccalaureate diploma from the elite two-year international school that focuses on rigorous academics as well as international understanding and global service.
He went on to earn a bachelor's degree from Clark University in Massachusetts with a double major in economics and international development and social change. At Clark, Card was elected to Phi Beta Kappa and Omicron Delta Epsilon (economics) honor societies and spent a year studying at the London School of Economics. Following Clark, Card earned a master's degree in law and diplomacy from the Fletcher School at Tufts University.
About Lawrence University
Founded in 1847, Lawrence University uniquely integrates a college of liberal arts and sciences with a nationally recognized conservatory of music, both devoted exclusively to undergraduate education. It was selected for inclusion in the book "Colleges That Change Lives: 40 Schools That Will Change the Way You Think About College."  Engaged learning, the development of multiple interests and community outreach are central to the Lawrence experience. Lawrence draws its 1,500 students from nearly every state and more than 50 countries.