Despite its baseball-themed title — The Pitch — and its obvious baseball venue — Fox Cities Stadium, home of the Wisconsin Timber Rattlers Class A minor league team — it took three hockey players to collect "the game's" biggest hit.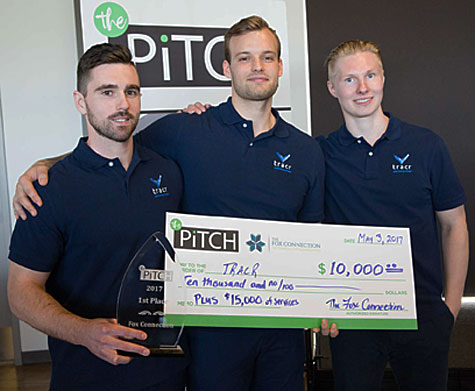 Lawrence University's trio of budding entrepreneurs Ryan Eardley, Felix Henriksson and Mattias Soederqvist — all members of Lawrence's men's hockey team — took home first-place honors at the first-ever northeast Wisconsin The Pitch competition.
Modeled after the television show "Shark Tank," The Pitch featured eight teams of student entrepreneurs presenting their business idea to a panel of judges and room full of business leaders and mentors. The competition featured two teams each representing Lawrence, St. Norbert College, UW-Green Bay and UW-Oshkosh.
Eardley, Henriksson and Soederqvist wowed the judges with their presentation on Tracr, a software application they developed for forensic asset analysis. The software automates the task of tracing assets acquired through fraudulent activities.
For their efforts, they collected the top prize of $10,000 in cash and an additional $15,000 in professional services (web design/development, product prototyping, marketing, legal advice, accounting support).
"This is way better than a hat trick," said a smiling Soederqvist after receiving the first-place prize.
The Tracr application was inspired by an internship Eardley had last summer at Deloitte, a national company that provides auditing, consulting, financial advisory, risk management, tax and related services. By creating an algorithm, the team has been able reduce the function of tracking fraudulent assets from a 20-hours-by-hand process to a two-hour computer process."
"We put in so much hard work," said Soederqvist, a senior from Stockholm, Sweden.  "We spent six weeks completing this in a data science programming class. It was a cool project. And now we are here. It's amazing."
Going into it, a confident Eardley felt The Pitch was "ours to lose."
"We have a product that is proven there is a need for and that being said, makes it a lot easier to market," said Eardley, a senior from Ile Bizard, Quebec, Canada. "I'm so glad we were able to communicate what our product does and the value that we are providing came through in our presentation.
"Now we want to complete a beta version of our software as soon as possible and get it in the hand of practitioners," added Eardley, whose father got the last seat on an Air Canada flight to the area and flew in from Quebec for The Pitch. "We really want to gather feedback and test the robustness of the software."
That $10,000 check will help get the ball rolling in that direction according to Henriksson.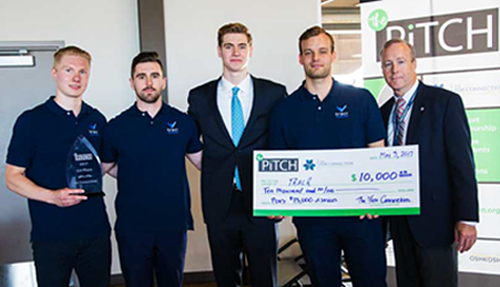 "The $10,000 is primarily going toward contracting a junior software developer, who is going to execute our vision and that of our current tech advisor," said Henriksson, a senior from Helsinki, Finland. "We work very well together, we all have tremendous work ethic and we're committed to carry this venture forward."
Gary Vaughan, coordinator of Lawrence's Innovation and Entrepreneurship Program and lecturer of economics, watched The Pitch unfold from the wings with the pride of a father of a new-born baby.
"I could not be prouder of these students for their accomplishments, especially the way they represented themselves and Lawrence in this event," said Vaughan. "Team Tracr's accomplishment is exciting and the result of a lot of hard work by the students, their professors, their alumni mentors, their parents and as international student-athletes, the support of their host families."
Both the local host families for Eardley and Soederqvist attended The Pitch to show their support for the team.
All three Tracr team members extended sincere gratitude to Scott Myers, a 1979 Lawrence graduate and member of the university's Board of Trustees, who has been instrumental in supporting the I & E program and The Pitch competition, financially and otherwise.
"Our I&E program is amazing," said Soederqvist. "It's given us the experience we would not have gotten any other way. It's definitely been one of the best parts of my Lawrence education."
"The efforts the I&E program at Lawrence has put forward to make this thing happen has been incredible," Eardley added. "Behind the scene, there is so much effort that goes into something like this. I'm just extremely grateful to be a part of it."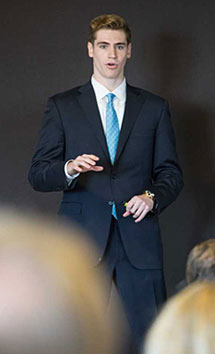 Sophomore George Mavrakis also represented Lawrence at The Pitch. A saltwater aquarium aficionado who started his own business in sixth grade and won the 2016 LaunchLU contest, Mavrakis presented C-Star, a commercial product designed to eliminate one of the least favorite jobs of owning a fish tank: cleaning the sand.
Second place honors at The Pitch were awarded to Abbie Merrill from UW-Oshkosh for her "In Our Hands" political app, which enables users to comment on upcoming legislation. She received $5,000 in cash and $10,000 in professional services.
The Pitch was organized by The Fox Connection, a collaboration of academic institutions in northeast Wisconsin to enhance entrepreneurial education and opportunity for area students.
About Lawrence University
Founded in 1847, Lawrence University uniquely integrates a college of liberal arts and sciences with a nationally recognized conservatory of music, both devoted exclusively to undergraduate education. It was selected for inclusion in the book "Colleges That Change Lives: 40 Schools That Will Change the Way You Think About College."  Engaged learning, the development of multiple interests and community outreach are central to the Lawrence experience. Lawrence draws its 1,500 students from nearly every state and more than 50 countries.