Bonnie Koestner had never seen an opera performance in person until she was a freshman at Lawrence University. And a school-sponsored bus trip with classmates to see Igor Stravinsky's "Oedipus Rex" at Chicago's Lyric Opera left her less than inspired.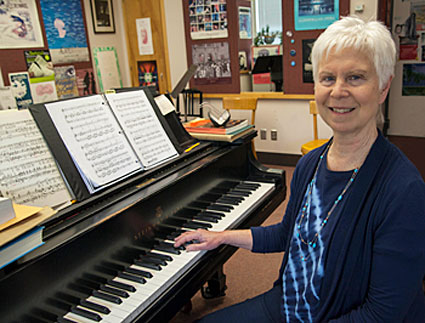 But getting a chance to work on an opera production provided the spark that ignited a passion for the art form that has burned intensely for nearly 50 years.
"I played for the choir and musicals in high school," said Koestner. "When I got to Lawrence, I thought, 'well, I played "Bye Bye Birdie," how much harder could opera be?' So, all four years I was a student, I played for all the operas we staged."
Koestner, a 1972 Lawrence graduate who returned to her alma mater in 2001 as a faculty member, is retiring as an associate professor of music. She will be recognized Sunday, June 11 with an honorary master of arts degree, ad eundem, as part of the university's 168th commencement.
A music education major at Lawrence, Koestner taught middle school in Schofield after graduating, an experience she recalled as both valuable and a likely source of her white hair. After four years, she traded "teacher" for "student" to attend graduate school. She earned a master's degree in music education at the University of Wisconsin-Madison, where she spent most her free time playing piano for opera productions.
"I finally decided, well maybe this means something," said Koestner. "So I naively wrote to every opera company on the planet and said 'hey, hire me.'"
Much to her delight, one did — Hidden Valley Opera in Carmel Valley, Calif. — as the company's chorus master pianist. That job began a 23-year career as an "opera vagabond" as Koestner crisscrossed the country, working with 26 different opera companies on more than 120 opera productions, including Puccini's "La Bohème" nine times.
San Francisco was her base for much of that time. She spent 15 years as the head opera coach for the San Francisco Conservatory of Music and eventually joined the music staff of the San Francisco Opera. During her "freelancing" days, Koestner brought her talents to opera companies of all stripes to work on specific productions. She spent 15 summers as chorus master with Glimmerglass Opera in Cooperstown, N.Y., while some of her many other "gigs" included appointments ranging from rehearsal pianist to artistic administrator with opera companies in Atlanta, Baltimore, Central City, Colo., Miami, Reno, Nev., Sacramento and Salt Lake City, among others. Her work with professional opera companies continued even after she joined the Lawrence faculty.
"Bonnie's passion for teaching shines through in everything she does. Her dedicated efforts have taken students to levels of artistry that even they could not have imagined."
— Brian Pertl, dean of the conservatory of music
"It was fun, actually, to do that," said Koestner, who grew up in Chicago. "It simplified my life to have with me only what would fit in my little car."
While working in Miami, Koestner learned of a vocal coaching position at Lawrence. Since her brother, also a musician, and her recently retired parents, had all relocated to Appleton, it seemed subliminal messages were being sent her direction.
"I'd been freelancing for a while and thought 'hmmm, this seems like it's meant to be.' It's my alma mater, my whole family has resettled there and the position is everything that I do," said Koestner. "I was fortunate to get it and it has worked out very well."
At Lawrence, Koestner has been involved with 17 main stage productions — she cites the challenging comic opera "Albert Herring" by Benjamin Britten staged in 2013 as the Lawrence production she is proudest of — as well as the annual "opera scenes" concert each spring.
"Bonnie's passion for teaching shines through in everything she does," said Brian Pertl, dean of the conservatory of music. "She has the highest expectations for her students and an ability to see their full potential. Her dedicated efforts have taken students to levels of artistry that even they could not have imagined."
For Koestner, it's the "collaborative and multifaceted nature" of opera that has fueled her fondness for it all these years.
"It's fun to be a part of something that has so many different people in various capacities. It's really a team sport. Opera is the ultimate liberal arts performance vehicle because it involves music, theatre, art in the scenery and often dance. There's also the historical and cultural background, the literature of the libretto. Just about every one of the arts is combined in opera."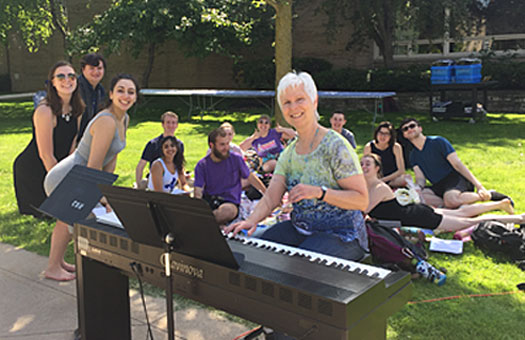 Koestner said her own experiences working closely with the opera productions as a Lawrence student served as inspiration for her professional career. She hopes she has instilled a bit of her own passion for opera in her students these past 16 years.
"I really love teaching and an important part of my mission as a professor is to teach our student pianists how to serve as rehearsal and performance musicians for the main stage operas and scenes. I hope I've given them a love of the art form, a love for what they are doing as singers, musicians. I want them to pursue their work as singers with a sense of discovery, of curiosity and a desire to strive for high professional standards along with genuine enjoyment of what they are doing."
"I will miss the students more than anything," she added. "They are bright, imaginative, good people."
While her long-term plans in retirement are still evolving, near term she is eagerly looking forward to returning to Arezzo, Italy for her fourth summer of working with the month-long Oberlin in Italy program for young singers. Five Lawrence students will join her in the program this summer.
"That's hugely fun," said Koestner. "After that I'll travel for two weeks in Italy on my own."
When she returns to the states, she plans to remain close to family in Appleton and perhaps return occasionally to her vagabond days, watching for an opera gig here or there to assist with.
"I really hope to travel as much as possible, too."
About Lawrence University
Founded in 1847, Lawrence University uniquely integrates a college of liberal arts and sciences with a nationally recognized conservatory of music, both devoted exclusively to undergraduate education. It was selected for inclusion in the book "Colleges That Change Lives: 40 Schools That Will Change the Way You Think About College."  Engaged learning, the development of multiple interests and community outreach are central to the Lawrence experience. Lawrence draws its 1,500 students from nearly every state and more than 50 countries.