To his surprise, and delight, Lawrence University Provost and Dean of the Faculty David Burrows was awarded an honorary Doctor of Humane Letters degree Sunday at the university's 168th commencement.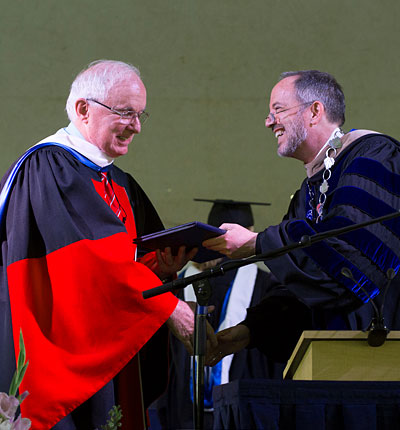 Burrows announced last year that he would leave his current post to return to teaching this fall. He has served as Lawrence's provost and dean of the faculty since July 1, 2005.
In awarding Burrows with his surprise honorary degree, which had been a well-kept secret, Lawrence President Mark Burstein praised him for leaving an "indelible mark on the intellectual character of Lawrence."
"Your energetic championing of the liberal arts ideal that illuminates the educational mission of this college, and your devotion to lifelong learning have transformed this university and our graduates," said Burstein. "There is no corner of this campus that has not been shaped by you, a shape that goes beyond buildings and maps and offices to the life's blood of any institution of higher education: its intellectual character."
Burrows officially leaves his position as Lawrence's chief academic officer June 30. He will return to the classroom this fall as a professor of psychology.
As part of new duties, Burrows will lead an initiative to foster collaboration with faculty to develop ideas and programs for liberal learning pedagogy. Significant advances have been achieved in understanding how individuals learn and Burrows' efforts will help Lawrence take advantage of these developments.
During his tenure, Burrows oversaw the hiring of 75 new faculty members and was instrumental in developing Lawrence's Senior Experience program. He also played a leadership role in designing and launching the Lawrence Fellows in the Liberal Arts and Sciences program for emerging scholars who recently finished their graduate degrees.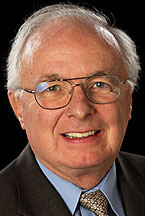 A native of New York City, Burrows joined the Lawrence administration after spending eight years as dean of the college and vice president for academic affairs at Beloit College, where he also taught in the psychology department.
Prior to focusing his career on college administrator, Burrows spent 25 years in the classroom as a cognitive psychologist: eight years on the faculty at the State University of New York at Brockport and 17 years at Skidmore College, where he also served as associate dean of the faculty for three years.
Beyond the campus borders, Burrows is a member of the board of directors of the Appleton Education Foundation and is a former chair (2012-14) of the board of directors of the Fox Valley Literacy Council, for which he still serves as a board member.
He earned a bachelor's degree in psychology from Columbia University and a master's degree and Ph.D. in psychology from the University of Toronto.
About Lawrence University
Founded in 1847, Lawrence University uniquely integrates a college of liberal arts and sciences with a nationally recognized conservatory of music, both devoted exclusively to undergraduate education. It was selected for inclusion in the book "Colleges That Change Lives: 40 Schools That Will Change the Way You Think About College."  Engaged learning, the development of multiple interests and community outreach are central to the Lawrence experience. Lawrence draws its 1,500 students from nearly every state and more than 50 countries.