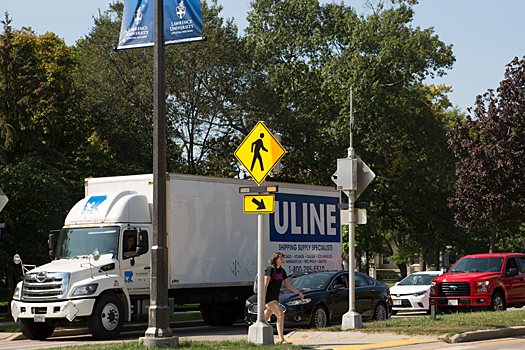 In an effort to improve personal safety, Lawrence University, in collaboration with the city of Appleton, is acquiring and installing high-definition cameras on the two crosswalks on College Ave. in the middle of campus.
The high-definition cameras will be mounted in the median behind the pedestrian crossing signs and will be able to capture a higher level of detail at the crossings to assist the Appleton Police Department in an investigation should an incident arise.
Captured video information will be stored for 72 hours – the same as all other traffic cameras within the city – and is only reviewed if needed for evidence in an accident or harassment incident.
Lawrence is covering the purchase cost of the cameras while the city will oversee the cameras installation. The city also will manage maintenance of the cameras and all data captured by them.
"The mid-College Ave. crosswalks have seen a number of pedestrian-vehicle incidents over the years," said Jon Meyer, Lawrence's director of campus safety and director of campus services. "The safety and well-being of members of the Lawrence community is our highest priority and these new cameras will help us identify vehicles involved in crosswalk accidents as well as verbal harassment."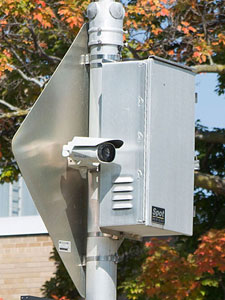 In Oct. 2013, Lawrence student Shannon Grant sustained serious injuries in a hit-and-run incident while crossing the westbound lane of College Ave. in the crosswalk in front of the Lawrence Memorial Chapel. She suffered a broken leg and a fractured pelvis, among other injuries, which kept her out of school for several months. The case has never been solved.
"The university approached the city about installing these cameras and we are happy to work with them to make these enhancements at the crosswalk," said Appleton Mayor Tim Hanna. "Lawrence University is an important partner with the city and we want all students to feel safe in our community."
About Lawrence University
Founded in 1847, Lawrence University uniquely integrates a college of liberal arts and sciences with a nationally recognized conservatory of music, both devoted exclusively to undergraduate education. It was selected for inclusion in the book "Colleges That Change Lives: 40 Schools That Will Change the Way You Think About College." Engaged learning, the development of multiple interests and community outreach are central to the Lawrence experience. Lawrence draws its 1,500 students from nearly every state and more than 50 countries.