While growing up in New York City, Eli Cauley lived in a home without a television. Unlike many kids his age, he wasn't raised with an X-Box or PlayStation at the ready.
But that never stopped his passion for playing and making games.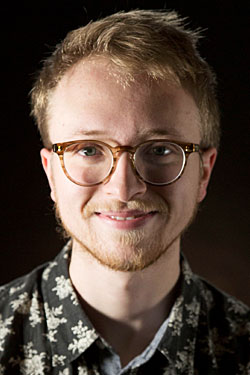 "When people ask me about games, I immediately perk up. I love playing and I especially love creating them," said the Lawrence University senior. "But if I'm asked 'what do you like playing?,' I trip. I don't really play 'Grand Theft Auto' or the newest 'Call of Duty,' not even 'Skyrim.' They haven't held my attention lately.
"The names of the games I've been playing recently probably wouldn't mean much to most people," he added. "I enjoy playing more intimate games, ones often developed by small teams or even just one creator whose personality can be felt in the game."
What Cauley most enjoys is the process of creating ingenious games and then sharing them with others to play. With a fertile imagination, an insightful mind and computer software as his tools, Cauley has designed some 30 games — 17 of which are available online — under the pseudonym "crawlspace."
"Not all of them have the interactive systems people have come to expect. Many of them are neither winnable nor losable. But I hope to open people's perspective of what games can be and do," said Cauley, who traces his game-making interests to elementary school, where he would scribble elaborate simulations of medieval kingdoms for his friends to play in.
Following his graduation from Lawrence this June, Cauley will spend a year pursuing his passion for games and exploring the world's gaming community as one of 40 national recipients of a $30,000 Watson Fellowship for a wanderjahr of independent travel and exploration. Beginning this August, Cauley's 12-month itinerary includes stops in England, the Netherlands and Japan.
Last summer, Cauley attended a virtual reality workshop at New York University, a Game Developers of Color Exposition in Harlem and spent time at an outdoor arcade gallery where he played a historical fiction time travel game about Walt Whitman.
"What I experienced that summer was just a small taste of the diversity and richness of video games and their developers that exists around the world," said Cauley, Lawrence's 73nd Watson Fellow since the program's inception in 1969. "For my Watson project, I hope to follow this thread around the world, exploring the exciting and diverse game makers who exist outside the traditional game development world."
He will begin is exploration in London, where he will spend time with two open communities: the London Game Space, a roving community of game developers who co-work in various spaces around the city; and Video Brains, an organization dedicated to fostering intellectually engaged conversations about video games and game development. He's also hoping to meet Stephen Lavelle — aka Increpare — a prolific game developer with hundreds of published games to his credit of varying sizes touching upon a diverse range of unorthodox subjects.
"If I could have coffee with Stephen Lavelle, just for an afternoon, that would be amazing," said Cauley, a linguistics major at Lawrence with a 3.94 grade point average. "His games are why I create games."
"Eli's games are innovative, thought-provoking, deceptively simple and great fun to play. He's extremely intelligent and self-motivated. He's also a very kind, thoughtful person who wants to help make a better, more inclusive, more equitable world.
       — Lavayna Proctor
From December to April, Cauley will live in the Netherlands, home to a growing community of independent game developers thanks to the launch of the Dutch Game Garden in 2008.
"They offer very practical services surrounding the business end of being a game developer, but the part of the Game Garden that interests me is their bottom-up grassroots effort to create at thriving, diverse community of developers. I plan on attending their open game jams, hack-a-thon inspired game-making events and other community-based events," said Cauley.
The final three months of his project will be spent in Japan, primarily in Tokyo, home to a large indie games festival, and Kyoto, where he's attend BitSummit, a games' festival organized by the Japanese Independent Games Aggregate. He also plans to visit Fukushima and hopes to attend their yearly Fukushima game jam.
"In past years the game jam has centered around themes of 'rise' and 'rebirth' in the wake of the tragic disaster," said Cauley. "The jam provides a unique space to learn how games might participate in a community's process of healing."
Lavanya Proctor, assistant professor of anthropology and Cauley's academic advisor, said he "has always been very passionate about creating games."
"Eli's games are innovative, thought-provoking, deceptively simple and great fun to play," said Proctor. "He's extremely intelligent and self-motivated. He's also a very kind, thoughtful person who wants to help make a better, more inclusive, more equitable world.
"His Watson project aims to help him do that, channeling his love for creating games and his passion for learning into his goal of helping build equity," she added. "This fellowship will help Eli learn from diverse and independent creators, enriching his creativity and deepening his commitment to inclusivity. I'm very proud of him."
Cauley says his career at Lawrence has produced some self-induced conflict. He's been a diligent student, excited about his studies, classes and professors. He's also been an autodidact, spending every sliver of his free time studying the complicated tools required to navigate a modern game engine — coding, animation rigging, homebrew plug-ins, physics systems and countless bug fixes.
"I've been the game maker desperately trying to figure out where games fit into my life. I've wondered if my games were just an amusing past time or creations full of inside jokes I showed to my friends for quick laughs. Did games fit into my academic life when I wrote a literary critique of a Chekhov short story in the form of an interactive essay game or were they a vehicle to return to art and tap into a creative energy I hadn't felt since my childhood? I rejected every hypothesis because each was only half true. None provided the satisfaction I started to see in the games I was creating."
As his skills became more sophisticated and his mind ran flush with ideas, Cauley began making games as art, eulogy, therapy, birthday gifts, educational devices, love letters, apologies, games to deliver a literary critique or explore family dynamics or simulate theoretical physics.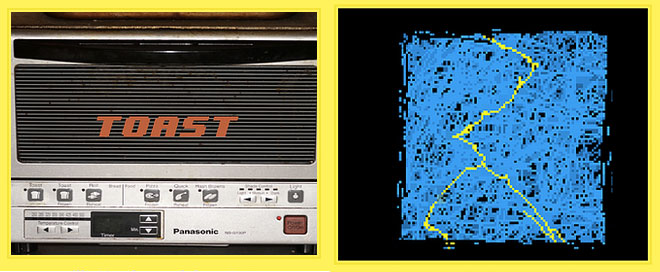 "The medium is so woefully underexplored and it so desperately needs diverse voices to breathe life into its unexplored corners," said Cauley.  "As I travel, learn, collaborate and create, there are so many questions I want to explore: who makes games, why do they make games, what can be a game, what kinds of things can be made into a game. These are the questions that keep me up at night."
Cauley was selected for the Watson Fellowship from among 149 finalists nominated by 40 leading liberal art colleges. This year's 50th class of Watson Fellows hail from 17 states and eight countries and collectively will visit 67 countries as they pursue their projects.
More than 2,700 students have been awarded Watson Fellowships, providing opportunities to test their aspirations, abilities and perseverance through a personal project that is cultivated on an international scale. Watson Fellows have gone on to become international leaders in their fields including CEOs of major corporations, college presidents, MacArthur grant recipients, Pulitzer Prize winners, diplomats, artists, lawyers, doctors, faculty, journalists, and many renowned researchers and innovators.
The fellowship was established by the children of Thomas J. Watson, Sr., the founder of International Business Machines Corp., and his wife, Jeannette, to honor their parents' long-standing interest in education and world affairs.
About Lawrence University
Founded in 1847, Lawrence University uniquely integrates a college of liberal arts and sciences with a nationally recognized conservatory of music, both devoted exclusively to undergraduate education. It was selected for inclusion in the book "Colleges That Change Lives: 40 Schools That Will Change the Way You Think About College."  Engaged learning, the development of multiple interests and community outreach are central to the Lawrence experience. Lawrence draws its 1,500 students from nearly every state and more than 50 countries.