Stefan Debbert calls it a "transformational" approach to science education at Lawrence University.
The chemistry professor will direct a new initiative designed to significantly change the way Lawrence teaches many of its introductory natural science courses.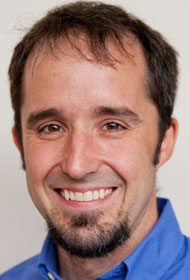 Lawrence was one of 33 schools in the country selected for a $1 million grant from the Howard Hughes Medical Institute to implement its Inclusive Excellence Initiative. The program's aim is to catalyze schools' efforts to engage science students of all backgrounds and identities. Lawrence and the other 32 schools selected for the program this year join 24 schools that were chosen in 2017.
"This initiative is about encouraging colleges and universities to change the way they do business — to become institutions with a significantly greater capacity for inclusion of all students, especially those from nontraditional backgrounds," said HHMI President Erin O'Shea in announcing the grants.
"The commitment to inclusion is a signal feature of a Lawrence education," said Catherine Gunther Kodat, provost and dean of the faculty. "Last year, our efforts to more fully incorporate inclusive pedagogies in the humanities received a great boost through funding from the Mellon Foundation. This new grant makes it possible for us to deepen and expand this commitment into our instruction in the sciences, as well. HHMI is one of the nation's most prestigious science philanthropies. Their support of our program is a tremendous vote of confidence in the skill, dedication, and passion of our faculty."
As its name implies, the program is targeting "the New Majority" — underrepresented minority, first generation and low-income students. Recent efforts on Lawrence's part have significantly increased its number of New Majority students, leading to a re-examination of how its policies and resources support those students.
"It's called the Inclusive Excellence Initiative because data suggest some groups are being excluded," said Debbert, associate professor of chemistry and Lawrence's HHMI project director. "We want to make sure students stay in our science 'pipeline.' To do that, we're looking at a fundamental shift in how we teach.
"Our goal is to create a natural science community that unreservedly welcomes, fully embraces, thoughtfully engages and effectively teaches all students of all identities—from their very first class through graduation," Debbert added. "Lawrence's natural science division intends to lead the university as we place inclusive excellence at the root of our curricula, our mindsets and our shared mission."
Lawrence will use the grant, which will be allocated over five years, to "fundamentally change" the way each of its large introductory courses in biology, chemistry and physics are taught.
"We're going to take them out of the big lecture hall model and go to a more active learning approach where students are working in small groups around a table, talking with each other and working with each other instead of just passively absorbing a long lecture," said Debbert. "We're also going to enhance our student's hands-on learning opportunities by better integrating our labs with our classroom work."
Lawrence biologist Elizabeth De Stasio, whose own position at Lawrence was created originally in 1992 by a $500,000 grant from HHMI, says that as a result of this work, "Our students are going to be learning in a new way. They are going to carry that to their other classes and, we hope, their social spaces, resulting in a more inclusive culture at Lawrence, not just in the introductory science classes."
"The commitment to inclusion is a signal feature of a Lawrence education. HHMI is one of the nation's most prestigious science philanthropies. Their support of our program is a tremendous vote of confidence in the skill, dedication, and passion of our faculty."
— Catherine Gunther Kodat, provost and dean of the faculty
Lawrence's first step in the initiative will be transforming a large, tiered lecture hall in Youngchild Hall into a "science commons" with small group tables and built-in technology so students can share work with each other more easily.
"Our hope is to make our introductory science courses a more welcoming and engaging place, so students won't feel left out or excluded because of where they're coming from, what they look like or how they identify," said Debbert. "We'll be able to say to all students, 'We can help you succeed.'"
Over the next five years, Lawrence will add visiting faculty members who specialize in modern science pedagogy for two-year appointments. These positions will be created in the biology, chemistry and physics departments.
"These 'STEM Pedagogy Fellows,' as we plan to call them, won't just be scientists, they will have extensive experience in modern pedagogy and classroom revision," said Debbert. "They will be people whose Ph.D.s essentially are in science teaching, so they will help us in many ways."
To further support students in these introductory science courses, Lawrence will build on a successful program in their introductory biology curriculum by developing and implementing peer-led learning groups for introductory courses in chemistry and physics. These groups will help students develop skills and strategies for success in coursework, and will lead to more connections and cohort-building among students and a more inclusive learning environment for all students, particular those from underrepresented groups.
"Diverse groups are shown by research to make better decisions; there is less group-think if you are in a group with diversity on any level," said De Stasio, the Raymond H. Herzog Professor of Science and professor of biology. "We're trying to have students realize working in diverse groups of any kind is a huge plus."
In addition to these programs, Lawrence will bring outside speakers to campus to conduct seminars for the faculty and staff with a focus on how to teach more inclusively. Additional personnel will be added to the office of research administration to gather more data to assess project progress during the grant period.
During the two rounds of selection in 2017 and 2018, HHMI received applications from 594 schools of which 140 were invited to submit proposals for plans to develop more inclusive environments for their students.
"For years, the higher education system has focused on treating symptoms instead of addressing root causes," said HHMI Program Officer Susan Musante. "With the Inclusive Excellence initiative, HHMI is asking institutions to identify how they are standing in the way of success for certain groups of students and then find ways to change."
About Lawrence University
Founded in 1847, Lawrence University uniquely integrates a college of liberal arts and sciences with a nationally recognized conservatory of music, both devoted exclusively to undergraduate education. It was selected for inclusion in the book "Colleges That Change Lives: 40 Schools That Will Change the Way You Think About College."  Engaged learning, the development of multiple interests and community outreach are central to the Lawrence experience. Lawrence draws its 1,500 students from nearly every state and more than 50 countries.