On Tuesday, Sept. 4, Lawrence University will welcome one of its largest classes in history as more than 425 first-year, transfer, and exchange students arrive for Welcome Week activities, all in preparation for the first day of classes, Tuesday, September 11, marking the beginning of Lawrence's 171st academic year.
"We can't wait for them to arrive," says Ken Anselment, Vice President for Enrollment and Communication. "Though, to be fair, many of them have been here for a few weeks already for fall sports and orientation programs."
New Lawrentians this year come from 40 states, the District of Columbia, and 25 countries, making this year's class one of Lawrence's most geographically diverse ever. Just over 20 percent of the class comes from Wisconsin, followed by Illinois, Minnesota, California, New York, China, Texas, Vietnam, Colorado and Florida.
International students compose more than 15 percent of the class.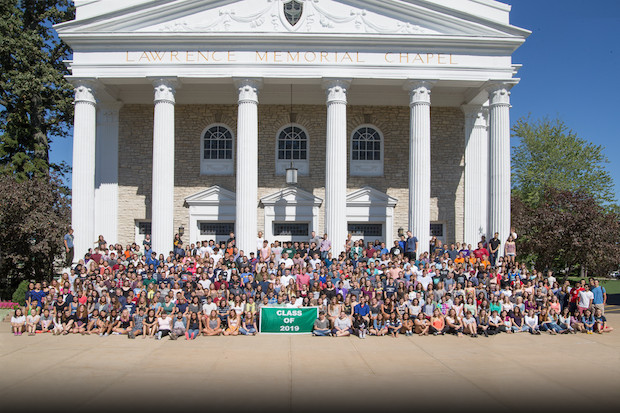 Staying ahead of the demographic curve
That geographic mix is part of the plan. "The population of college-going students in the country has seen significant geographic shifts over the past decade," says Anselment. "There are fewer students from our home market in the Midwest, and more students from the West and South."
Anselment notes that demographic studies project that shift to become even more pronounced in the coming decade. "We have been anticipating this, which is why we have been working strategically to expand our national and international reach over the past ten years."
Beyond the recruitment benefits, Anselment notes that the strategy primarily benefits students: "From day one, Lawrentians will start building a national and international network with their classmates right in their classrooms, residence halls, and dining spaces."
Anselment says that this year's class continues to build on the momentum Lawrence has seen over the past five years with strong academics, strong socioeconomic diversity, and increasing ethnic and racial diversity (more than 25 percent of the class identifies as domestic students of color).
Full Speed to Full Need campaign plays a strong role
Aiding Lawrence's ability to attract such a strong pool is the continued success of the Full Speed to Full Need campaign, which launched in September 2014 with a goal to build a $75-million endowment that would allow Lawrence to join the small group of colleges in the country that meet the full financial need of their students.
Driven by the support of many members of the Lawrence University community, as well as an anonymous $25-million gift that catalyzed the campaign, the university has already surpassed the $75-million goal, giving President Mark Burstein the confidence to raise the target to $85-million, which would allow the university to provide further funds for students to provide full-need support for students who wish to study abroad during their time at Lawrence.
It's a bold move, but one that is already paying dividends. To date, more than 180 students have had their need fully met with funds from the campaign, and that number continues to grow with each new class. In coming years, as more of the pledged funds are realized and the endowment continues to mature, Lawrence will be among a small group of colleges in the country—and the only one in the state of Wisconsin—that meets the full financial need of all of its students.
---
About Lawrence University
Founded in 1847, Lawrence University uniquely integrates a college of liberal arts and sciences with a nationally recognized conservatory of music, both devoted exclusively to undergraduate education. It was selected for inclusion in the book "Colleges That Change Lives: 40 Schools That Will Change the Way You Think About College." Lawrence draws its 1,500 students from nearly every state and more than 50 countries.