At a ceremony held at McCormick Place in Chicago on October 23, Lawrence University received The College Star of Transformation award from Chicago Scholars, an organization dedicated to helping "academically ambitious students from under-resourced communities complete college and become the next generation of leaders who will transform" Chicago's neighborhoods and the city itself.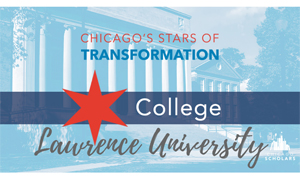 These students, named Chicago Scholars themselves, receive special training and mentorship from the organization to help them succeed in the college admission process and, more importantly, during their time in college. The organization boasts that its students graduate from college at a rate of 86%, which is nearly 40 percentage points higher than their peers, according to the University of Chicago Consortium on Chicago School Research.
Chicago Scholars CEO, Dominique Jordan Turner, cited Lawrence University's generosity of financial support for the Chicago Scholars it has enrolled, along with strong on-campus mentoring and advising. Earlier this year, Turner was named as a member of the inaugural class of Obama Foundation Fellows, a program that brings together 20 leaders from 11 countries who are creating solutions to some of the world's most pressing problems.
Ken Anselment, Lawrence University's Vice President for Enrollment & Communication, accepted the award on behalf of the university.
"Our partnership with Chicago Scholars has helped Lawrence University meet, recruit, and enroll high-caliber students who are traditionally underserved by the college admission process," says Anselment, who appreciates the close partnership with the organization, one of more than a dozen around the country with which Lawrence has developed a formal working relationship.
Shortly after leaving the stage, Anselment was called back up to introduce the organization's Crystal Award winner, Tom Hurvis, a 1960 graduate of Lawrence University, whose support for the organization has transformed its ability to serve Chicago students.
According to Turner, "As a result of Tom's investment, Chicago Scholars has scaled tremendously." She notes that the number of students selected to participate in the program has increased from 250 Scholars a year to 1,000 this year—due largely to the supercharging effect of Hurvis's support.
In his remarks about Hurvis, Anselment noted, "The world is filled with many people like Tom who have been incredibly successful. But there are far fewer people in the world who use their successes in the ways that Tom does, which is to take great joy in using the fruits of that success to create extraordinary opportunities that lift others to their own success."
Bernard Lilly, a 2018 Lawrence graduate and Chicago-based musician, then took the stage to sing a special tribute to Hurvis, which brought the more than 300 attendees to their feet with a standing ovation for the gifted vocalist.
Hurvis is one of the founders and chairman of Old World Industries, the world's leading supplier of antifreeze and diesel exhaust fluid, including PEAK antifreeze and coolant, and Blue DEF, respectively.
About Lawrence University
Founded in 1847, Lawrence University uniquely integrates a college of liberal arts and sciences with a nationally recognized conservatory of music, both devoted exclusively to undergraduate education. It was selected for inclusion in the book "Colleges That Change Lives: 40 Schools That Will Change the Way You Think About College."  Engaged learning, the development of multiple interests and community outreach are central to the Lawrence experience. Lawrence draws its 1,500 students from nearly every state and more than 50 countries.