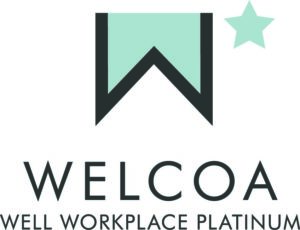 Lawrence University's commitment to the health and wellness of its employees  has earned it a Platinum Well Workplace Award from the Wellness Council of America (WELCOA) in conjunction with the Wellness Council of Wisconsin. Lawrence is one of only seven institutions nationwide to be honored with the Platinum designation, which honors organizations that "have distinguished themselves as not only leaders, but innovators in workplace health promotion."
"For more than ten years Lawrence has focused on the overall well-being of our community. We value our employees and students as a whole person and are committed to providing preventative and comprehensive wellness programming," said Director of Wellness and Recreation Erin Buenzli, who is spearheading Lawrence's wellness initiatives.
Lawrence was honored with a Gold Award in 2016, and the Platinum Award demonstrates its ongoing commitment and continued innovation in employee wellness. Lawrence's wellness initiatives focus on key interventions: tobacco cessation, stress intervention, nutrition, and challenges to increase physical activity. "Our goal is to meet people where they are in their wellness journey by offering a variety of programs focused on the individual including our mind spa, massage program, personal training, and dietician," continued Buenzli.
"Lawrence University has clearly demonstrated their commitment to protect and enhance the health and well-being of their employees.  By meeting the comprehensive standards necessary to achieve the Platinum Well Workplace Award, Lawrence University is prioritizing the well-being of their employees as a foundation of their organization's culture," said Wellness Council of Wisconsin's Executive Director Marissa Kalkman.
WELCOA's Well Workplace awards, which recognize "America's Healthiest Companies," are based on criteria of the seven "Cs": Capturing CEO support; Creating a cohesive wellness team; Collecting data to drive health efforts; Carefully crafting an operating plan; Choosing appropriate interventions; Creating a supportive environment; and Carefully evaluating outcomes.
Lawrence will join other winners from around the region at the Fox Cities Well Workplace awards ceremony on November 13. An announcement regarding the status of the Fox Cities as a "Well City USA" will be made that evening. Achieving a Well City designation requires that 20 percent of a community's entire working population must be employed by at least 20 Well Workplace award-winning organizations.