The Lawrence University Department of Athletics has won a major grant and captured a diversity award from the NCAA.
Lawrence won an NCAA CHOICES grant to implement its "Lawrence Vikings: Champions of Change" program. The grant will provide Lawrence $30,000 over a three-year period.

Lawrence also is the recipient of the April NCAA Division III Diversity Spotlight Initiative.
In an effort to educate students about the risks involved with the misuse of alcohol, the NCAA has developed NCAA CHOICES, a grant program for alcohol education. Support for the program comes from the NCAA Foundation and Anheuser-Busch Cos. Inc.
The NCAA CHOICES program provides funding for NCAA member institutions and conferences to integrate athletics departments into campus-wide efforts to reduce alcohol abuse. NCAA CHOICES projects must partner athletics with other campus departments in the development and implementation of effective alcohol education projects.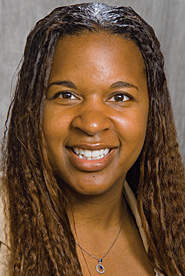 "It is truly exciting that Lawrence has been awarded the coveted NCAA CHOICES Alcohol Education Grant, supporting education of our student body about the risks involved with the misuse of alcohol," said Director of Athletics Christyn Abaray. "On our campus alcohol misuse is an area where we can improve. Student-athletes and the department of athletics overall are two of the most visible components on campus, so we in athletics look forward to taking the lead in our prevention efforts."
The purpose of the program covers three main areas: to engage students in learning about the current culture of alcohol use on the Lawrence campus; to develop and implement alcohol-free programming; and to encourage responsible alcohol use. The target audience includes Lawrence student-athletes, while the secondary audience focuses on all students, athletics coaches and student life staff.
The program's first goal is to establish, train and sustain a group of student-athlete leaders, who will be trained to provide peer mentoring and take the lead on alcohol abuse prevention efforts geared toward all students at Lawrence. This group will be called the Champions of Change Council.
"We are building a 'prevention' community, encompassing the entire student body with athletics as the lead to shift our culture around alcohol use."
— Christyn Abaray
The second goal is by reviewing existing and current data, Lawrence students and staff will be educated about the current culture of alcohol use on campus as well as best practices to deter continuation of this culture.
A third goal is to implement training of students and staff on alcohol abuse. They would be able to apply what they have learned to implement comprehensive alcohol-abuse prevention strategies on the campus.
The fourth goal is utilize a social norms campaign to raise awareness about perceived alcohol-related behavior on campus compared to actual alcohol behavior patterns.
The fifth goal is to develop and implement alcohol-free programming events for Lawrence students to prevent high-risk alcohol use.
"The CHOICES grant emphasizes the need for a partnership and collaborative approach across several different departments, which is not only paramount to institutionalizing the efforts but also is who we are," Abaray said. "We are building a 'prevention' community, encompassing the entire student body with athletics as the lead to shift our culture around alcohol use. We want to thank the NCAA CHOICES grant selection committee and the main sponsor, Anheuser-Busch Companies Inc."
The grant was the result of the efforts of a diverse group of staff and students from across campus. Director of Wellness and Recreation Erin Buenzli is the project director while Lisa Sammons, women's soccer head coach, will be the lead department of athletics staff member on the project.
Student-Athlete Advisory Committee members and the first members of the Champions of Change Council are softball player Madeline MacLean and swimmer/track and field athlete Eryn Blagg.
Other key players in the project include Abaray, Associate Dean of Health and Wellness Services Richard Jazkzewski, Assistant Dean for Campus Life Rose Wasielewski, Director of Research Administration Kristin McKinley, Art Director Liz Boutelle and James G. and Ethel M. Barber Professor of Theatre and Drama and Associate Professor of Theatre Arts Kathy Privatt.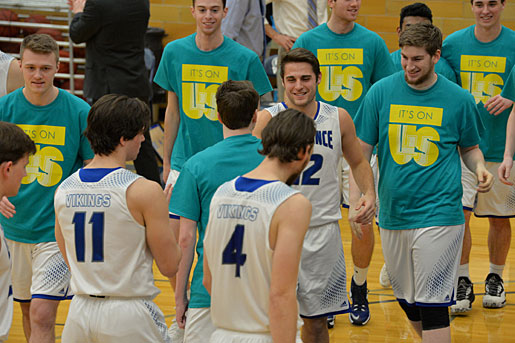 Lawrence received the diversity award in recognition of its inaugural "It's On Us" campaign to prevent sexual assault. During the week-long campaign, multiple events took place on campus. Programming included a public service announcement, social media campaign and a drive to sign the "It's On Us" pledge.
In commending the campaign, NCAA Vice-President for Division III Dan Dutcher said, "It is inspiring to hear that the entire campus committed to creating an environment where sexual assault is unacceptable."
The Division III Diversity Spotlight Initiative started in August 2014 as a collaborative project between the NCAA Office of Inclusion and the Diversity and Well-Being Committee of the Division III Commissioners Association.
The Diversity Spotlight Initiative recognizes and promotes outstanding diversity-related projects, programming and initiatives occurring on Division III campuses and in conference offices. Each month, the award recognized an institution or conference in regard to a diversity-related event, program or initiative.
Lawrence will receive $500 to support its next diversity initiative.
About Lawrence University
Founded in 1847, Lawrence University uniquely integrates a college of liberal arts and sciences with a nationally recognized conservatory of music, both devoted exclusively to undergraduate education. It was selected for inclusion in the book "Colleges That Change Lives: 40 Schools That Will Change the Way You Think About College."  Engaged learning, the development of multiple interests and community outreach are central to the Lawrence experience. Lawrence draws its 1,500 students from nearly every state and more than 50 countries.