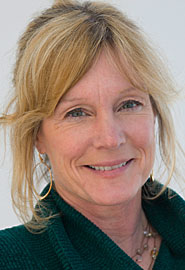 The best in the country. So says DownBeat Magazine.
The "bible" of the jazz world has named the Lawrence University Jazz Ensemble (LUJE) and the student quintet Jake Victor 5TET winners in its 41st annual Student Music Awards (SMA) competition. Results were announced in the magazine's June edition.
Under the direction of Patty Darling, the 19-member LUJE was named undergraduate college winner in the SMA's large jazz ensemble category. Seniors Jake Victor and Jack Kilkelly-Schmidt, who formed a band last fall while studying abroad at the Conservatorium van Amsterdam in the Netherlands, won the undergraduate college SMA for small jazz combo/student-led ensemble as the Jake Victor 5TET for the album "Twisted Heads."
This was the fourth time in its history LUJE has been honored by DownBeat. It was previously recognized in 1985, 2000 and 2007.
DownBeat's SMAs are considered among the highest music honors in the field of jazz education. They are presented in 13 categories in five separate divisions: junior high, high school, performing high school, undergraduate college and graduate college.
"Winning the DownBeat award is certainly not something we take for granted, said José Encarnación, director of jazz studies at Lawrence. "Being recipients of the DownBeat award is an honor and privilege we receive for loving what we do. We are most grateful."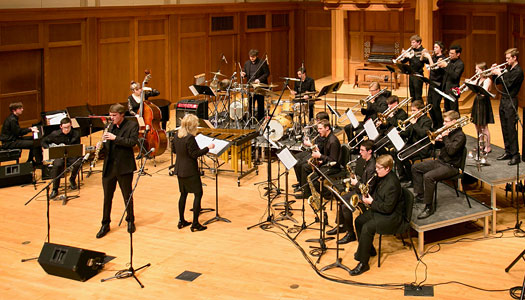 Darling said the award is a confirmation of the quality of jazz studies at Lawrence.
"It is such a great honor," said Darling, a 1985 Lawrence graduate and protégé of the late Fred Sturm, founder of LUJE. "It's wonderful to have Lawrence recognized nationally as having a strong jazz program. I knew our performances were very strong, but I also know how the DownBeat awards are very competitive. As a large ensemble, it's difficult to try to guess what music would be considered really dynamic."
LUJE was selected for the SMA from a submitted recording of three songs: an arrangement by Sturm of Marcus Miller's "Splatch"; "Wyrgly" by Maria Schneider and "Egberto" by Florian Ross. "Splatch" was performed by LUJE last October at the Kaleidoscope concert at the Fox Valley Performing Arts Center and then again as the opening number last November at Lawrence's Fred Sturm Jazz Celebration Weekend concert where it was recorded.
"There is no way LUJE is as strong as it is without Lawrence's outstanding jazz faculty working so closely with the students. It's very rewarding as an educator to be the one to channel this talent from the students and from the faculty, and all that energy, into something that is recognized as successful. It's truly a great privilege and a joy for me to have the opportunity to create music with them every day."
    — Patty Darling, director of LUJE

"All three submissions were good, but 'Splatch' was the absolute best," said Darling, a 1984 DownBeat winner herself as a Lawrence student for her arrangement of "Seven Steps to Heaven." "The performers and soloist were outstanding and the live mix was outstanding. It's tough to get big bands to sound great in the Chapel. The band played with so much energy. It was one of those perfect performances where everything went right."
Two of the selections submitted were from the 2016-17 version of LUJE, but Darling said both last year's and this year's ensemble are special.
"Both bands have lots of depth, with good rhythm sections and several students with strong improvisation skills," said Darling. "There is something about this year's band that makes almost every rehearsal fun and engaging. They support each other, they're excited, they're absolutely dedicated, they have this camaraderie that I've never seen in a band before. They really want to work together and help each other."
While Darling's name is on the SMA certificate as the ensemble's director, she is quick to stress "it takes a village" to win awards like this.
"There is no way LUJE is as strong as it is without Lawrence's outstanding jazz faculty working so closely with the students," said Darling, now in her third year of leading the ensemble. "It's very rewarding as an educator to be the one to channel this talent from the students and from the faculty, and all that energy, into something that is recognized as successful. It's truly a great privilege and a joy for me to have the opportunity to create music with them every day."
Where LUJE's SMA recognition was a bit more calculated, Victor and his Lawrence roommate Kilkelly-Schmidt's award was full of serendipity. After all, until a few months ago, the Jake Victor 5TET didn't even exist. But thanks to an open jam session, five virtual strangers collectively found musical magic.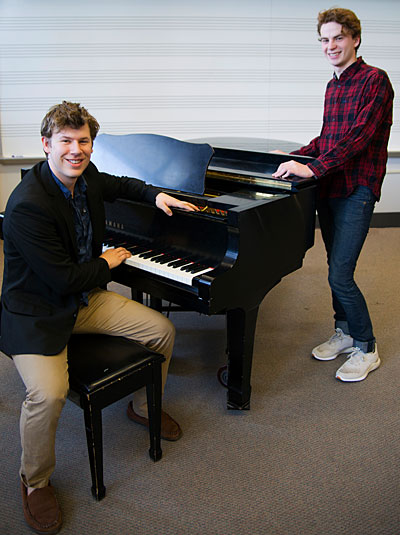 Early in the school year, at a weekly public jam session in Amsterdam hosted by a local establishment, Victor, a pianist, and Kilkelly-Schmidt, who plays guitar, found themselves on stage with a drummer from Spain and a bassist from Belgium. They played one standard together and had a blast.
"We fit like a glove," said Victor. "Immediately after we finished playing, we looked at each other said 'let's get out of here, grab a drink and talk.'"
The next day at a conservatory class, a saxophonist from Estonia turned the new quartet into a quintet. They began playing jazz standards together for the next several weeks before a personal goal of Victor's altered their history.
"I had set a challenge for myself of doing more writing," said Victor, who was trying to amass material for his senior recital. "I was writing every day, not necessarily a full tune, but I was writing something every day. I wrote one tune that I liked, I was getting these songs together for my recital back here in the spring. I told the guys, I had this tune and I thought if we could record it on a Zoom recorder, I could send it to my guys back home as a reference recording so they could get an idea of how the tune should sound on my recital in the spring."
On board with the idea, the band soon recorded another Victor original.
"I told them, 'well, I do have more. If we could get them all together that would be awesome,'" Victor said, who brought several more of his compositions to the next session. "We came up with the idea to record all of them professionally and make an album. It ended up being The Jake Victor 5TET which was crazy to me. I wrote all the tunes and it was my first time as a band leader."
The rapidity in which everything came together still makes Victor shake his head.
"The thing that blows my mind, it was October 11th when I brought in the first tune and we recorded the album on December 8th," said Victor, a percussion performance major from Palatine, Ill. "Start to finish of the album was a two-month period of writing the tunes, learning the tunes and recording the tunes. That's a testament to all the guys. There's not many people that I've played with that really just fit like a glove that easily. The chemistry of the group is really something special."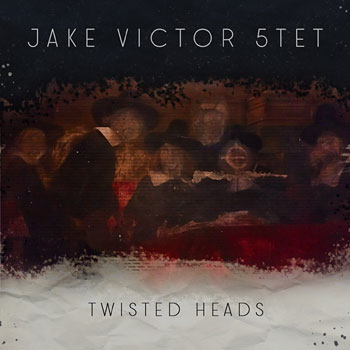 The end result, "Twisted Heads," was recorded at Key Element Music Studios, which, adding to the serendipity, is owned by Daan Herweg, the pianist who hosted the open jam session at Café Nel in Amsterdam where the musicians first met. The album features seven Victor songs and one track written by his friend, Jason Koth, a 2017 Lawrence graduate.
"I asked Jason to do some electronics on the album after the fact," Victor explained. "He created a minute and a half interlude based on the rest of my material."
With Darling's encouragement and recommendation, Victor submitted two tracks off the album for DownBeat's consideration. It was late February when an email from DownBeat popped up his phone while he was practicing in the jazz room. Bedlam resided just a click away.
"I opened it, started reading and got crazy excited," said Victor. "I saw 'We have the results for the DownBeat Awards and we have good news! I immediately went back, FaceTimed the quintet and said 'Guys, we won the DownBeat!' It was pretty surreal."
"Twisted Heads" was released on April 15. Victor, Kilkelly-Schmidt and their bandmates — drummer Eloi Pascual, bassist Matteo Mazzu and saxophonist Tobias Tammearu — are currently putting plans in place for a 10-day Midwest tour starting in late August from Minneapolis-St. Paul to Lexington, Ky. What the future holds is still to be determined. The three international musicians would like to come to the states for a while, while Victor is contemplating returning to Amsterdam for grad school.
For Victor, winning the DownBeat award was the icing on a valuable personal experience.
"It turned out to be a really worthwhile challenge. I told myself by the time I graduate I want to have a book of my tunes that I can bring to a gig. When I first started writing seriously, I always sat on tunes for too long — nothing was ever good enough for me to bring in to bandmates and this was a way to work through that.
"I didn't want to look back on the last three years and have three tunes written," he added. "I also realized I would have to write a lot of stuff that I didn't like before I could write stuff I did like. This was kind of a way for me to piece through all of that and start mining and chiseling away at whatever is going to become my compositional voice."
Since DownBeat launched its Student Music Awards competition in 1978, Lawrence students and ensembles have won a total of 30 SMAs, including 10 in the past eight years.
About Lawrence University
Founded in 1847, Lawrence University uniquely integrates a college of liberal arts and sciences with a nationally recognized conservatory of music, both devoted exclusively to undergraduate education. It was selected for inclusion in the book "Colleges That Change Lives: 40 Schools That Will Change the Way You Think About College."  Engaged learning, the development of multiple interests and community outreach are central to the Lawrence experience. Lawrence draws its 1,500 students from nearly every state and more than 50 countries.