Author and journalist Ta-Nehisi Coates, one of the nation's most important contemporary writers on the subject of race, examines the conflicted and hopeful state of black America in a Lawrence University convocation.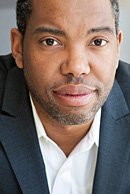 Coates presents "Race in America: A Deeper Black" Thursday, Nov. 5 at 11:10 a.m. in the Lawrence Memorial Chapel. He will conduct a question-and-answer session immediately following his remarks. The event is free and open to the public.
A correspondent for The Atlantic, Coates has written about subjects ranging from the call to remove Confederate flags from state capitol grounds to what constitutes a public intellectual. His June 2014 story on slavery reparations vaulted him to national prominence.
He earned national acclaim for his 2015 book "Between the World and Me," an open letter to his son about his hopes, dreams and what it means to be black in America. The book was recently named a finalist for the National Book Awards' nonfiction prize.
His first book, the memoir, "The Beautiful Struggle: A Father, Two Sons, and an Unlikely Road to Manhood," was published in 2008.
In September, Coates was named a recipient of a $625,000 MacArthur Fellows Program "genius" grant. In announcing its recipients, the foundation hailed Coates as "a highly distinctive voice [who is] emerging as a leading interpreter of American concerns to a new generation of media-savvy audiences and having a profound impact on the discussion of race and racism in this country."
Born and raised in Baltimore, Md., Coates attended Howard University in Washington, D.C., but left before earning a degree to pursue writing and journalism. He began his journalism career working as a reporter for the Washington City Paper. He later wrote for The Village Voice and Time magazine and has contributed to numerous publications, among them the New York Times Magazine, O magazine and the Washington Post before joining The Atlantic.
He holds a journalist-in-residence position at the City University of New York.
As a follow-up to Coates' convocation, Lawrence faculty will host a panel discussion Monday, Nov. 9 at 7 p.m. in the Wriston Art Center auditorium.
Participating in the panel will be Carla Daughtry, associate professor of anthropology; Karen Hoffman, associate professor of English, and Amy Ongiri, Jill Beck Director of Film Studies and associate professor of film studies
Each faculty panelist will share some observations about Coates' address followed by questions and comments from the audience.
About Lawrence University
Founded in 1847, Lawrence University uniquely integrates a college of liberal arts and sciences with a nationally recognized conservatory of music, both devoted exclusively to undergraduate education. It was selected for inclusion in the book "Colleges That Change Lives: 40 Schools That Will Change the Way You Think About College" and Fiske's Guide to Colleges 2016. Engaged learning, the development of multiple interests and community outreach are central to the Lawrence experience. Lawrence draws its 1,500 students from nearly every state and more than 50 countries.