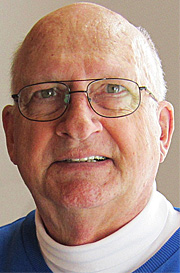 Forged by a family-like bond they formed through shared courage, they still often greet each other as "Brother John" and "Brother Jim."
Appleton native James Zwerg and Congressman John Lewis, who met each other in Nashville, Tenn., as college students and shared a seat on the front of Greyhound bus in 1961 as Freedom Riders, will be reunited Sunday, June 14 at Lawrence University's 166th Commencement which will be available via livestream.
Lewis and Zwerg, both of whom exhibited extraordinary bravery in the civil rights movement, will be awarded an honorary doctorate of humane letters degree by Lawrence as part of the university's commencement exercise, which begins at 10:30 a.m. on Main Hall green. Lewis will deliver the 2015 Commencement address.
As a frontline eyewitness to one of the most volatile  chapters in the country's history of race relations, Zwerg, 75, is concerned with what he sees today as a regression in dealing with today's race issues.
"I still believe that nonviolence is the answer, but I'm terribly disappointed in seeing the violence and the looting," said Zwerg in a recent phone interview regarding episodes in Ferguson, Mo., and Baltimore, Md. "I find that so many youth today are not aware of the sacrifice that their grandparents, and maybe parents, made to make life better. That bond we had within the movement wasn't based on color. We respected everyone. Each person has a personal worth and should be respected for that. Diversity should be celebrated and it's not happening today."
Born in Appleton at a time the 1940 city census listed just one person as "Negro," the 1958 graduate of Appleton High School (the only public high school in Appleton at the time) became engaged in the civil rights movement as a 21-year-old student. While attending Beloit College, where he had an African-American roommate his freshman year, Zwerg participated in an exchange program that took him to Nashville's Fisk University, a historically black university.
Shortly after his arrival, he met Lewis and soon became involved with demonstrations against segregation, participating in lunch counter sit-ins and movie theater stand-ins while subjecting himself to repeated verbal abuse and physical assaults. As one of the few white men involved in the peaceful protests, Zwerg often drew targeted abuse as a "n****r lover."
Zwerg credits Lewis' own steely resolve for motivating him to get involved.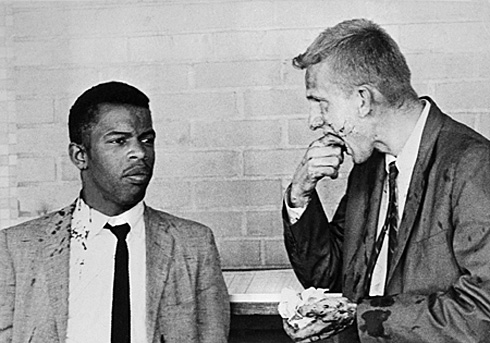 "You could see this deep commitment he had to nonviolence," Zwerg said of his initial contact with John Lewis in a recent interview. "His face was extremely strong. He didn't talk a lot, but when John spoke, everybody listened. There was just this quiet strength about him."
In May, 1961, Zwerg was one of 10 student Freedom Riders — and the only white male — to board a bus in Nashville bound for New Orleans. For part of the ride, he shared a seat with Lewis.
On the way, Zwerg was among several students arrested in Birmingham, Ala., where he spent two and a half days in jail. In Montgomery, the Freedom Riders were met at the bus station by an angry mob, armed with bricks, pipes, hammers and chains. One man carried a pitchfork.
"When I volunteered to go, I realized that if anybody was going to get killed, it would probably be me," Zwerg recalled. "Because they hated the white n****r lover. You were a disgrace to the white race. I had already experienced that in Nashville. I was the traitor. I fully knew and accepted the possibility of my death."
Zwerg wasn't killed, but was beaten so badly — a severe concussion, a broken nose, a broken thumb, half his teeth were broken, three cracked vertebrae, numerous cuts and bruises — he spent five days in a hospital.
Photos of a beaten Zwerg ran in national magazines as well as newspapers around the world. His mother, who graduated from Lawrence in 1928, had a nervous breakdown and his father, who attended Lawrence in the 1920s, suffered a heart attack after hearing the news reports of their son's beating.
"Segregation must be stopped. It must be broke down," Zwerg said in an interview from his Montgomery hospital bed that was broadcast on the national news. "We're going on to New Orleans no matter what. We're dedicated to this. We'll take hitting. We'll take beating. We're willing to accept death."
"

When I volunteered to go, I realized that if anybody was going to get killed, it would probably be me. I was the traitor. I fully knew and accepted the possibility of my death."



— James Zwerg
The statement galvanized the country, sending participants of all colors and persuasions to the segregated South, ending the Freedom Rides by the end of 1962.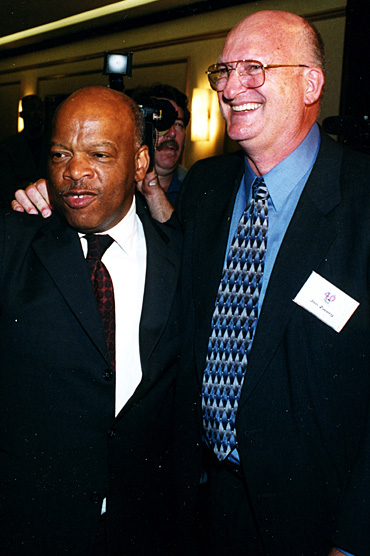 "Spiritually, I was never so alive as I was during that time of the movement," Zwerg recalled of his experiences in Montgomery. "I bowed my head and prayed. I asked God to be with me, to help me remain nonviolent and to forgive them. I had the most incredible religious experience of my life because I felt a presence. I felt surrounded by love. I was at peace and I knew with certainty that whether I lived or whether I died, it was going to be ok."
While Zwerg won't be addressing the graduates at commencement, he says it is important young people get involved with with an issue that resonates with them.
"I don't think I can say what they should be focused on, that's up to the individual," said Zwerg. "Unfortunately a lot of the kids seem to think you have to be involved in something of national scope. It doesn't have to be a big earth-shattering thing. I don't care what the issue is, if it's something you deeply believe in, look around and see if there are others that feel the same way. You could organize or act on your own. Don't accept that dirty joke, don't accept that racial slur."
Zwerg went on to graduate from Beloit College in 1962 and later earned a degree in theology at Garret Theological Seminary. Ordained a minister in the United Church of Christ, he served churches in Wisconsin until 1970 when he moved to Tucson, Ariz., to become minister of the Casas Adobes United Church of Christ.
He left the active pastorate in 1975 and spent the rest of his career in a variety of non-profit community relations positions in Tuscon and in management with IBM.
Today he lives in retirement near the small town of Ramah in northwest New Mexico.
About Lawrence University
Founded in 1847, Lawrence University uniquely integrates a college of liberal arts and sciences with a nationally recognized conservatory of music, both devoted exclusively to undergraduate education. It was selected for inclusion in the Fiske Guide to Colleges 2015 and the book "Colleges That Change Lives: 40 Schools That Will Change the Way You Think About College." Engaged learning, the development of multiple interests and community outreach are central to the Lawrence experience. Lawrence draws its 1,500 students from nearly every state and more than 50 countries.