For everyone who has ever wondered what Lawrence University is all about, a LIVE, 10-hour webcast Wednesday, Oct. 11 will provide an insider's look at some of the people and programs that make the university an interesting and vibrant place.
Lawrence's fourth annual Giving Day event, which will be webcast live at go.lawrence.edu/givingday from 11 a.m. to 9 p.m., features interviews with faculty, administrators, accomplished alumni and students, including some who currently are studying abroad. There also will be nearly a dozen live musical performances, hands-on demonstrations and maybe a surprise guest appearance or two.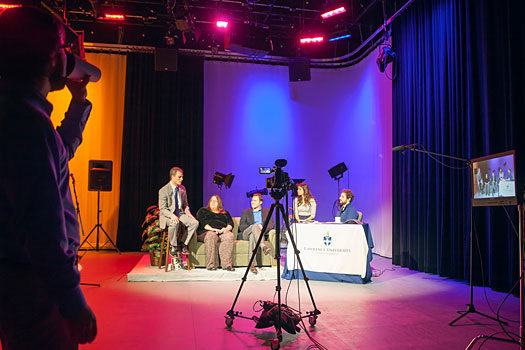 Kasey Corrado, Lawrence's social media director, will be back in the hostess chair for the fourth year in a row. She'll be joined by Ken Anselment, dean of admissions and financial aid, who returns for his second stint as co-host.
"Even though this is our fourth annual Giving Day and we've gotten into a bit of a groove when it comes to the live show, there is still that undeniable excitement about what is going to take place when the red light goes on," said Corrado, who calls Giving Day "her favorite day of the year at Lawrence."
"I love meeting with guests and showcasing how they contribute to the Lawrence community in a variety of ways" she added. "We've put together another wonderful line-up of student musicians, leaders and athletes, alumni and staff. I'm looking forward to sharing their stories with our audience."
Anselment, whose lone battle scar from his initial Giving Day hosting duties — a scratchy throat from over talking — admitted that will serve as a helpful reminder to keep the focus on the guests.
"Giving Day is about letting members of the Lawrence community shine in all their multi-interested, multi-talented ways," said Anselment. "My job is to set them up and let them be at their brightest."
It's the surprises that come with hours of planned, yet improvised, programming, where some of the best moments happen, said Anselment.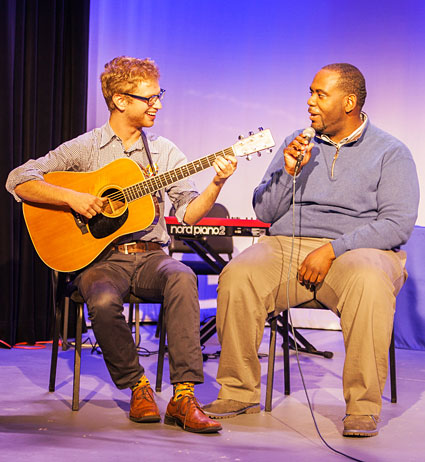 "I knew last year the day was going to be special during our very first segment when President Burstein picked up the pom-poms and shook them right along with the dance team. Now that's commitment," he said, adding that getting lifted by Lawrence dance instructor Margaret Paek— who is about half his size — was a lesson in grace and physics "I won't soon forget."
An eclectic cast of Lawrence "celebrities" scheduled to visit with Corrado and Anselment include:
• President Mark Burstein
• Gary Vaughan, discussing Lawrence's innovation and entrepreneurship program, including a presentation from a member of last spring's winning team at The Pitch Competition.
• Amy Ongiri from the film studies program, with staff videographer Chris Gore-Gammon, who will give a virtual reality demonstration.
• Copeland Woodruff talking opera
• Coaches from the athletic department
• Biologist Israel Del Toro discussing the Pollinator Project.
• Performances by the Faculty Brass, Cantala women's choir, an ensemble of 19 cellists, and others.
• The student bands Sol Studios and The Embers as well as singer Bernard Lilly, a student from the Academy of Music and the student duet Jerry Wang and Eva Tourangeau.
Garrett Katerzynske, Lawrence's director of video production, not only juggled most of the proverbial chain saws in lining up the guests for this year's production, he also steps into the director's chair for the first time.
"The live show is a marathon of technical demands and I'll be positioned at the epicenter of the creative storm, directing crew back stage and talent on screen," said Katerzynske. "Beautiful moments and unexpected issues can unfold simultaneously and if we're lucky, we'll spin problems into happy accidents. The cameras keep rolling and the results are always entertaining."
In scouring the campus the past several months for guests, Katerzynske said he uncovered some incredible stories and witnessed many remarkable performances.
"The faculty and students on this campus surprise me every year," he said. "I can't wait to watch everything come together in the studio."
Lawrence held its first Giving Day in 2014 as a one-day-only fundraising event for alumni and friends to show their support for Lawrence, its programs and students. Since that first event, Giving Day has generated more than $3.7 million from more than 6,400 students, alumni, parents, faculty, staff, and friends of the university.
Many of the guests appearing on the webcast are grateful beneficiaries of the generosity of Giving Day donors and serve as examples of the way funding assists faculty, students and programs on campus.
As in previous years, Lawrence Giving Day 2017 has been made possible by a generous group of alumni, parents and friends who have committed to be "Game Changers," providing matching funds as motivation for others to support the college.
"Giving Day's goal isn't just to raise money, although that is an important aspect," said Kayla Schumacher, Lawrence's director of annual giving. "This is a chance for everyone in the Lawrence community to come together for 24 hours and celebrate the things they care about here.
"The entire community is encouraged to take advantage of the fantastic giving challenges on Giving Day," Schumacher added. "We hope participation in the day continues growing this year as more members of our community choose to give back. For the fourth time, Lawrence will show the world what we can accomplish when we all come together in just one day."
About Lawrence University
Founded in 1847, Lawrence University uniquely integrates a college of liberal arts and sciences with a nationally recognized conservatory of music, both devoted exclusively to undergraduate education. It was selected for inclusion in the book "Colleges That Change Lives: 40 Schools That Will Change the Way You Think About College." Engaged learning, the development of multiple interests and community outreach are central to the Lawrence experience. Lawrence draws its 1,500 students from nearly every state and more than 50 countries.