History isn't Allison Holley's go-to category when it comes to playing her favorite game, the popular television quiz program "Jeopardy!." But thanks to the show, she recently managed to make history.
The senior English and Spanish major from Racine recently became the first Lawrence University student to compete in the annual "Jeopardy!" college tournament's 29-year history.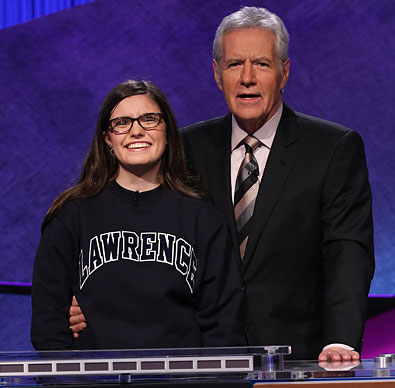 Holley was one of only 15 students nationally selected for this year's tournament. She traveled to California in early January to tape the contest, which will be broadcast over the upcoming two weeks (Feb. 13-24.). Holley's first game is scheduled to air on Thursday, Feb. 16.
How did she do? You will have to tune in to find out. (Locally, WLUK-TV Fox 11, 6 p.m.)
"I was feeling pretty good," Holley said of her arrival at the studio for the taping. "I was actually able to sleep the night before, unlike a few days before when my mind was racing 500 miles per hour and all I could think was 'I'm going to be on Jeopardy!.'"
She was matched against two male contestants, one from Lehigh University and the other from New York University. Holley was the only contestant representing a school in Wisconsin.
Watching/playing "Jeopardy!" has been a part of Holley's daily routine since she was nine years old. She competed with her mom whenever she was home and when she wasn't, her parents would tape the program for marathon viewings when she was. Her parents correctly predicted it was only a matter of time before she would give the show a shot.
"I had kind of toyed with the idea but never really looked in to it until I was watching the college tournament last year," said Holley, who practiced for her appearance by watching the show standing up and using a click ball point pen as a buzzer. "I realized $100,000 (the first-place prize) would do a lot for graduate school and my future."
Holley's multiple-step journey to the "Jeopardy!" studio in Culver City, Calif., started last September with a 50-question online test — with 15 seconds to answer each question. A minimum of 35 correct is necessary to advance. Based on answers she found posted on Twitter several days later, Holley estimated she got at least 40 right.
In mid-October, the second leg of her trip showed up in her inbox on a Tuesday afternoon in the middle of a laundry session.
"I was checking email," said Holley, "when I saw a message: 'We would like you to come to audition in Chicago. RSVP within 24 hours for more details.'
The Chicago audition was set for Nov. 12, Saturday of ninth week, aka academic crunch time in Lawrence's 10-week term calendar.
"It was kind of insane," Holley recalled with a smile. "The election had happened that previous Tuesday. I was trying to finish writing a Spanish paper that Friday night in my room back home. I had to wake up early the next morning to catch the train to downtown Chicago. Somehow we made it all work and it was really awesome."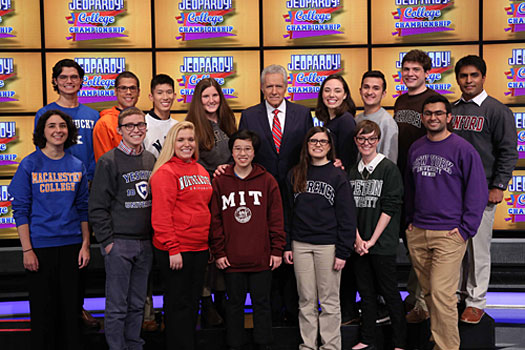 A Michigan Avenue hotel conference room served as a stand-in "Jeopardy!" studio. A second written test was administered — skeptical producers want contestants to prove they are as smart as their earlier online test suggested minus any "over-the-shoulder" help they may have employed. In groups of three, the contestants were called in to play a short mock version of the game, including a self-introduction.
"I was in the very first position and wasn't sure what exactly to say, so I just went through my name and school and what I want to do," said Holley of her audition. "We also had to say what we would do with the money, but you weren't allowed to say things like pay off student debt or use it for grad school, which is what I would do. I just talked about traveling. I had gone to London and really loved it."
After watching some of the rest of her competition in their auditions, Holley headed for home with the uncertain news from the producers that those who made it would hear from the show before the holidays.
"The best part of the whole experience was just being out there. All of the people, all the contestants that I met were really nice, cool people."
— Allison Holley '17
"It was one long and hectic day, but just getting that far was awesome," said Holley.
Back home, what she thought was a wrong number in early December turned out to be the call of a lifetime.
"I noticed someone had left a voicemail but I didn't recognize the number, so I figured someone was just asking for the wrong person," said Holley, who was in a grocery store at the time. "I listened to it and had to stop dead in the aisle. The message said 'Hi! This is Ryan from Jeopardy. I have your application.' I definitely was not expecting that. I started jumping up and down and an elderly woman looked at me kind of weird. I was smiling like an idiot I was so happy."
Accompanied by her mother, Holley flew to California, where she got to spend a day hanging out in the new Harry Potter world at Universal Studios before getting down to business the following day.
Prior to the taping, Holley got the celebrity green room treatment, including make-up and promotional photographs, along with a primer on the rules of the game and basic strategy. Held in front of a studio audience of a little more than 100, the contestants were admonished not to eyeball any family or friends in the crowd.
"The contestants' guests sit in a special area, so there is no potential for cheating," Holley explained. "The producer was yelling, 'You don't know your friends and family. Don't look at them!'
By appearing in the college tournament, Holley forfeits her eligibility to appear on the regular "Jeopardy!" program. But being able to still check "Jeopardy! contestant" off of her bucket list is a memory she'll never forget.
"The best part of the whole experience was just being out there," said Holley, a member of Lawrence's Quiz Bowl team and this year's champion on-campus trivia contest team. "All of the people, all the contestants that I met were really nice, cool people. They had a reception for all the production staff and the contestants involved in the tournament afterwards, which was really neat."
About Lawrence University
Founded in 1847, Lawrence University uniquely integrates a college of liberal arts and sciences with a nationally recognized conservatory of music, both devoted exclusively to undergraduate education. It was selected for inclusion in the book "Colleges That Change Lives: 40 Schools That Will Change the Way You Think About College."  Engaged learning, the development of multiple interests and community outreach are central to the Lawrence experience. Lawrence draws its 1,500 students from nearly every state and more than 50 countries.