What's better than winning a Student Music Award from DownBeat magazine? How about winning two.
The Lawrence University jazz studies and improvisation department has double reason to celebrate after DownBeat's announcement of the winners of its 38th annual Student Music Awards.
Lawrence claimed a pair of honorees — an individual and an ensemble — in the magazine's yearly salute to the best in student music-making. Tim Carrigg was one of two winners in the college undergraduate jazz arrangement category. Tambo Toké, Lawrence's Afro-Cuban percussion group, was cited for outstanding performance in the college undergraduate Latin Jazz Ensemble category.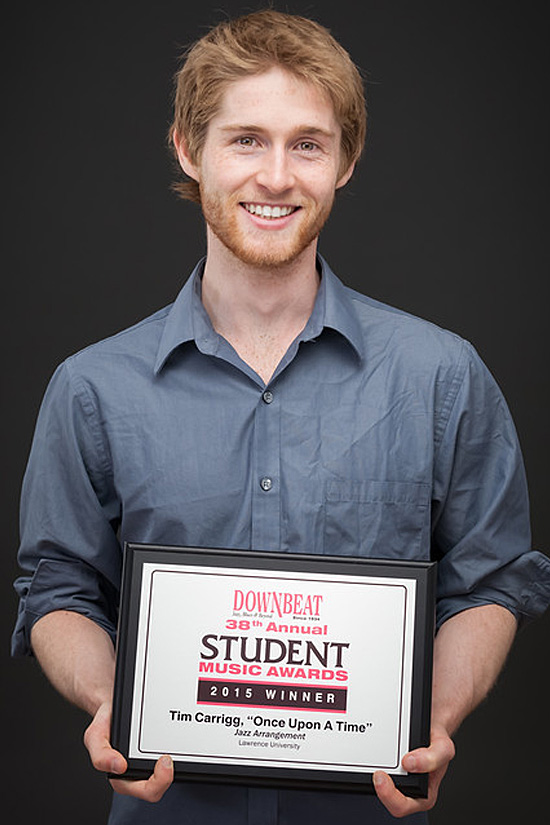 The 2015 SMAs, announced in DownBeat's June edition, are presented in 13 categories in five separate divisions (junior high, high school, performing high school, undergraduate college and graduate college) are considered among the highest music honors in the field of jazz education.
Carrigg, a senior from Westport, Mass., was recognized for his six-minute, big band arrangement "Once Upon a Time," which was inspired by Herbie Hancock's "Tell Me a Bedtime Story."
"When I started arranging the piece, it turned out much, much different than the original tune, so I just renamed it," said Carrigg, a music theory/composition major with a jazz emphasis.
The SMA was a well-earned reward for Carrigg, who began working on the piece in the fall of 2013 and once spent 40 consecutive hours hunkered down in his room notating the piece.
"Whenever you're composing anything, you put in a lot of work, literally hundreds and hundreds of hours and at the end of the day, are you going to create something that is really great? Hopefully," said Carrigg, whose compositions will be showcased in a jazz recital on May. 31.
He recorded "Once Upon a Time" in the spring of 2014, using a 17-piece band he recruited from members of the Lawrence University Jazz Ensemble (LUJE) and Lawrence Jazz Band. Guitarist Sam Genualdi and drummer Dan Reifsteck are featured soloists on the recording.
"

Tim incorporates contemporary grooves, fresh harmonic

ideas and unique methods of improvisation to create music

that is exciting and compelling…He is incredibly talented and

still so humble and down to earth."



— Patty Darling
Carrigg says composition has been a part of his entire musical life, but he says his "serious composing" phase began three years ago when he joined the Lawrence composition studio.
"I've written pieces that were more compositionally sound, but this is the first piece I've ever written for big band," said Carrigg, a pianist whose playing career has been sidetracked by a severe case of musician's dystonia, a neurological movement disorder. "This one has a ton of excitement. It has a lot of adventurous things that I tried."
Carrigg credited the late Fred Sturm, an award-winning composer and former director of Lawrence's jazz studies program and Patty Darling, a DownBeat SMA jazz arrangement winner herself as a Lawrence student in 1984, for their mentoring on the project.
"Fred said he wanted me to write a big-band piece, so I started on it and it was really tough, really tough, but he kept pushing me and pushing me," said Carrigg. "I wanted to make it as best for him as I possibly could. He loved it and even sent me an email saying 'I've been listening to it all day.' I felt I at least lived up to that goal."
"Patty was fantastic on it, too," Carrigg added. "She was extremely helpful with all the deadlines and making sure everything was in place. Through the entire process she was very encouraging."
As a composer and arranger, Darling says Carrigg possesses "a powerful identity."
"Tim incorporates contemporary grooves, fresh harmonic ideas and unique methods of improvisation to create music that is exciting and compelling," said Darling, who co-directs LUJE and the Lawrence Jazz Band. "He also experiments with acoustic and electronic instruments to create new sounds that help create structure and form in his compositions. He is incredibly talented and still so humble and down to earth. Last spring, Fred told me how much he loved working with Tim and what great potential he has. Fred would be so proud right now of Tim's success and national recognition."

The SMA for Latin Jazz Ensemble is the second major honor in the past year for Lawrence percussionists. In 2014, the Lawrence University Percussion Ensemble (LUPE), of which Tambo Toké is a subset, won the Percussive Arts Society World Percussion Ensemble Competition and was a featured performer last fall at the PAS International Convention in Indianapolis.
The 17-member Tambo Toké, which includes non-percussion majors, is led by student director Eli Edelman, who submitted a video tape of a 30-minute medley of traditional Afro-Cuban drumming and songs that he arranged for his senior recital in February 2014.
"He's done a tremendous job of teaching, creating musical arrangements and inspiring his colleagues to embrace this powerful music. The prestigious DownBeat award is well-earned testament to his great work."

— Dane Richeson on Eli Edelman
"It was obvious to me the performance was strong enough for DownBeat to consider it in their annual national student competition. I know there are very few schools that are performing this style of Cuban music in this country," said Dane Richeson, professor of music and director of Lawrence's percussion studio.
Tambo Toké grew out of a presentation jazz studies instructor José Encarnación did three years ago on Afro-Cuban music, specifically Rumba.
"Some students from the percussion department starting getting together on a weekly basis to listen to the music and learn how to play the individual parts for the Rumba instrumentation," said Encarnacion, a native of Puerto Rico, who turned the presentation into a tutorial. "Some of the students had been working on this music with Dane and Michael Spiro, so they were contributing as well on teaching other members of the class, including myself, on how to play this great music."
With Edelman leading the ensemble, Richeson decided to incorporate it into his world music curriculum, expanding the repertoire to include other Cuban traditional music such as Arara and Bata.
"The fact that our students are open minded enough to learn, respect and embrace music and life from another culture is what makes Tambo Toké special and worthy of national recognition," said Encarnación.
Edelman, a senior from Hoboken, N.J., brings the experience of two recent visits to Cuba to his position of director of Tambo Toké. With the support of some Lawrence research grants, including a Melon Senior Experience grant, he was able to spend two months in 2013 immersed in the Afro-Cuban folkloric music scene of Havana and Matanzas.
"Almost every single day I had a two-hour private lesson in the morning with one teacher, a two-hour private lesson in the afternoon with another teacher, and then I'd go find live music performances to watch in the evening," said Edelman, a double degree candidate with majors in percussion performance and history.
"This music is part of an oral tradition, so everything I learned was taught by ear in the way that master drummers teach their students. In the four years that I've been in charge of the ensemble, I've drawn heavily upon material I learned from my teachers in Cuba."
Richeson, who has used several sabbaticals to study music traditions in Ghana, Cuba and Brazil, says it is crucial for 21st-century percussion students to have both exposure to, and experience performing, the music traditions rooted in West Africa.
"Eli is a perfect example from several students I've had over the years who have fallen in love with one of these African-based music traditions," said Richeson. "With his command of the Spanish language and his keen musical intuition, Eli learned an impressive amount of repertoire while in Cuba. It became clear that he was ready to take on the role of student directing our Afro-Cuban ensemble. He's done a tremendous job of teaching, creating musical arrangements and inspiring his colleagues to embrace this powerful music. The prestigious DownBeat award is well-deserved testament to his great work."
Since DownBeat launched its student music awards competition in 1978, Lawrence students and ensembles have won a total of 26 SMAs, including six in the past five years.
About Lawrence University
Founded in 1847, Lawrence University uniquely integrates a college of liberal arts and sciences with a nationally recognized conservatory of music, both devoted exclusively to undergraduate education. It was selected for inclusion in the Fiske Guide to Colleges 2015 and the book "Colleges That Change Lives: 40 Schools That Will Change the Way You Think About College." Engaged learning, the development of multiple interests and community outreach are central to the Lawrence experience. Lawrence draws its 1,500 students from nearly every state and more than 50 countries.