Thanks to the thoughtfulness of a Lawrence University alumnus, music history and music composition students recently had the rare privilege of viewing an autograph leaf — a hand-written page — of a Wolfgang Mozart score.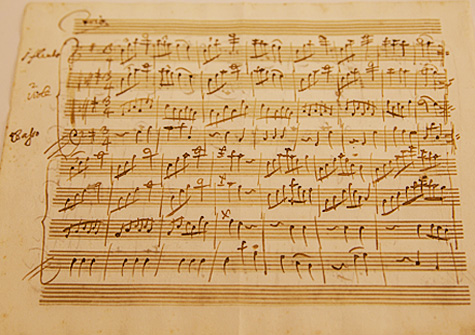 Over the course of four days, more than 60 students visited the Seeley G. Mudd Library to see the autograph and hear presentations by Assistant Professor Jill Thomas, director of technical services and Associate Professor Antoinette Powell, music librarian.
Loaned to the college by a 2010 Lawrence graduate who wished to remain anonymous, the autograph provided intriguing insights both into the historical context of the piece and Mozart's composing style.
The single, two-sided autograph leaf is from the fourth movement of Mozart's "Serenata," K. 185 and includes the final 10 measures of the Menuetto on one side and the first 16 measures of the Trio on the other. It was written in Austria in 1773, when Mozart was just 17, to mark the college graduation of a family friend.
"With the Mozart autograph we were able to briefly become a contemporary of Mozart," said Assistant Professor of Music Asha Srinivasan, who took students from her Techniques of the Contemporary Composer class to one of the presentations. "We are all composers, so we put ourselves in that time period and thought about how and where Mozart composed that work. It was enlightening and awe-inspiring."
According to Powell, at the time the piece was written, "Americans were wearing hats made out of raccoons and dumping tea into Boston Harbor, while in Salzburg, people were wearing elegant clothes and listening to Mozart in a refined setting."
Comparing the autograph to a published edition, students were able to see that the hallmarks of Mozart's writing style – working quickly, composing pieces in his head before committing them to paper – were already present, even at such a young age.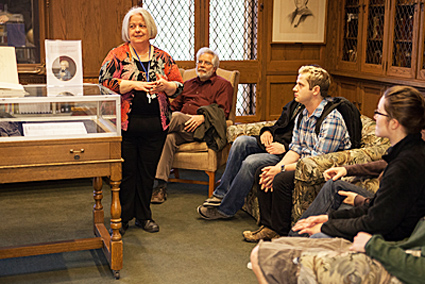 "It was so exciting to see Mozart's original serenade and minuet," said Annie Mercado, a freshman from Des Plaines, Ill., who participated in a presentation as part of Instructor Ann Boeckman's music theory class. "It's not every day that even conservatory students get to be in the presence of musical history that changed the way we look at music today."
Cosette Bardawil, a freshman from Brookline, Mass., also a member of Boeckman's class, found the informative background presentation  helped bring the centuries-old autograph to life.
"I especially enjoyed the forensics section about the different types of paper, the way that each paper was made and how that helped to identify the era of Mozart's compositions," said Bardawil.
Since students in Lawrence's composition department are required to write music by hand, Srinivasan said the autograph presented "a wonderful opportunity to trace the practice of composition by seeing a renowned composer's actual handwriting from that era.
"Seeing the quality and nature of the strokes of musical notation brought to life the human hand and mind behind this work in a way that published printed music simply cannot do," said Srinivasan. "Many of my students really appreciated seeing the back of the autograph, the more 'messy' side that the librarians revealed by taking it out of the original casing. As composers, a lot of our work might be initially messy, too, so that was just very visceral for us all."
The autograph's owner first approached Brian Pertl, dean of the conservatory of music, about displaying it in the conservatory, but security concerns nixed that idea. As an alternative, it was decided library staff would invite classes at appointed times for presentations in the Mudd's Milwaukee-Downer Room so students could compare the autograph to a modern published score.
About Lawrence University
Founded in 1847, Lawrence University uniquely integrates a college of liberal arts and sciences with a nationally recognized conservatory of music, both devoted exclusively to undergraduate education. It was selected for inclusion in the Fiske Guide to Colleges 2015 and the book "Colleges That Change Lives: 40 Schools That Will Change the Way You Think About College." Engaged learning, the development of multiple interests and community outreach are central to the Lawrence experience. Lawrence draws its 1,500 students from nearly every state and more than 50 countries.