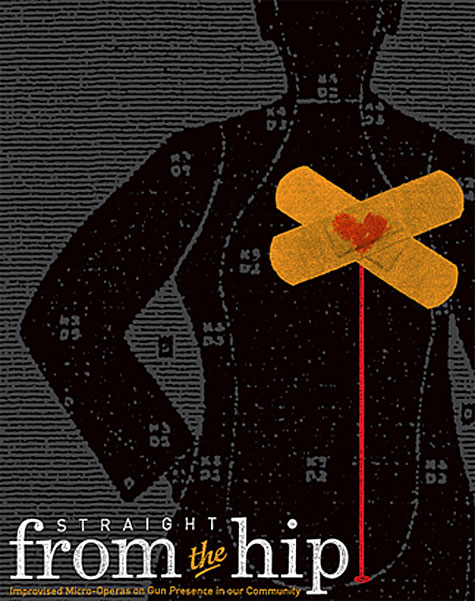 Guns, one of America's most polarizing topics, gets examined through a unique lens — improvised micro-operas — in Lawrence University's presentation of "Straight from the Hip."
Through a series of nine mini-vignettes, each approximately three minutes in length, the issue of gun presence and gun awareness in the community will be explored Monday, Oct. 24 at The Draw, 800 S. Lawe St., Appleton. The event is free and open to the public, but tickets are required through the Lawrence Box Office, 920-832-6749.
Designed to challenge the audience to think about issues that are complex and often highly partisan, "Straight from the Hip" is based on 135 responses to a local, month-long social media survey conducted by three Lawrence faculty members.
Featuring 30 student performers, the program is an interdisciplinary endeavor created by the collective brain trust of Copeland Woodruff, Lawrence's director of opera studies, Margaret Paek, director of Lawrence's dance program and Matt Turner, director of the ensemble Improvisation Group of Lawrence University (IGLU).
"Each of these arts has the power to connect, transform and uplift," said Paek. "Combined, the three art forms have exponential power. The full use of all the capacities of the performers helps them embody the art in a deeply personal way and can help reach the audience more profoundly."
Turner, an unabashed fan of interdisciplinary projects, says it is "crucial our students see how important collaboration is to us as faculty. This really is the future. Students will find themselves in situations in which they will have to use movement, music and improvise and compose."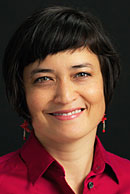 The survey solicited answers to questions about personal relationships with guns, whether a person had ever used a gun in self defense and if there were specific local areas or locations in which a person felt unsafe and why, among others.
Choosing a single survey answer, the performers will craft an emotional landscape for that response which may be spoken, sung, whispered, turned into a dance or a sonic play, producing a short, improvised theatrical performance. The various vignettes may feature a soloist, a trio, a quartet or a quintet performing.
John Adams, curator at The Draw, a modern art gallery near the Lawrence campus that fosters artistic creative collaborations, loved the concept behind "Straight from the Hip" and generously offered the gallery's various spaces for the production. The audience will be divided into small groups and guided through The Draw's three floors for each short performance.
Each of six complete "shows" will last approximately 30 minutes and start on the half hour beginning at 7 p.m. The last performance starts at 9:30 p.m.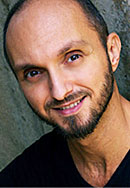 Because of its interdisciplinary structure, "the students foster a sense as 'artists,' not 'singer,' 'guitarist,' 'cellist,' 'dancer,'" said Woodruff. "The divisions blur, so that they are contributing with their full range of capabilities and testing those that may not be their primary mode of expression. Their sense of ensemble dynamics is extremely sophisticated.
"I am so in awe of our students' ability and willingness to approach this challenging topic with curiosity, generosity and artistic rigor and examination," he added.
By its very nature, Paek believes different parts of the production will affect different people.
"Some will be more moved by the words, some will be more impacted by the music and some will be more touched through the movements of the performers," she said.
Turner underscored that point by citing one of the vignettes that focuses on a father and son reminiscing about fond memories of hunting together, a confluence of gun hunting and family.
"I personally do not like guns, but that said, I have learned to see other perspectives through this project," said Turner.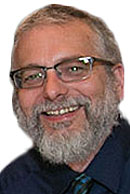 Acknowledging the wide, and often divisive, range of opinions related to gun control and gun violence, the program's aim is to stimulate careful thought and meaningful dialogue rather than advocate a specific viewpoint.
"It is a complicated subject tied up with personal freedom and how far that personal is freedom allowed to go when considering someone else's personal freedom and sense of freedom," said Woodruff, who grew up in a home in Alabama that had guns, although he personally never shot one.
Paek hopes "Straight from the Hip" provides a process for audience members and performers alike get to see this topic through someone else's eyes, heart or personal experience.
"The conversations that we have already had have helped me think in broader terms and be more compassionate towards perspectives that are different than mine. It has reminded me how complex this issue truly is."
About Lawrence University
Founded in 1847, Lawrence University uniquely integrates a college of liberal arts and sciences with a nationally recognized conservatory of music, both devoted exclusively to undergraduate education. It was selected for inclusion in the book "Colleges That Change Lives: 40 Schools That Will Change the Way You Think About College."  Engaged learning, the development of multiple interests and community outreach are central to the Lawrence experience. Lawrence draws its 1,500 students from nearly every state and more than 50 countries.