University of Wisconsin Professor of Visual Studies Jill Casid delivers the opening lecture for the latest exhibition at Lawrence University's Wriston Art Center Galleries Thursday, March 31 at 6 p.m. with a reception to follow. Both events are free and open to the public.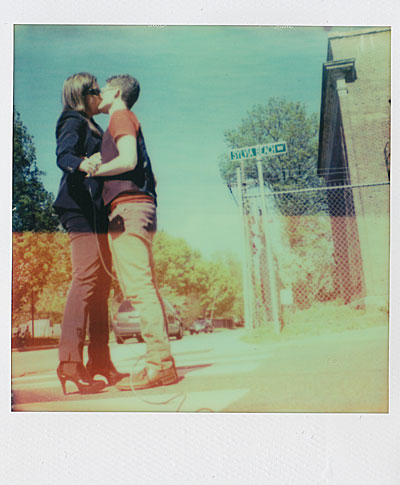 The exhibition, which runs through May 8, features the work of three Wisconsin photographers, including Casid. All three exhibitions highlight photography that engages with different conceptions of intimacy, interrogates the archive as a site of emotional resonance and reveals drastic changes in photographic technologies.
"Although they are three distinct exhibitions, they complement each other wonderfully," said Beth Zinsli, director and curator of the Wriston Art Center galleries.
Casid's "Kissing on Main Street" will be shown in the Kohler Gallery. Using a Polaroid camera, Casid captures acts of public intimacy and points her camera at the theoretical intersection of sex, imaging technology, vulnerable exposure and policing. She explores the vulnerability and temporality of public displays of affection through a medium that is itself instantaneous and easily shareable yet susceptible to damage and overexposure. An artist, theorist and historian, Casid founded and served as the first director of the Center for Visual Cultures at UW.
The Hoffmaster Gallery hosts "The Archive as a River: Paul Vanderbilt and Photography," a celebration of the work of Vanderbilt (1905-1992), who sought new ways to understand the world through visual images as a visionary, archivist and photographer.
From 1942-1945, Vanderbilt worked with Roy Stryker at the Library of Congress, classifying more than 200,000 photographs of tenant farmers and farm workers for the Farm Security Administration. In 1954 he was hired by the Wisconsin Historical Society to curate and organize a treasure trove of images that became known as the Iconographic Collections. Inspired by Stryker's approach of organizing materials around themed collections, Vanderbilt created a unique visual archive that is renowned for its depth, subtlety and flexibility.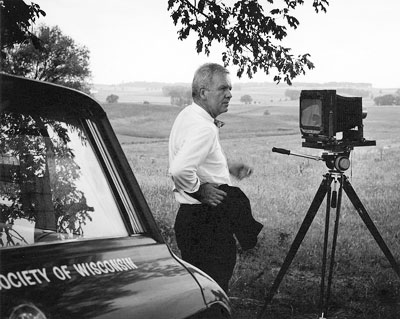 Vanderbilt spent 18 years as the field photographer for the WHS, focusing his lens on rural Wisconsin landscapes, architecture and small-town life. His fine sense of composition created photography with narrative and meaning that went beyond mere documentation.
He pioneered new formats for presenting images from the Iconographic Collections and his idiosyncratic thematic panels and pairings combine thoughtfully selected historic images with his own photographs and poetic texts. "The Archive as a River" includes large-scale reproductions of his thematic panels and pairings, a selection of Vanderbilt's own photographs of Wisconsin and an array of artifacts and papers that reveal his innovative approach to organizing images.
The Vanderbilt exhibition is organized by the James Watrous Gallery, Wisconsin Academy of Sciences, Arts and Letters and the Wisconsin Historical Society, Division of Library-Archives and is sponsored in part by the Wisconsin Arts Board with funds from the State of Wisconsin and the National Endowment for the Arts.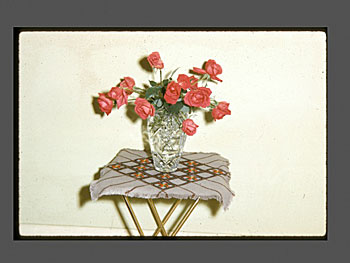 The Leech Gallery presents "Certificates of Presence: The Photography of Livija Patikne." A U.S. immigrant, the Latvian-born Patikne (1911-2001) took photos of herself throughout the 1950's and 1960's in different guises with intricate flower arrangements. Living in Milwaukee when she died, she left behind without explanation or instruction hundreds of these photographs that portray a quiet, private life of profound stillness, often tinged with loss. Struck by the powerful yet silent composition in these photographs, photographer James Brozek and Debra Brehmer assembled an exhibition of her work, which was first shown at Milwaukee's Portrait Society Gallery.
Wriston Art Center hours are Tuesday-Friday 10 a.m. – 4 p.m., Saturday-Sunday noon – 4 p.m., closed Mondays. For more information, call 920-832-6621.
About Lawrence University
Founded in 1847, Lawrence University uniquely integrates a college of liberal arts and sciences with a nationally recognized conservatory of music, both devoted exclusively to undergraduate education. It was selected for inclusion in the book "Colleges That Change Lives: 40 Schools That Will Change the Way You Think About College" and Fiske's Guide to Colleges 2016. Engaged learning, the development of multiple interests and community outreach are central to the Lawrence experience. Lawrence draws its 1,500 students from nearly every state and more than 50 countries.