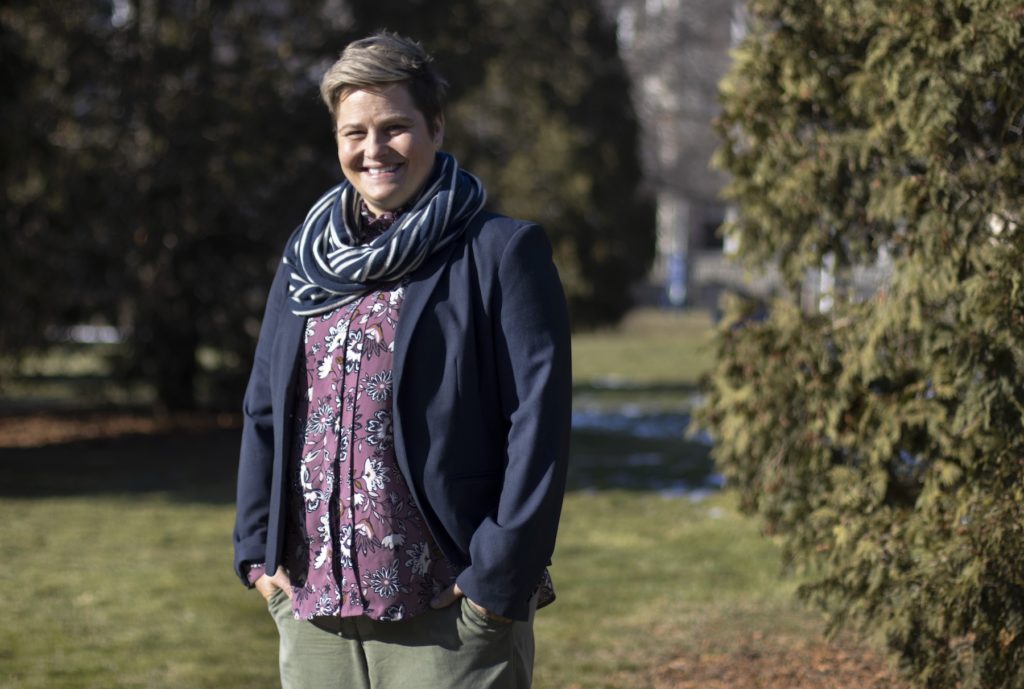 About the series: On Main Hall Green With … is an opportunity to connect with faculty on things in and out of the classroom. We're featuring a different faculty member every two weeks — same questions, different answers.
Story by Ed Berthiaume / Communications
Katie Schweighofer, who arrived at Lawrence in the fall of 2018, is playing a key role in growing and developing the Gender Studies department.
With deep interests in feminist and queer theory and LGBTQ studies, she has focused much of her academic work on the histories and geography of sexual identity, and the institutional and cultural messages that have and continue to frame those conversations.
Before joining Lawrence as an assistant professor of gender studies, Schweighofer taught at Dickinson College following appointments at Butler University and Indiana University. A native of Rochester, Mich., Schweighofer earned a bachelor's degree in English with a certificate in women's studies from Princeton University. She also holds a master of arts from New York University and earned a master's degree and a Ph.D. in gender studies from Indiana.
We caught up with Schweighofer to talk about her work and her interests on and off campus.
IN THE CLASSROOM
Inside info: What's one thing you want every student coming into your classes to know about you?
I've chosen to do this work because it is personally meaningful to me, and I hope each of my students is able to similarly connect with some of the ideas in my courses. Our lives and selves are shaped by gender, sexuality, race, class, and a myriad of other factors — identifying, deconstructing, analyzing, and rethinking those institutional and cultural messages is empowering and revolutionary work. My work is most rewarding when I hear how our work in the classroom continues to affect students long after they've left the university.
Getting energized: What work have you done or will you be doing at Lawrence that gets you the most excited?
I'm thrilled to be here as the first full faculty member entirely in Gender Studies, both for what that represents — including decades of hard work by other faculty — and for the possibilities for the future the role offers. Right now, I'm focused on building our gender studies program, helping our students connect with one another and with our alums doing exciting work in the world.
Going places: Is there an example of somewhere your career has taken you (either a physical space or something more intellectual, emotional or spiritual) that took you by surprise?
My career trajectory has taken me to places like Kathmandu, Nepal, where I worked with a group called the Women's Foundation, a group of deeply passionate women who worked tirelessly to help others escape domestic violence and support themselves through sustainable agriculture and textile work. I have also found my way to material closer to my home in Michigan, studying Midwestern LGBTQ histories that challenge the narrative that queer life only happens in cities like New York and San Francisco.
OUT OF THE CLASSROOM
This or that: If you weren't teaching for a living, what would you be doing?
Hmm, perhaps writing for the New York Times Gender & Society desk? Or training for a spot on the Great British Bake-Off. Or playing professional rugby. Honestly, all of those jobs would take a lot of work to get to but they sure would be fun.
Right at home: Whether for work, relaxation or reflection, what's your favorite spot on campus?
My favorite campus spot was shown to me by a student on my interview visit — the path along the river, from below Briggs east to the old railroad trestle. It is a wonderfully peaceful walk with just the sounds of the river and the rustle of leaves to keep you company.
One book, one recording, one film: Name one of each that speaks to your soul? Or you would recommend to a friend? Or both?
I'm not really a person with all-time favorites, but on my nightstand recently are copies of Margaret Atwood's new book The Testaments (the follow-up to her classic The Handmaid's Tale), Jordy Rosenberg's Confessions of the Fox (a queer story of an 18th century thief — I've donated a copy to LU's library!), and the immigration story Mama's Nightingale by Haitian-American author Edwidge Danticat, which I've been reading with my twin 7-month-olds.
I've been listening to The Highwomen's debut album a fair amount recently — they're a newly formed country music group of four independent artists who are writing smart and compelling songs with a feminist bent. Check them out.
I really like classical Hollywood cinema —American films from the mid-twentieth century — and recently re-watched the classic Calamity Jane (1953) and my wife's favorite, Singin' in the Rain (1952). If you haven't seen them I highly recommend you watch The Celluloid Closet first, a 1995 documentary about LGBTQ people and representations in Hollywood. Then watch them with an eye to the ways in which the films portray gender and sexuality — and you'll love Calam and Cosmo Brown even more.
See more On Main Hall Green With … features: Dominica Chang, Stefan Debbert, Tim Spurgin, Deanna Donohue, Abhishek Chakraborty.
Ed Berthiaume is director of public information at Lawrence University. Email: ed.c.berthiaume@lawrence.edu